NA3HL announces 2017-18 season awards
April 20, 2018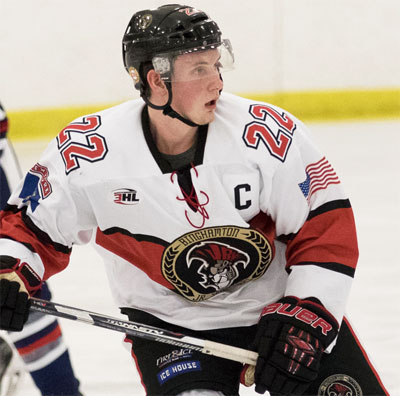 The North American 3 Hockey League (NA3HL) has announced its award winners for the 2017-18 season, which include: Most Valuable Player, Forward of the Year, Defenseman of the Year, Goaltender of the Year, Rookie of the Year, Coach of the Year, General Manager of the Year and Organization of the Year, along with its All-NA3HL 1st, 2nd, 3rd and All-Rookie Teams, Community Service, Leadership and Academic Award. The awards are voted on by the league's head coaches and general managers, based upon performance during the 2017-18 regular season.
Most Valuable Player & Forward of the Year: Brad Becker, Binghamton Junior Senators
Becker, who is committed to play NCAA Division III hockey for Utica College next season, led the NA3HL in scoring during the regular season. Becker, 20, is a great ladder of development story as he played in the NAPHL prior to his junior career. He has also seen time in the NAHL. The 6'2/180 lbs. native of Howell, New Jersey, recorded 116 points (53 goals, 63 assists) in just 47 regular season games played. He also was selected to and played in the 2018 NA3HL Top Prospects Tournament.
Defenseman of the Year: Mason Stewart, Yellowstone Quake
Stewart, who is committed to play NAIA college hockey for Aquinas College, set an all-time NA3HL (and CSHL) record for points in a season by a defenseman with 79 this year during the regular season, which included 13 goals and 66 assists for the Frontier Champion Yellowstone Quake. His 66 assists was the second-highest total by a defenseman in Tier III junior hockey history. The 5'10/170 lbs. native of Maple Valley, Washington, was also selected to and played in the 2018 NA3HL Top Prospects Tournament for the Grey team.
Goaltender of the Year: Drew Scites, Great Falls Americans
Great Falls Americans and NA3HL Top Prospects goaltender Drew Scites, 19, stood out amongst his peers during the 2017-18 regular season. The 6'0/200 lbs. native of Warren, Michigan, posted a perfect 20-0-0 record this season in 21 appearances, which were split between the Americans and North Iowa Bulls. Scites finished the season ranked 1st in save percentage with a 94.9% mark and was 2nd in goals against average with a 1.42 mark. He also stopped 76 of 78 shots in three games at the 2018 NA3HL Top Prospects Tournament.
Rookie of the Year: Cole Ouellette, D, L/A Nordiques
L/A Nordiques rookie defenseman Cole Ouellette, 19, had a very good first season of junior hockey for the Nordiques. The 5'11/180 lbs. native of Lewiston, Maine, led all NA3HL rookie defensemen in scoring this season with 59 points (18 goals, 41 assists) in 45 games played. Ouellette was also 3rd in total team scoring for the Nordiques this season.
Coach and General Manager of the Year: Todd Sanden, North Iowa Bulls
Having just completed his 7th season coaching for the Bulls, Sanden and the Bulls put together another great regular season for the team. The Bulls posted a 39-4-4 record during the regular season and won their divisional regular season title for a 6th straight season. In addition to the on-ice success, Sanden had another great year in terms of player advancement as seven players to date have made college commitments during the 2017-18 season and four more have been tendered by NAHL teams.
Organization of the Year: North Iowa Bulls
In addition to another great season of on-ice success with a 6th straight division title and 11 players either making a college commitment or signing an NAHL tender, the Bulls once again led the NA3HL during the regular season in attendance with an average of 874 fans per game. They also had three players on the All-Central Division Team. The Bulls also continued their tradition of being a staple in the Mason City, Iowa, community with several charitable initiatives and programs.
Academic Achievement Award: Austin Cody, Evansville Jr. Thunderbolts
Cody maintained a 4.0 GPA (on a 4.0 scale), while taking Dual Credit College AP course Classes in high school. He is a member of the National Honor Society, Future Banking Leaders of America, and Junior Achievement, which involves teaching elementary school children about life lessons, making good choices and how to practice good money habits. Cody was also interviewed and chosen to be the Chief Marketing Officer for his school bank. He was one of three students chosen to co-op with a local bank. He attends school until mid-afternoon and then goes and works in the banks Trust and IT department in addition to playing hockey for the Thunderbolts.
Community Service Award: Tyler Myers, Texas Brahmas
Myers volunteered and participated in every single Brahmas player appearance (18 in total), and also helped put together a team event in helping Habitat For Humanity in Fort Worth's "Cow Town Brush Up" in which he was able to get the whole team involved in volunteering for a good cause to help out a few families in need. Tyler has a servant's heart and is always the first to ask, "What can I do for to help?" He also helped out with the Little Rookies program, Elementary Reading program and loading pallets with bottled water, toiletries, socks, and other supplies for Hurricane Harvey victims in Houston.
Leadership Award: Fletcher Chun, Point Mallard Ducks
Fletcher was not only the team's leading scorer, but he was the ultimate competitor on the ice. Off the ice he was a major participant in all of the team's community service projects, including: Head Start, Special Olympics, and Decatur Learn to Play Hockey. He always showed up with a positive attitude and great work ethic. He was always the first to volunteer for whatever task needed to be done.
All-NA3HL 1st Team
Forward: Brad Becker, Binghamton Junior Senators
Forward: Connor Inger, Metro Jets
Forward: Logan Nelson, Alexandria Blizzard
Defense: Mason Stewart, Yellowstone Quake
Defense: Cole Ouellette, L/A Nordiques
Goaltender: Drew Scites, Great Falls Americans
All-NA3HL 2nd Team
Forward: Tyler Bump, North Iowa Bulls
Forward: Eric Vanderhoff, Skylands Kings
Forward: Jack Hatton, St. Louis Jr. Blues
Defense: Tim O'Connor, Binghamton Junior Senators
Defense: Shane Bernhardson, North Iowa Bulls
Goaltender: Brady Anderson, Binghamton Junior Senators
All-NA3HL 3rd Team
Forward: Riley Buller, Yellowstone Quake
Forward: Clayton Lackey, La Crosse Freeze
Forward: Cole Stewart, Yellowstone Quake
Defense: Robby Flannery, Metro Jets
Defense: Derek Flynn, New England Stars
Goaltender: Reid Waszczenko, Yellowstone Quake
All-NA3HL Rookie 1st Team
Forward: Clayton Lackey, La Crosse Freeze
Forward: Riley Buller, Yellowstone Quake
Forward: Eric Melso, Binghamton Junior Senators
Defense: Cole Ouellette, L/A Nordiques
Defense: Cameron Bickford, Texas Brahmas
Goaltender: Reid Waszczenko, Yellowstone Quake
All-NA3HL Rookie 2nd Team
Forward: Jack Radley, Peoria Mustangs
Forward: Marc Faia, Northeast Generals
Forward: Kyle Cote, Texas Brahmas
Defense: Kyle Gierman, Metro Jets
Defense: Matt Hammel, Northeast Generals
Goaltender: Carson Murison, Texas Brahmas