Bozeman names Elliot Bates as new Head Coach and GM
June 4, 2018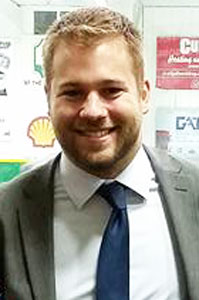 The Bozeman Icedogs of the NA3HL are pleased to announce that Elliot Bates has been named the team's new Head Coach and General Manager.
Bates has extensive experience as a coach and scout in junior hockey. The native of Drayton, North Dakota has been a scout in the North American Hockey League (NAHL) the past few seasons for the Kenai River Brown Bears and Austin Bruins.
Bates also has coaching experience in the NA3HL with both the Yellowstone Quake during the 2014-2015 season, and the Granite City Lumberjacks in 2015-16.
"We had a number of top notch applicants for this position and Coach Bates rose to the top of the applicant pool. We are excited as he has a definite vision of player play, integrity and involvement in the community. Elliot has the experience to scout and recruit quality players that will contribute to the Frontier Division and has a vision that is exciting to have within the NA3HL," stated owner Alec Nisbet.
Coach Bates said, "I'm very excited to be joining the Bozeman community with the rich history of hockey it has had over the years, and I look forward to developing players and building a strong culture for our organization."