Yellowstone forward Johnson makes college commitment
June 22, 2018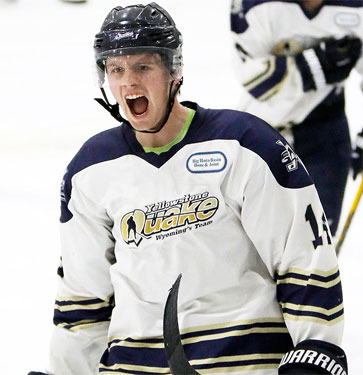 By Lew Freedman, Cody Enterprise
Carter Johnson's always dreamed of playing college hockey, though not being from New England or the Upper Midwest, but from a community of 325 people in Wyoming, that was always going to be a long shot.
There is no high school or club hockey team in Meeteetse, so right there that was a problem. Hooking on with the NA3HL's Yellowstone Quake junior hockey team in Cody four years ago when he was 16 changed his prospects.
Initially, Johnson was still playing six-man high school football and running track for the Longhorns while fitting in class and homework.
At times he commuted the 30-plus miles each way, ate dinner and slept at his grandparents' house in Cody, then zipped up WYO 120 for school. He stopped by his principal residence to visit family, drove to Cody for practice and did it all over again.
For a couple of years, Johnson put more mileage on his car than his skates. When he reversed that pattern, Johnson's energy and hunger shone and this year, a third straight season when the Quake qualified for the nationals, Johnson became a 20-goal scorer.
He also scored an invitation to join the hockey team at the University of Jamestown in North Dakota and continue his education this fall.
Johnson, who is spending his summer working for the town in maintenance, joins a club that finished 23-15 in NAIA play.
"Their coach saw me on film," Johnson said. "I honestly didn't know much about them."
The irony of that being his mom, Angie, ran track for the school. Johnson took a campus visit in May and liked what he saw.
"I think it's a great opportunity for me," Johnson said. "College hockey was my ultimate goal."
By most measures, Johnson's journey was longer than the distance between Meeteetse and Cody. An explosive football player with a nose for the end zone, and state-caliber sprinter's speed on the track, Johnson always liked hockey best.
Quake players are recruited from all over North America and some foreign countries, but very few Wyoming guys make the team. The population base is small and those who play do not always start skating as youths the way most do in the hockey hotbeds.