Shreveport head coach Zirnis takes job at NCAA DI level
July 13, 2018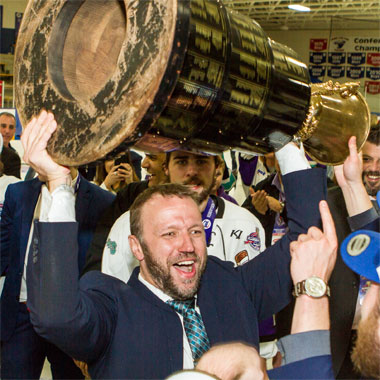 On May 14, 2018, Karlis Zirnis coached the Shreveport Mudbugs to a North American Hockey League's (NAHL) Robertson Cup National Championship during the team's second season as a junior team.
This upcoming year, Zirnis will now be working alongside another former NAHL coach Erik Largen with the University of Alaska-Fairbanks NCAA Division I hockey team. The Shreveport Times reported late Thursday that Zirnis will join Largen's staff as an assistant coach for the upcoming season.
"While it may seem like a bitter pill to swallow, we would be hypocritical not to be excited for Karlis," Mudbugs General Manager Scott Muscutt told The Times. "This is the league of opportunity and we celebrate everyone moving to the best level they can. He helped put 22 guys from the championship team to the next level."
Muscutt said current assistant, Jason Campbell, is a logical candidate to succeed Zirnis.
Zirnis, 40, is a native of Latvia who played NCAA Division I hockey at the University of Alabama-Huntsville, a rival of Alaska's in the Western Collegiate Hockey Association.
After finishing his collegiate career in 2003, Zirnis played five seasons professionally in the Central Hockey League, making stops with the Amarillo Gorillas, Colorado Eagles and Bossier-Shreveport Mudbugs.
He played for the Huntsville Havoc in the Southern Professional Hockey League and served as team captain during the 2008-09 season. Zirnis' playing career came to an end after one game during the 2009-10 slate.
Zirnis became a scout for the Amarillo Bulls — another NAHL team — and assistant coach for the TPH Thunder midget hockey association before Ted Nolan named him as an assistant coach for the Latvian national team ahead of the 2013 IIHF World Championship.
He coached Latvia at the 2014 and '15 World Championships, as well as the 2014 Olympics in Sochi, Russia.
After leading the Nashville Junior Predators, of the North American 3 Hockey League (NA3HL), from 2013-16, Zirnis was named the Mudbugs' first coach when they became an NAHL expansion team before the 2016-17 season.
Zirnis led the Mudbugs to a 35-19-0-6 record during his first season in Shreveport. They went 41-12-0-7 and won the South Division championship before finishing this past year with a national title.