Texas Brahmas name Sanders as new Head Coach
July 26, 2018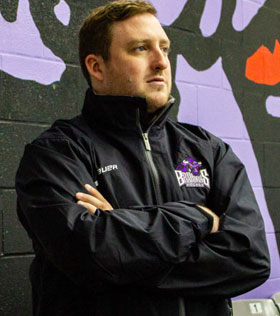 The Texas Brahmas of the NA3HL are pleased to announce the hiring of Travis Sanders as their new head coach. Sanders will replace Michael Hill (NAHL's Aberdeen Wings) and Jonathon Elliott (NCAA's St. Mary's) to become the Brahmas' third head coach since joining the NA3HL.
"We're excited to have Travis join the Brahmas family," Brahmas Owner and President Frank Trazzera said. "He's someone who's already had success at the NA3HL level and we're confident he'll bring that same attitude with him to Texas. He's already hit the ground running to get ready for the 2018-19 season."
Sanders is no stranger to the league considering he spent the last four seasons with the Southern Tier Xpress in the East Division. Notably, Sanders was the general manager during the 2017-18 season and an assistant coach from 2015-17.
"First and foremost, I got the call about the opportunity [with the Brahmas] and I hopped on a plane the next day to check things out personally," Sanders said. "Everything I heard was all great and when I got here, those expectations were exceeded when I saw things first hand."
"I'm thrilled to be here and be a part of the Brahmas family. Everyone I've met here has been outstanding and I'm just thrilled to get all these resources together for the players and get out of the snow up north."
"The opportunity to work along side Dan Wildfong and the Lone Star staff and provide as many NAHL and college opportunities for our players as possible is a tremendous situation for myself, but more importantly, for our players. The NYTEX Sports Centre is outstanding, as is the surrounding areas. It's a first class operation."
Sanders has been around snow his entire life. Growing up in Jamestown, New York, Sanders won a high school state championship with Southwestern, Maple Grove. He enrolled at Minot State University and lived in North Dakota for four years.
Four years later, he would return to his home state and pursue his passion for coaching. His hockey career has taken him from growing the grassroots hockey initiative to staying involved in the AAA hockey scene and eventually coaching junior hockey in upstate New York.
He has lived in small towns his entire life, but is excited for the next chapter that takes him to a warmer climate and larger surrounding area in north Texas.
As Sanders moves to Texas for the 2018-19 season, he's excited for the opportunity to continue the level of excellence with the Brahmas.