NAHL announces partnership with Super Chexx
July 31, 2018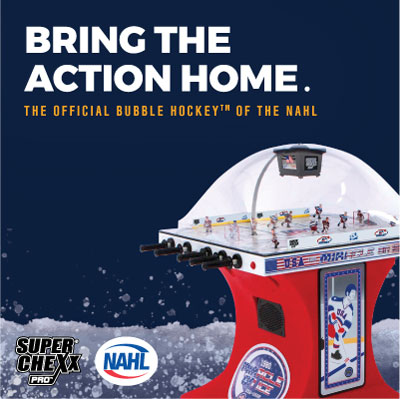 The North American Hockey League (NAHL) is pleased to announce a new partnership with Innovative Concepts in Entertainment, Inc. (ICE), makers of the famous Super Chexx, to be the Official Bubble Hockey Game of the NAHL, NA3HL, and NAPHL.
Super Chexx is an official licensed bubble hockey, dome hockey, rod hockey and table hockey game of the National Hockey League, USA Hockey, Hockey Canada, and now the NAHL.
"We are very excited to begin our partnership with the NAHL and its family of leagues," said Greg Kania, Director of Sales for Super Chexx. "The Super Chexx game continues to be a focal point in many homes and continues to provide many hours of amusement. Furthermore, our company has a tremendous amount of custom abilities and we look forward to offering specific graphics packages to those teams or homes associated with NAHL, NA3HL, and NAPHL team logos and colors to continue an association with the best junior league program in North America."
Super Chexx all started a couple years after Team USA brought home the Olympic Hockey Gold Medal in the Miracle on Ice at Lake Placid. Following that epic sports tale a small group of table hockey fanatics in Buffalo, New York designed and created the greatest competitive sports game of it's time, CHEXX, the original USA vs USSR coin-operated bubble hockey (also known as dome hockey, table hockey, stick hockey or rod hockey). Since its 1982 introduction, few other games have transcended all of the changes over the decades following that "USA Miracle on ICE" and delivered more competition and fun among family and friends, adults and children. Now for over 35 years ICE has built a reputation in the amusement & arcade industry for providing the highest quality products, service and support. Customers who bought the original Chexx bubble hockey games 20 to 30 years ago, can still get parts and free support for that game today. Many Chexx bubble hockey games from the 1980's are still being played two decades later.
The Coin-op and Deluxe Home Super Chexx Pro dome hockey games were introduced in October 2017 and continue to be made at the ICE factory in Clarence, New York with the same arcade quality parts, backed by the ICE commitment to quality, with free lifetime tech support and repairs available at the state of the art I.C.E. repair center. Super Chexx Pro is truly the most fun bubble hockey to play and own. Choose from U.S. and Canadian Anthems then let Hall of Fame broadcaster Rick Jeanneret call live game action while you use the "boo" button to let your opponent have it. Compare to any other dome hockey, air hockey or foosball table and it will be clear why Super Chexx is the most fun game to play. If you only have room for one game table at your home or business, make it a Super Chexx.
"Anyone who has been in a hockey arena, ice rink, or sports restaurant the last 30 years can tell you how much fun that Super Chexx is to play. I think every single one of our players in all three leagues have spent countless hours playing Super Chexx and now with this partnership, teams and players will have access to build and purchase their own custom Super Chexx game," said Alex Kyrias, Director of Communications, Sales & Marketing for the NAHL. "The new Super Chexx Pro technology complete with video jumbotron, which tracks goals, shots and time with video animations and live action game calls on the 5" LCD screens is truly amazing. In addition, the ice surface is now illuminated with LED's and Red-Green-Blue LED spotlights, making for a truly memorable gaming experience."