Former Quake head coach Theros joins Waterloo staff in USHL
August 21, 2018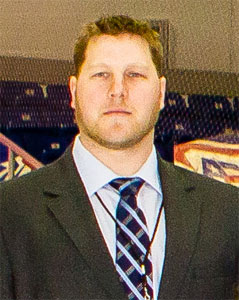 Ryan Theros has joined the USHL's Waterloo Black Hawks' organization as hockey operations assistant and coach, the team announced Monday.
Theros will assist in all of the team's daily activities including practice, games, youth camps, and skill development, while having prominent involvement with the team's video coaching and scouting efforts.
The former head coach and general manager of the NA3HL's Yellowstone Quake established that Cody, Wyoming, club as a perennial contender in the NA3HL over three seasons through last spring. The Minnesota native has also developed high school-aged players as a skills instructor and coach in his home state since 2010.
"Ryan has worked with players in a similar age range to our players for a significant amount of time and in a variety of situations," noted Black Hawks Head Coach and General Manager P.K. O'Handley. "That experience makes him a versatile part of our plan for player development."
In 2015, Theros became head coach of the Quake after the club had only nine regulation wins the year before. He took the team from last in the NA3HL Frontier Division to first place the following season. Yellowstone also won division titles the following two years, accumulating over 110 regular season victories during the NA3HL's annual 47-game schedule.
Theros has also served on staff at Velocity Hockey Center in Eden Prairie, Minnesota, and at Holy Family High School. He played NCAA hockey and baseball at Northland College in Ashland, Wisconsin.