3View: Binghamton Junior Senators
August 21, 2018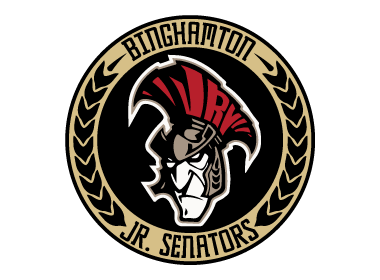 The 3View series will feature an in-depth look into all NA3HL teams in preparation for the 2018-19 season, with two teams being highlighted daily, leading all the way up until the start of the regular season. 3View goes in-depth into each NA3HL team and will include interviews with all the head coaches in the NA3HL, as they provide fans with their expectations and outlook for the 2018-19 season, including taking a look at their potential roster and their strengths as a team for the upcoming season. It will also take a look back on the 2017-18 season and how each team fared and what they accomplished. Best of all, 3View will provide the fans of the NA3HL with an inside look at their favorite team and what to expect.
Binghamton Junior Senators
2017-18 Record: 41-3-3, 85 pts. (1st in the Northeast Division)
2018 Playoffs: Won the Northeast Division, Eliminated in Fraser Cup Pool Play
Head Coach: Anthony Langevin
2018-19 Division: Northeast
Over the last two seasons, there has not been a more dominant team in the NA3HL than the Binghamton Junior Senators. They've won over 80 games over that span and took home the 2017-18 regular season title.
That success, however, has not carried over into the postseason. After falling in the semifinals in 2017, the Junior Senators failed to make it out of pool play in the 2018 Fraser Cup Championship Tournament.
This season, a new owner and new coach will take over in Binghamton with championship aspirations.
"I'm looking forward to continuing a phenomenal tradition that the previous owners, Ray and Kim Welsh, have already started," said Owner and Head Coach Anthony Langevin. "There is a strong winning tradition in Binghamton and I will be keeping the tradition going for the Junior Senators."
Langevin preaches that having the right guys will ultimately bring a Fraser Cup back to central New York.
"Having a team of all goal scorers will not win a championship for any team in any league. Having the right guys who buy into our systems and trust one another will create a championship caliber hockey team. That's what we are going to have in Binghamton this year," said Langevin.
In addition to their winning ways, the Junior Senators have continued to send their players to the next level, NA3HL scoring champ Brad Becker is taking his talent to Utica College while Tim O'Connor will be playing at Buffalo State. CJ Smith also earned a college commitment to the University of Wisconsin-River Falls.
"We continue to move guys onto the NAHL and onto NCAA college hockey. Before the season has even started, we have moved multiple players to the NAHL. We have players that NAHL teams continue to watch each and every day," Langevin added. "We press to move on each of our vets to NCAA college hockey. We have a proven track record and continue to move guys on with our connections and their dedication to hard work."
Langevin is excited for the season to begin and has no doubt his team will be ready to go when the puck drops.
"We have a great group of guys who will be working hard. We have a lot of new players coming in that are hard workers. We will be the hardest team to play against in the league this year. We will work for a minimum of 60 minutes a game, and more if we have to," explained Langevin. "We will have four lines that we will be able to constantly roll due to players' hard work, each and every shift."
The new owner also anticipates his team becoming heavily involved in the Binghamton community.
"Once players arrive, we plan to do many community events, as well as volunteer work around the surrounding areas. The Junior Senators are a community team. We give back to the community and it shows when hundreds of fans come to support us during our home games."
For the last two seasons, Binghamton has solidified themselves as a top team in the NA3HL, now all they need to do, is put their name on the Fraser Cup.
"It's going to take hard work each and every day. Each drill in practice, each shift in every game, needs to be done at a high speed and to the best of one's ability," Langevin said. " The last two years, we have had the skill to win the Fraser Cup, but this year we will be focused, dialed in, and ready to go from the start of the season to every last horn of the season."
Next up in the 3View series: Bozeman Icedogs