3View: Breezy Point North Stars
August 22, 2018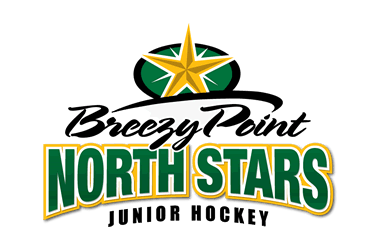 The 3View series will feature an in-depth look into all NA3HL teams in preparation for the 2018-19 season, with two teams being highlighted daily, leading all the way up until the start of the regular season. 3View goes in-depth into each NA3HL team and will include interviews with all the head coaches in the NA3HL, as they provide fans with their expectations and outlook for the 2018-19 season, including taking a look at their potential roster and their strengths as a team for the upcoming season. It will also take a look back on the 2017-18 season and how each team fared and what they accomplished. Best of all, 3View will provide the fans of the NA3HL with an inside look at their favorite team and what to expect.
Breezy Point North Stars
2017-18 Record: 15-30-2, 32 pts. (5th in the West Division)
2018 Playoffs: Did not qualify
Head Coach: DJ Vold
2018-19 Division: West
Following a pair of playoff appearances from 2015-2017, the Breezy Point North Stars took a step back last season. A 15-30-0 record in arguably the NA3HL's toughest division pushed them out of postseason contention in 2017-18, but second-year Head Coach DJ Vold is looking for more steady performances out of his squad throughout the upcoming campaign to re-establish an upward trajectory for the team.
"I believe it's all in the level of intensity and work ethic we bring every day to practice. In our division, there are no nights off. So it requires a certain level of consistency each night in order to be able to give yourself a chance to win games," said Vold, a former Granite City Lumberjacks assistant coach.
Vold knows last season's record is not indicative of his team's true potential, and looks forward to his side showing marked improvement in 2018-19.
"Our expectations for this year are to continue to build the culture we are working towards and to get the players to schools they are happy with. On top of that, we'd like to make the biggest improvement in our record league wide," said Vold.
But that doesn't mean they will sacrifice character for raw talent. Despite not meeting their goals on the ice last year, goaltender Micah Hershey starred off of it, earning the West Division's Academic Achievement Award. And according to Vold, the focus remains on finding well-rounded players who can match on-ice skill with off-ice integrity.
"I think the big emphasis we had last year that we will take with us to this year is having high character kids on our roster. In Breezy Point, we not only want good hockey players but good people with good work ethics," he said.
With a strong community presence already established, and new goals set for the upcoming year, the North Stars are holding true to their commitment to character.
"Our players do a ton of volunteer work that ranges from having lunch with kids in elementary schools to hanging lights around the Pequot Lakes community so that helps us get our name out to people. We hope to be more involved with the youth hockey association as well. We are active members in our surrounding communities and we hope to get support from any that we can," said Vold.
Other than improving their position in the standings, Breezy Point will also be seeking increased college commitments this season. Events like the NA3HL Showcase and NA3HL Top Prospects Tournament continue to be prime exposure opportunities, and Vold is committed to help his players find their next steps.
"I think (the league-wide events) are great. It gives colleges and other scouts an event where they can come to one facility and see every team in our league play. We usually get a pretty good turn out as far as scouts go, so players in our league understand how important the showcase is.
"I have all of our players make lists of their top 10 schools they would like to attend and I have meetings with them on why they want to go to certain school. We also chat about what they want to major in," said Vold, "For me, it's all about figuring out what they want to do while they are at school and where they want to go."
With a focus on consistency in the rink and enrichment outside of it, the North Stars are poised to make a more sizable impact in the NA3HL in the upcoming 2018-19 season.
Next up in the 3View series: Butte Cobras