3View: College Station Spirit
August 24, 2018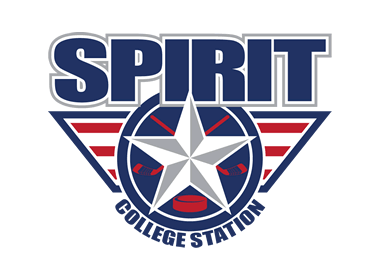 The 3View series will feature an in-depth look into all NA3HL teams in preparation for the 2018-19 season, with two teams being highlighted daily, leading all the way up until the start of the regular season. 3View goes in-depth into each NA3HL team and will include interviews with all the head coaches in the NA3HL, as they provide fans with their expectations and outlook for the 2018-19 season, including taking a look at their potential roster and their strengths as a team for the upcoming season. It will also take a look back on the 2017-18 season and how each team fared and what they accomplished. Best of all, 3View will provide the fans of the NA3HL with an inside look at their favorite team and what to expect.
College Station Spirit
2017-18 Record: 2-45-0, 4 pts. (6th in the South Division)
2018 Playoffs: Did not qualify
Head Coach: Luke Hernandez
2018-19 Division: South
For the College Station Spirit, the 2018-19 season will bring a fresh start for Head Coach Luke Hernandez, who came in midseason during 2017-18.
"Obviously being new to the league last year, the learning of procedures was big and the league office was fantastic with getting me up to speed in the middle of the season," said Hernandez. "But I think a big part of my learning curve was I learned a lot of other coaches styles in our division so hopefully we can play systems that work for us that make it difficult for other teams systems."
Finding the guys with the right character will be Hernandez's key to create a strong culture in College Station.
"(The guys have) to be doing things the right way, being a pro about your day to day life. Showing up on time, treating each other like a brothers, playing 60 minute hockey games, being 100 percent all the time, on and off the ice," added Hernandez. "Respecting this great game of ours, battling no matter what the outcome is, and creating a great work ethic. I believe having those tools will allow our players to be successful in hockey, school and in life and successful in the future."
Goaltender Ryan O'Toole earned a call up last season to Topeka in the North American Hockey League and Hernandez is hopeful that the NA3HL exposure events will have more of his kids playing higher levels of hockey.
"I mean that's what we are in this business to do in my opinion, to develop and promote to Tier II as quickly as possible and have kids develop into NCAA players straight from here. Winning is secondary and winning will come with developing and promoting players.
A lot of it has to do with kids doing the right things, working hard, getting them in situations that Tier II teams and colleges want (to see) and letting players earn it for themselves with our assistance of course," Hernandez said.
Among the returners for the Spirit, Brenden Fehlig will be leaned on by Coach Hernandez to lead the club. Fehlig had 11 points in 39 games last season as an 18 year old.
"Having Brenden Fehlig coming back to fill those veterans shoes will be big. Brenden will be a great leader and offensive threat to help lead some returning players and new players coming in." Hernandez said.
With a full offseason to recruit and procure players, Hernandez has set the bar high for his first full season.
"I think in every year, playoffs is a goal and the expectation, but taking things a bit deeper, having our players hit their goals is important to me. Helping to get players chances at the next level during or after the season is my expectation and if anyone says winning only is, I have to to say we as coaches need to rethink why we are doing this," Exclaimed Hernandez.
In addition to helping the local youth hockey programs in College Station, the team is looking do something this season to honor their local military and veterans. They want to become a leader in the community and say thank you to all of those that allow them to play a sport they love.
Next up in the 3View series: Coulee Region Chill