3View: Evansville Jr. Thunderbolts
August 25, 2018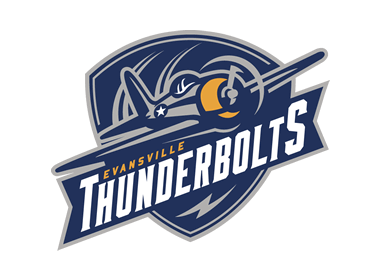 The 3View series will feature an in-depth look into all NA3HL teams in preparation for the 2018-19 season, with two teams being highlighted daily, leading all the way up until the start of the regular season. 3View goes in-depth into each NA3HL team and will include interviews with all the head coaches in the NA3HL, as they provide fans with their expectations and outlook for the 2018-19 season, including taking a look at their potential roster and their strengths as a team for the upcoming season. It will also take a look back on the 2017-18 season and how each team fared and what they accomplished. Best of all, 3View will provide the fans of the NA3HL with an inside look at their favorite team and what to expect.
Evansville Jr. Thunderbolts
2017-18 Record: 8-31-1, 17 pts. (3rd in the Midwest Division)
2018 Playoffs: Lost to the Peoria Mustangs in the Midwest Division Semi-Finals, 2 games to 0
Head Coach: Mike Guzzo
2018-19 Division: Central
After earning their first taste of the postseason in their three-year NA3HL history in 2017-18, the Evansville Jr. Thunderbolts look forward to the upcoming campaign with a new sense of direction.
As they enter the Central Division in 2018-19, new Head Coach Mike Guzzo looks to lead the Jr. Bolts to success on and off the ice. Guzzo says the right mix of veteran leadership and youthful exuberance will be crucial to returning to the playoffs this season.
"We need to have the winning mentality, we have some returning players that have experienced the 45+ game season and have brought in some newcomers as well as some veteran players who have the Jr. hockey experience," said Guzzo, "Getting all these players together and on the same page is key to building success here in Evansville. And we are looking forward to what they all can bring to the ice."
"Hard work, commitment, dedication, those are all key things for our team this coming season. We are in a very strong division this season and are excited for the challenges ahead. We are bringing players in with experience and knowledge of playing in the playoffs and winning championships. We feel that we can build off both players and coaching staffs experience to succeed in the playoffs," he added.
In the NA3HL, however, the added element of player advancement can be a strong indicator of success for teams and individuals – and Evansville have set a high bar for themselves. Four former Jr. Bolts committed to colleges at varying levels this year, with NA3HL Academic Achievement Award Winner Austin Cody heading to Lindenwood University, Oliver Joensson to Lindenwood University-Belleville, Bryson Linenburg to Indiana Tech and Brandon Rozema to Aquinas College.
"Our organization takes great pride in advancing our players. This year we have implemented with our players an ACT/SAT prep course to help grow their test
scores. We not only want our players to be successful on the ice, be we want them to excel in the classrooms and community," said Guzzo.
And with Matt McElroy taking home the Midwest Division's Community Service Award last season, the Jr. Thunderbolts will continue their tradition of being a solid presence outside of the rink.
"Community involvement is a key part in growing our organization. We have the local youth program here that players will be participating in as on ice help with the players, our local charities, getting players into the local schools to help grow hockey in Evansville. All these events are avenues to help the growth of hockey in Evansville and build the sport," said Guzzo.
With promising factors in all facets of the organization coming together already, Guzzo and the Jr. Thunderbolts are ready for the challenge of returning the playoffs this season.
"Our coaching staff has high expectations for the upcoming season. We had the opportunity to participate in the playoffs last season and are looking to get back again this year," said Guzzo.
"We as a group are expected to play hard smart fast hockey and be in contention every game."
Next up in the 3View series: Gillette Wild