August 27, 2018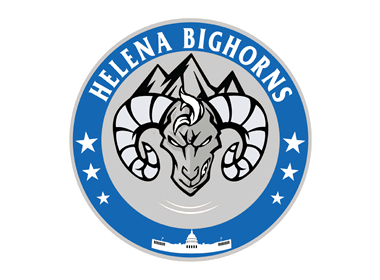 The 3View series will feature an in-depth look into all NA3HL teams in preparation for the 2018-19 season, with two teams being highlighted daily, leading all the way up until the start of the regular season. 3View goes in-depth into each NA3HL team and will include interviews with all the head coaches in the NA3HL, as they provide fans with their expectations and outlook for the 2018-19 season, including taking a look at their potential roster and their strengths as a team for the upcoming season. It will also take a look back on the 2017-18 season and how each team fared and what they accomplished. Best of all, 3View will provide the fans of the NA3HL with an inside look at their favorite team and what to expect.
Helena Bighorns
2017-18 Record: 30-13-4, 64 pts. (3rd in the Frontier Division)
2018 Playoffs: Lost to the Yellowstone Quake in Frontier Division Finals, 2 games to 0
Head Coach: Bob Richards
2018-19 Division: Frontier
The Helena Bighorns were looking to make a splash in 2017-18. After two subpar seasons, the Bighorns turned the corner and came within two wins of the Fraser Cup Championship Tournament.
"I was happy with the way last season went. We were able to turn the program around after a rough 2016-17 season. Losing a close game to Yellowstone in the Division Finals was disappointing, but as a whole I think the team will remember the season as a lot of fun and a great developmental life experience," said Head Coach Bob Richards.
Helena is hoping this isn't just a one year deal as they will return 11 players from last year's club.
"This year we want to continue on with what we started last year. Every year as a coaching staff and also as a team we want to try and improve on the previous year. In order to do that we had a busy offseason recruiting and we focused on bringing in players who have the desire to improve and who feel comfortable being the focus of a small hockey community here in Helena," Richards said.
The Bighorns look for their foundation on the blue line as they return five defenseman who all had significant contributions last season.
"I think the strength of our lineup will be our returning defenseman. Valary Dietz, Henry Kipper, Jeremy Solko, Justin Sullivan and Ricards Groskops. (They) will be providing great leadership on and off the ice for our younger players," added Richards.
With the influx of veterans for Helena and the many NA3HL exposure events, Richards is confident his players will be noticed by scouts and coaches at the next level.
"I think the NAHL family runs events that are very organized, very professional, and very easy for the scouts and coaches of the next levels of hockey to attend and get information. The NA3HL Showcase is well ran and gives our players a great venue to be noticed and recruited.
"These larger events have ran so smoothly the past few years and it is for this reason that we enjoy such great attendance by coaches and recruiters for the next level of hockey for our players," added Richards.
With just around 30,000 people residing in Helena, the Bighorns don't share the spotlight very often. That means they are very active in their local community.
"We work extensively with the local schools, from greeting students at the front door in the mornings on their way to class, to participating in recess games with the elementary schools, or just sitting down and eating lunch with the kids and talking to them. We also volunteer at many community events like the Special Olympics or health and wellness events," Richards explained.
"Helena is a smaller city and a non traditional hockey market, so we try and get out and help out as much as possible."
The Bighorns will begin their 2018-19 season with a road trip to Butte on September 7th for a matchup with the Cobras.
Next up in the 3View series: L/A Nordiques