August 28, 2018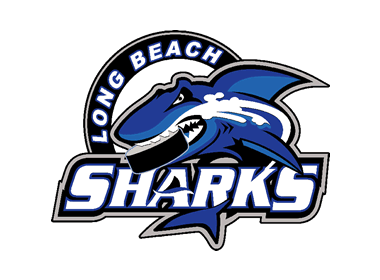 The 3View series will feature an in-depth look into all NA3HL teams in preparation for the 2018-19 season, with two teams being highlighted daily, leading all the way up until the start of the regular season. 3View goes in-depth into each NA3HL team and will include interviews with all the head coaches in the NA3HL, as they provide fans with their expectations and outlook for the 2018-19 season, including taking a look at their potential roster and their strengths as a team for the upcoming season. It will also take a look back on the 2017-18 season and how each team fared and what they accomplished. Best of all, 3View will provide the fans of the NA3HL with an inside look at their favorite team and what to expect.
Long Beach Sharks
2017-18 Record: 6-39-1, 13 pts. (6th in the Coastal Division)
2018 Playoffs: Did Not Qualify
Head Coach: Bobby Davis
2018-19 Division: Coastal
The 2017-18 campaign was a tough one for the Long Beach Sharks. Earning just six wins in 46 outings, the Sharks missed an opportunity to capitalize on a highly successful 2016-17 season with another playoff run.
Looking ahead, Head Coach Bobby Davis and his squad are excited to have a full roster and a few returning stars as they climb back up the ladder in 2018-19.
Players like Dino Mukovoz and rookies Jackson Wellmeyer and Noah Carlock were key contributors for the Sharks last season, and Davis says he plans to lean on the trio once again in 2018-19.
Carlock put up a team high-tying 12 tallies in 41 games last year, and combined with Mukovoz for 18 assists apiece -- sharing the second-highest total among Long Beach skaters. Wellmeyer posted double digits in both categories as well, netting 10 goals and 14 helpers in just 38 outings in 2017-18.
Beyond seeking a bounce-back effort during the upcoming campaign, Long Beach will also aim to see more from its ranks advance to higher levels of hockey.
"We try to train our players as if they are already college athletes," said Davis.
Blueliner Charlie Bedard, the Sharks' fourth-leading scorer last season, committed to SUNY-Morrisville for the upcoming season, and his former teammates will undoubtedly hope to follow in his footsteps.
Other returning members of the Long Beach organization like Ryan Cortez and Ryan Gridley will look to take on more advanced roles with the Sharks in 2018-19, while newcomers such as Dixson Root, Quinn Sandor and DJ Nathan will be eager to make their mark on their new squad. Overall, the Sharks boast nine new signings heading into this season, and some fresh faces may give the team the boost it needs to regain its form from two seasons ago.
Long Beach will also seek to raise even more community support this season, perhaps participating in charity events and taking posters around town to promote upcoming games and events, according to Davis.
The Sharks kick off the 2018-19 season on the road with a weekend back-to-back at the Maine Wild on September 8 and 9.
Next up in the 3View series: Louisiana Drillers