3View: Northeast Generals
September 2, 2018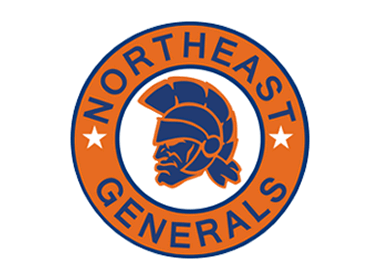 The 3View series will feature an in-depth look into all NA3HL teams in preparation for the 2018-19 season, with two teams being highlighted daily, leading all the way up until the start of the regular season. 3View goes in-depth into each NA3HL team and will include interviews with all the head coaches in the NA3HL, as they provide fans with their expectations and outlook for the 2018-19 season, including taking a look at their potential roster and their strengths as a team for the upcoming season. It will also take a look back on the 2017-18 season and how each team fared and what they accomplished. Best of all, 3View will provide the fans of the NA3HL with an inside look at their favorite team and what to expect.
Northeast Generals
2017-18 Record: 27-17-3, 57 pts. (3rd in Coastal Division)
2018 Playoffs: Lost to the L/A Nordiques in Coastal Division Semi-Finals, 2 games to 1
Head Coach: Darryl Locke
2018-19 Division: Coastal
The 2017-18 season was a very successful one for the Northeast Generals as they won 27 games in the regular season, improving from 24 wins in 2016-17. They finished third in the Coastal Division, only to lose a decisive game three of the division semifinals to the L/A Nordiques. In 2018-19, the Generals have higher aspirations.
The Generals sent four players from last year's squad on to NCAA opportunities as Austin Braley and Matt Hammel went on to Salem State University. Alex O'Dowd earned a commitment to Franklin Pierce while Luke Whalen will be taking his talents to Framingham State.
Braley was the team's leading scorer last season with 31 goals and he finished second with 59 points. O'Dowd was almost a point per game producer as he finished the season with 44 points in 47 games played. The Generals also lost their top two defenseman as Hammel led the team with 38 assists and finished 41 points and Whalen had 25 points from the blue line.
Looking ahead to this upcoming season, Northeast returns their leading scorer Marc Faia who could be a MVP contender after posting 28 goals and 37 assists as a rookie. His 16 power play points also led the Generals.
Also returning is forward, Thad Marcola. The 19-year old from Almont, Michigan had 14 goals and 11 assists in his first season of junior hockey and they will look for big contributions from him in his second season.
Dylan Figueroa is coming back from his third season in the orange and blue. Last year, the Plymouth, Massachusetts native scored eight times while assisting on 14 others to give him 22 points for the season. Figueroa will be entering his final year of juniors and the Northeast coaching staff will be expecting him to show the young guys the ropes.
In a wide-open Coastal Division, the Generals must play consistent hockey all season long if they expect to be toward the top of the standings. Any kind of losing streak can put them in a whole that they may not be able to get out of.
Northeast will begin their season on September 12th against the defending division champion, New England Stars.
Next up in the 3View series: Oswego Stampede