September 3, 2018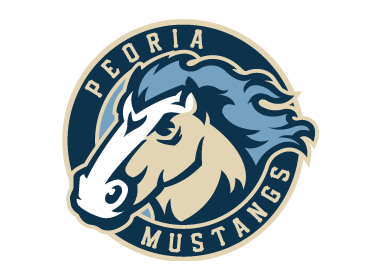 The 3View series will feature an in-depth look into all NA3HL teams in preparation for the 2018-19 season, with two teams being highlighted daily, leading all the way up until the start of the regular season. 3View goes in-depth into each NA3HL team and will include interviews with all the head coaches in the NA3HL, as they provide fans with their expectations and outlook for the 2018-19 season, including taking a look at their potential roster and their strengths as a team for the upcoming season. It will also take a look back on the 2017-18 season and how each team fared and what they accomplished. Best of all, 3View will provide the fans of the NA3HL with an inside look at their favorite team and what to expect.
Peoria Mustangs
2017-18 Record: 26-19-2, 54 pts. (2nd in the Midwest Division)
2018 Playoffs: Lost to the St. Louis Jr. Blues in the Midwest Division Finals, 2 games to 0
Head Coach: Steve Ortman
2018-19 Division: Central
A perennial playoff contender with no NA3HL title pedigree just yet, the Peoria Mustangs are looking to shift into a new gear in 2018-19 and reach their ultimate goal -- winning the Fraser Cup.
Head Coach Steve Ortman looks to not only maintain that culture of consistency, but ramp it up to a new level. But, he says, that kind of improvement takes a special kind of commitment from each member of his squad.
"It will take a team effort with all players buying into our systems and leadership group leading the way on and off the ice," he said.
The Mustangs boasted solid advancement this year, seeing four players join the collegiate ranks. And while they may not have reached their ultimate on-ice goal, getting players noticed and picked up at the next level is still a solid mark of success for NA3HL teams.
"Development of players is our main focus in Peoria on and off the ice. Our normal weekly schedule has 4 to 5 hours of on ice, 4 hours in our gym with our strength and conditioning coach (Greg Eberle) followed by 4 hours of video," said Ortman.
Returning players will be hoping to follow the path blazed by Jack Healy, Pete Miller, Derek Roberts and Braden Stewart while also helping to show the new Mustangs the ropes at their current level.
"(I'm looking for) veterans Blake Finley and Stephen Zowin to lead the way on defense, and Jack Radley, Brandon Hay and Cody Layne to be leaders on offense. We also have a great young crop of players that I am excited to see develop this upcoming season," said Ortman.
Radley set an impressive pace for the Mustangs offense last year, potting 35 goals and racking up 58 total points while playing each of Peoria's 47 games. Hay and Layne were key contributors as well, with 22 and 29 points of their own, respectively, but will be leaned upon to produce even more in 2018-19.
On the back end, Finley was a stalwart, posting a team-high +23 and recording a whopping 39 points from the blue line. Zowin also impressed, nabbing 12 points of his own and putting up a +11 rating.
As for new potential stars, it may be early, but Ortman has his eye on a few new Mustangs to have breakout seasons.
"(I'm excited to see) young guns Jared Wisely, Jacob Bland and Connor Bennett on offense and first-year defensemen Atticus Helfer and Zach Eddington," said Ortman.
The Mustangs head to Milwaukee to take on the Power in a season-opening back-to-back on September 7 and 8.
Next up in the 3View series: Rochester Grizzlies