3View: Rochester Grizzlies
September 3, 2018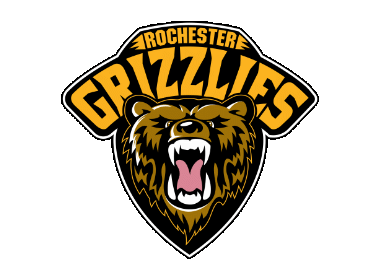 The 3View series will feature an in-depth look into all NA3HL teams in preparation for the 2018-19 season, with two teams being highlighted daily, leading all the way up until the start of the regular season. 3View goes in-depth into each NA3HL team and will include interviews with all the head coaches in the NA3HL, as they provide fans with their expectations and outlook for the 2018-19 season, including taking a look at their potential roster and their strengths as a team for the upcoming season. It will also take a look back on the 2017-18 season and how each team fared and what they accomplished. Best of all, 3View will provide the fans of the NA3HL with an inside look at their favorite team and what to expect.
Rochester Grizzlies
2017-18 Record: 6-39-2, 14 pts. (5th in the Central Division) *As Rochester Ice Hawks
2018 Playoffs: Did Not Qualify
Head Coach: Casey Mignone
2018-19 Division: West
After finding themselves in the "W" column just six times in 47 outings last season, the newly-branded Rochester Grizzlies are looking forward to a fresh start behind first-year bench boss Casey Mignone.
The former Rochester Ice Hawks were purchased by the Austin Bruins ownership group, given the new Grizzlies moniker and introduced to Mignone as the new head coach all in one summer. And all of the changes are cause for excitement, if you ask Mignone. The former pro is aiming to engage a culture of hard work and toughness with his new squad.
"We want to play the game the right way and be hard to play against. If we do that, put the work in off the ice and in the community, this will be a successful season," he said.
But Rochester's management roles won't be the only things featuring fresh faces. Heavy roster turnover and an influx of youth will headline the Grizzlies on-ice contingent in what they hope will be a resurgent 2018-19 campaign.
"It is still very early, and with only 1 returning player, our lineup card is wide open. We have a couple veterans in Seth Bacon and Kory Potach who have done a great job in setting the tone for the team on a daily basis. I'm most excited to see some of our younger players transition into the junior game. It is going to be great to see how much these guys develop over the course of the season," said Mignone.
The new coach brings plenty of experience and savvy from his days as a professional, and knows just how crucial it can be for a player to have the kind of resources and staff available in Rochester. With no college commitments this year, Mignone and his staff are dedicated to sending more Grizzlies to the next level of hockey.
"Honestly, I think that moving players on to the next level is the most important thing we can do as an organization. Obviously, we want to and expect to win games, but to make this a desirable place to play we need to move players on. We do a lot of skills work with our guys before and during practice. As a staff, we feel that if we can raise all of our players' base skill set, it not only makes us a better team, it makes it easier for us to move players on," he said.
One of the more unique perks of playing in Rochester is the team's relationship with the NAHL's Austin Bruins. The partnership allows the two teams to share the same strategies and organizational culture, thus clearing an easier path for any Grizzlies that join the Bruins.
"I think it is of the utmost importance. We plan to play the same way they play in Austin. Because when my phone rings and Austin asks for one of our players, we want our guys to be able to make a seamless transition. That being said, we also expect to work with other NAHL teams to ensure we get our players who are playing really well that opportunity to showcase themselves at the next level," said Mignone.
Look for strong community support from the Rochester area this season, too; Mignone and the Grizzlies will aim to play a big part helping foster the continued growth of hockey in the area. And they hope their dedication will result in future Grizzlies setting their goals high on and off the ice.
"We are going to be heavily involved with the youth hockey in Rochester. We will have guys attending and helping out at practices. We also will be involved in the elementary and middle schools, reading to the kids and simply being good role models. If we can get the youth of Rochester to look up to our players, we are doing our job and the rest of it will take care of itself.
"We are extremely excited to be entrenched in the Rochester hockey community. It is an unbelievably rich hockey town and we have been feeling their love and support. We want to be known as the hardest working team in the league. When teams come to the Rec Center, we want them to know it is going to be a dog fight each and every night," said Mignone.
The Grizzlies kick off their fresh start season on the road against Granite City on September 15.
Next up in the 3View series: Skylands Kings