September 4, 2018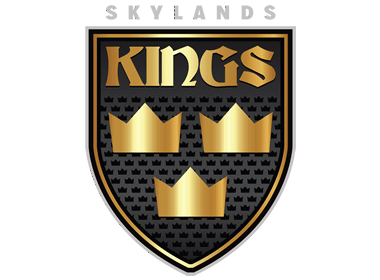 The 3View series will feature an in-depth look into all NA3HL teams in preparation for the 2018-19 season, with two teams being highlighted daily, leading all the way up until the start of the regular season. 3View goes in-depth into each NA3HL team and will include interviews with all the head coaches in the NA3HL, as they provide fans with their expectations and outlook for the 2018-19 season, including taking a look at their potential roster and their strengths as a team for the upcoming season. It will also take a look back on the 2017-18 season and how each team fared and what they accomplished. Best of all, 3View will provide the fans of the NA3HL with an inside look at their favorite team and what to expect.
Skylands Kings
2017-18 Record: 18-26-3, 39 pts. (3rd in the Northeast Division)
2018 Playoffs: Lost to the Niagara Falls PowerHawks in the Northeast Division Semi-Finals, 2 games to 0
Head Coach: Adam Mitchell
2018-19 Division: Northeast
The Skylands Kings played their first season in the NA3HL back in 2016-17. Coached by Adam Mitchell, the relatively new team is located out of Stockholm, New Jersey. The Kings came over from the NA3EHL prior to the 2016 season. This will be the clubs fourth year as an active program.
The Kings made their first ever NA3HL playoff appearance during the 2017-18 season and will be looking to build off that momentum heading into this year.
Head Coach Adam Mitchell is already looking forward to getting his team back on the ice and getting that fresh start.
"Last year was a good step for us," Mitchell said. "We have a solid core group of guys coming back thus year which will help our team be stronger mentally this upcoming season."
The Kings were eliminated by the Niagara Falls PowerHawks in the Division Semi Finals a season ago.
While the result was a disappointing one for the team, Mitchell says his players will grow from the experience.
"Although we may not have had the results we wanted out of last season, we were able to come together as a group and play as a team," Mitchell said. "We learned how to overcome adversity and injuries. Which in turn made our team closer."
If the Kings are to make that jump and compete for the Northeast title this year, Mitchell iterated the importance of having a complete hockey team.
"Our main emphasis this year is depth," Mitchell said. "To be competitive in any league you need to have deep line up and be able to trust any number of players in any situation."
In addition to the Kings looking to build and improve as a team this year, Mitchell is also making valiant efforts to helping his players move on to the next level.
"I work with each of my players individually to set up realistic teams/schools that each player is interested in," Mitchell said. "We sit down and work on emailing and reaching out to these teams to get a coach/scout to come watch a game or to check us out when we are in the area."
Mitchell also emphasized the value of NA3HL league-wide events, and what it can do for players looking to play higher level hockey in the future.
With new season approaching quickly, winning games is not the only aspect the Kings are looking to improve on. Mitchell is in the process of getting more community service set up for the team and is very excited about the numerous possibilities.
"We have been volunteering as a team at our local grocery store bagging groceries and helping any way we can to create more support," Mitchell said. "We also have been working on getting into our local school and hospitals to read to children and give away teddy bears."
The Kings will open their 2018-2019 campaign at home against the Nordiques on Friday, September 21st.
Next up in the 3View series: St. Louis Jr. Blues