3View: Wausau RiverWolves
September 6, 2018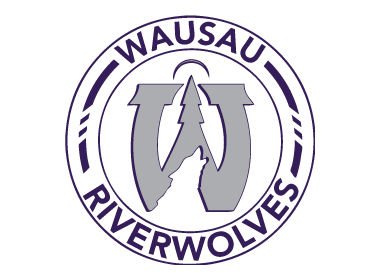 The 3View series will feature an in-depth look into all NA3HL teams in preparation for the 2018-19 season, with two teams being highlighted daily, leading all the way up until the start of the regular season. 3View goes in-depth into each NA3HL team and will include interviews with all the head coaches in the NA3HL, as they provide fans with their expectations and outlook for the 2018-19 season, including taking a look at their potential roster and their strengths as a team for the upcoming season. It will also take a look back on the 2017-18 season and how each team fared and what they accomplished. Best of all, 3View will provide the fans of the NA3HL with an inside look at their favorite team and what to expect.
Wausau RiverWolves
2017-18 Record: 11-35-1, 23 pts. (4th in Central Division)
2018 Playoffs: Lost to the North Iowa Bulls in the Central Division Semi-Finals, 2 games to 0
Head Coach: Tom Murphy
2018-19 Division: Central
The Wausau RiverWolves entered their infancy last season as a new team looking to get off on the right foot. They ended up winning just 11 games, but earned a playoff berth in their organization's first NA3HL campaign. And if you ask Head Coach Tom Murphy, that's more than enough experience to learn from.
Murphy says this year's focus is all about running more smoothly and taking another step forward in the team's development as a group.
"Well the first year is always the toughest on all fronts," he said.
"I think from last year to this year, as a whole, we have become much more efficient and effective. I feel we are more dialed in on the coaching front and our players seem to be dialed in as well. We have a solid core of returners that are ready to take on the responsibility of being one the the most well respected programs in the NA3HL."
In order to avoid stagnation, Murphy and the RiverWolves are looking to push opponents to keep up with a more open, fast-paced strategy in 2018-19. And it's going to take commitment from each player throughout the lineup to get the job done.
"I am looking for everyone on our team to step up. I am planning to create a more wide open style of play. Creating more opportunities that are exciting to watch and play in.
"Our biggest success carrying over to this season is the fact that now we have a year under our belt and are returning with a solid group of returners that WANT to be here rather than just to "play" hockey," Murphy said.
But after leading their division with 1,120 penalty minutes (10th league-wide) last year, playing even-strength hockey or better will be key to Wausau's plans to move further up the ladder.
"Our team discipline on in all subjects is what we need to most improve on. We need to find that passion for the game again," said Murphy.
The RiverWolves saw one alumnus earn a shot at the next level, as Ron Rentner committed to Robert Morris (IL) for the upcoming season. And while advancing a player in their first season in the NA3HL is an admirable accomplishment, Murphy says that he and his staff are focused on pushing even more RiverWolves forward.
"Player advancement is what the main goal is. With my contacts and how I care for these young men, I will stop at nothing to push them to the next level," he said.
As they look forward to improving more and more on the ice, Wausau also looks forward to paying back the support they have received. They may only have a year under their belt in the community, but the RiverWolves are feeling the love.
"We are extremely lucky to be in Wausau. Wausau has the best fans in the league and the community has been nothing but supportive. We are going to including ourselves everywhere we can to make a positive influence in our community just like they have impacted our program," said Murphy.
Wausau kicks off its sophomore season at home with back-to-back tilts against the Alexandria Blizzard on September 28 and 29.
Next up in the 3View series: Willmar WarHawks