Friday FInals: Power, Bighorns and Americans win on opening night
September 8, 2018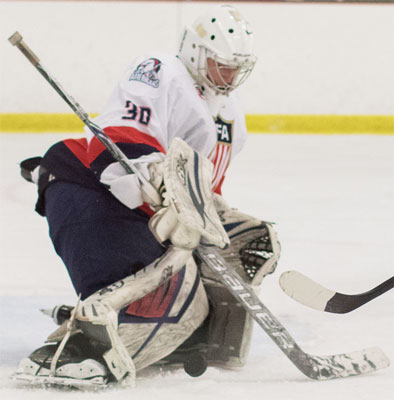 Peoria 3 @ Milwaukee 4 – In their inaugural NA3HL game, the Power got their first win as they came back from two goals down to defeat the visiting Mustangs, 4-3. After the Mustangs opened the scoring in the 1st period, Ben Beversdorf scored the first goal in Power history to answer in the 2nd period. Peoria went up 2-1 thanks to a power play goal from Jaycob Bland and then 3-1 on a goal from Cody Layne. The Power stormed back with three straight goals from Maris Graudins, another from Beversdorft, and the game-winner from Mason Evans. Aaron Dickstein picked up the win in goal for Milwaukee.
Great Falls 5 @ Missoula 0 - The rout was on early in Missoula, as the Great Falls Americans struck just 1:41 into the contest and coasted to a 5-0 victory over the Missoula Jr. Bruins at Glacier Ice Rink Friday night. Lindros Beard scored the early goal that ultimately sealed Great Falls' victory, and the Americans poured it on with three, second period goals from Alexi Suchomlin, Matt Janke and Jens Juliussen. Jack Olson then found twine in the final frame to stretch their advantage to five goals. Olson (1g,1a), Juliussen (1g,1a), Janke (1g,1a) and Braxton Lorentz (2a) each starred with two-point efforts on the night. Americans goalie Drew Scites picked up where he did last year and posted a 19-save shutout.
Helena 8 @ Butte 1 - Helena took control of the scoresheet with an eight-goal performance, their effort marred only by a late Butte tally to shatter the shutout bid as the Bighorns skated to an 8-1 win in the season opener. Justin Sullivan first lit the lamp in the opening stanza, and was one of four separate Helena players to post multi-point outings, adding a pair of helpers on two later goals. Hunter Pierce and Porter Tirrill stretched the Bighorns' lead to 3-0 in the second period, before third-period goals from Nicholas Noel, Kaden Lindberg, Darren Donovan and a pair just 15 seconds apart by Elliot Plourde iced the win. Carsten Quam scored the lone marker for Butte late in the final frame. Helena goalie Eric Berglund made 25 saves in the win.