Friday Finals: Jr. Blues win big in season debut
September 15, 2018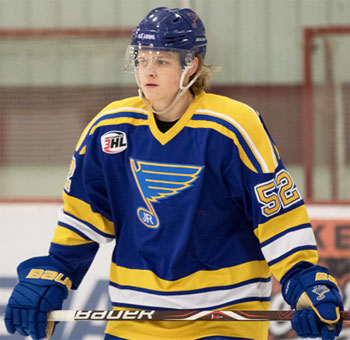 St. Louis 16 @ Evansville 0 - The St. Louis Jr. Blues featured 12 different goalscorers in a blowout 16-0 win over the Evansville Jr. Thunderbolts Friday night. Colton Markiewicz bagged a hat trick on the night for St. Louis, Will Baginski and Jake Faulkner recorded two strikes apiece, and the Blues got individual tallies from Dominic Lesnock, Sean Hofstetter, Michael Monreal, Zach Wilson, Joe Papa, Dante Jones, Hunter Muzzillo, Ethan Dabbs and Stepan Ruta. Mikael Foucher stopped each of the 12 shots he faced in the St. Louis cage, while Evansville's Noah Brandau stood tall despite the scoreline, turning aside 59 of 75 pucks in the opposite crease.
Atlanta 9 @ College Station 2 - Brett Dougherty nabbed four goals and seven different Capitals posted two or more points as Atlanta steamrolled the College Station Spirit 9-2 on Friday night. Netminder Leo Napata backstopped the Capitals with 18 saves, while College Station's Chase Allen and Luigi Giustra combined to stop 60 of 69 pucks. Brody Nielsen also potted a pair of goals for Atlanta, while Jake Pisarcik, William MacDonald and Christopher Walker each lit the lamp once to fuel the the rout. Blake Elliott and Trevor Borlace netted for College Station.
Niagara Falls 2 @ Binghamton 16 - With two goals in the opening minute of the contest, the Binghamton Jr. Senators put their foot on the gas early and never let up as they romped past the Niagara Falls Powerhawks by a 16-2 margin. Eric Melso starred with four goals and four assists for the Senators, followed by a goal and four assists from Mike Padgeon. Greg Simmons netted a hat trick, Mason Fay recorded two goals, and Liam Murphy, Marcus Cook, Wyatte Roberts, Zach Bell, Nico Corsaro and Will Darling struck for a goal apiece. The Powerhawks were led by Owen Green and Jack Kinsman, who each nabbed a goal and an assist.
Cape Cod 2 @ Long Beach 5 - Four unanswered tallies in the final 21 minutes of the game saw the Long Beach Sharks coast past the Cape Cod Islanders 5-2 on Friday night to move to 3-0-0 on the season. Coastal Division Star of the Week Noah Carlock scored twice to lead the Sharks' onslaught, while Cade Lambdin also starred for Long Beach with a goal and three helpers. Richard Frosch and Ryan Gridley also netted once apiece for the Sharks. Michael Goroshko and Derek D'Arcy put Cape Cod on the board in the second period. Both goalies put in strong efforts, with Cape Cod's Parker Orchard stopped 33 pucks and Long Beach's Ryan Cortez stayed perfect on the year with 34 saves of his own.
Alexandria 4 @ Breezy Point 2 - A two-goal opening frame and 42 saves from goaltender Kyle Hayden helped the Alexandria Blizzard skate to a 4-2 win over the Breezy Point North Stars on the road Friday night. Tanner Frerichs, Cody Squillace, Cole Lehmann and Dylan Giorga paced the Blizzard attack with a goal apiece, and were bolstered by a trio of helpers from Val Popowski. Breezy Point were led by Josh Maucieri and Ben Bergman, who each scored, and Lucas Ehrlich stonewalled 33 shots in the loss.
Coulee Region 1 @ Milwaukee 3 - Milwaukee joined Long Beach as the only two teams to boast 3-0-0 records this season as they found twine three times in the third period to earn a 3-1 win over the Coulee Region Chill Friday night. Hunter Larson, Maris Graudins and Chuck Bay potted the tallies for the Power, while Toon De Schepper posted the lone goal for the Chill.
Butte 3 @ Missoula 11 - The Missoula Jr. Bruins nabbed eight unanswered goals in the last 23 minutes to snap a 3-3 deadlock and drop the Butte Cobras 11-3 Friday night. John Bannon posted five points (3g, 2a), and Taylor Ceccarelli and Kyler Fullerton helped lead the way with 2g, 1a apiece. Henry McDougall, Cade Insko, Austin Leadbetter and Connor Frye also scored to round out the Missoula attack. Butte received goals from Levi Jacobson, Ethan Doney and Tyson Stovin through 40 minutes, and netminders Nate Merriman and Daniel Nelson combined for 50 saves on 61 shots. Seth Daniel earned his first win of the year with 23 saves in the Missoula net.
Gillette 3 @ Helena 4 (SO) - Kaden Lindberg and Elliott Plourde each struck in the shootout, and Garrett Dryden stopped both Gillette shooters as the Helena Bighorns slipped past the Wild with a 4-3 win in extra time. Plourde also tallied in regulation time alongside Luc Cross and Nicholas Noel, while Brandon Prewett, Gage Thompson and Zach VanCompernolle paced Gillette's scoring.
Great Falls 3 @ Yellowstone 2 - Yellowstone goaltender Michael Allman turned aside a whopping 70 of 73 shots, but the Great Falls Americans' two goals in the final 40 minutes were enough to snatch a 3-2 comeback win at the expense of the Quake. Matt Janke nabbed a goal and an assist, while Payton McSharry and Sean McLean netted the later tallies for Great Falls. Dylan Rumpke and Blake Billings gave Yellowstone its early lead. Viktor Wennberg put in a strong showing of his own for the Americans with 24 saves to earn his first win of the year.