Saturday Scores: Great Falls off to undefeated start
September 16, 2018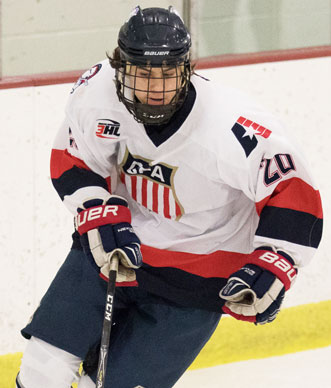 Great Falls 13 @ Yellowstone 1 - The Americans exploded for 13 goals in their victory over Yellowstone. Lindros Beard led all goal scorers with four. Levi Mese and Matt Janke each scored twice and had an assist. Payton McSharry, Jens Juliussen, Ben Rinckey, Jack Olson and Luke Richesin all found the back of the net in the win. Drew Scites picked up his second win of the season by stopping 13 shots. Dylan Rumple had the only goal for Yellowstone. Michael Allman made 42 saves and Jake Kindestin made 9.
Cape Cod 3 @ Long Beach 6 - Long Beach netted two goals in each period and held off a late Cape Cod surge to earn their second straight win over the Islanders, this time by a 6-3 margin, and remain perfect on the year (4-0-0). Cade Lambdin set the pace with four goals and two assists, while Nathaniel Carr and Noah Carlock also found twine for the Sharks. Darren Nathan stopped 33 pucks in the win. For Cape Cod, Tanner Little, Michael Goroshko and Nick Ferrucci fueled the late comeback attempt, while netminders Josh Chausse and Parker Orchard combined for 47 saves.
L/A Nordiques 3 @ New England 2 (OT) - Joe Bisson struck just under two minutes to give the L/A Nordiques a 3-2 win over the New England Stars in their season opener. JP Chauvin and Sam Frechette also tallied for the Nordiques in regulation time, while Ryan Caisse and Connor Barter scored the goals for New England. Matthew Marini and Daniel Miller each finished with 16 saves on the night,
Mid Cities 5 @ Louisiana 2 - Two late goals for Louisiana were not enough to overcome an earlier five-goal deficit, as the Mid Cities Jr. Stars skated to a 5-2 victory over the Drillers Saturday night. Josh Linn netted a pair for the winners, and Ryan Muckensturm, Nick Solema and Brandon Speights scored to round out the Stars' attack. Blake Siewertsen and Matthew Butler lit the lamp late for Louisiana. Drillers goaltender Griffin Varricchio turned in a strong 39-save performance that fell short, while Francisco Clark-Silva stopped 16 shots in the Mid Cities cage.
Atlanta 8 @ College Station 0 - Goaltender Leo LePata earned his second consecutive win and first shutout of the season with a 20-save performance to backstop the Atlanta Capitals to an 8-0 romp past the College Station Spirit. Nicholas Sleeper (2g), Brody Nielsen, Jake Pisarcik, Aryton Cornic, Brett Dougherty, Jason Ladzinski and C.T. Johnson lit the lamp in the Capitals' rout.
Oswego 4 @ Maine 0 - Tommy Kilway posted a hat-trick as the Oswego Stampede rolled over the Maine Wild 4-0 Saturday night. Dylan Gulick scored the lone remaining Stampede goal, and Ben White starred between the pipes with a 34-save shutout to earn his first win of the season. Maine's Chris Rodrigues stonewalled 36 pucks in the loss.
North Iowa 0 @ Peoria 6 - Brandon Hay and Tristan Trudel notched two goals apiece to help lift the Peoria Mustangs to a 6-0 rout of the North Iowa Bulls Saturday night. Jack Radley and Jared Wisely netted the other two Mustangs tallies, and netminder Trevor Smith turned aside all 26 shots that came his way. North Iowa's Dysen Skinner stopped 21 shots in the loss.
Niagara Falls 1 @ Binghamton 16 - On the backs of hat-tricks from Zach Bell (4g), Eric Melso and Mike Padgeon, the Binghamton Jr. Senators posted 16 goals for the second consecutive outing, once again dropping the Niagara Falls Powerhawks. Marcus Cook posted a pair of goals, and Rory Gresham, Mason Fay, Caden Dearborn, and Zach Russell each struck once in the Senators' onslaught, while goaltender Thomas Sullivan stopped 11 of 12 pucks. Jake Ruchala scored the lone goal for the Powerhawks, and netminders Noah Spiesz and Josh Mitchell combined for 96 saves in the loss.
Rochester 0 @ Granite City 10 - Grant Troumbly's hat-trick and Matt Fitzgerald's nine-save shutout combined to push the Granite City Lumberjacks to a lopsided 10-0 win over the Rochester Grizzlies Saturday night. Blake Spetz, Jordan Olson, Sam Ohmes, Brad Amundson, Noah Bissett, Zack DeBoom and Jordan Drobinski also scored for the Lumberjacks. Liam Kelly stopped 15 pucks in the Grizzlies' loss.
St. Louis 6 @ Evansville 0 - Tyler Dorion put on a show with 96 saves in Evansville's net, but St. Louis' attack proved too potent as they comfortably dropped the Jr. Thunderbolts 6-0 on Saturday night. Jordan Crow (2g), Dante Jones, Sean Hofstetter, Brendan Biffignani and C.J. Jones tickled the twine for the Jr. Blues, and netminder Matt Griffin stopped each of the 14 shots he faced.
New Ulm 5 @ Breezy Point 2 - New Ulm came alive in the final frame with three goals to snap a 2-2 deadlock and soar past the Breezy Point North Stars 5-2 Saturday night. Jack Parks, Baylor Hudson, Hunter Johnson, Jarret Cammarata and Jacob Halvorson each scored for the Steel, Josh Maucieri and Dylan Borseth lit the lamp for the North Stars. Breezy Point's Max Eilefson starred with 43 saves, but took the loss despite his performance. Meanwhile, New Ulm's Henry Baribeau put forth a strong showing of his own with 28 saves in the opposite crease.
Wisconsin 1 @ Milwaukee 4 - Ryan Payne led the Milwaukee offense in their victory over Wisconsin, the defenseman scored a goal and added two assists. Mason Evans, Logan Geisness and Maris Graudins also scored in the win. Aaron Dickstein turned aside 25 shots en route to his fourth win of the year. Tanner Maos scored the Whalers only goal and Logan Cooksy made 25 saves for Wisconsin
Gillette 4 @ Helena 8 - Elliot Plourde continued his hot start to the season as he netted a hat trick to go along with one assist. Darren Donovan also had four points in the victory, he had a goal and three helpers. Hunter Pierce found the back of the net twice, Kaden Lindberg and Luc Cross each had a goal and an assist. Eric Berglund got the win in goal as he made 23 saves. Jack Morey scored twice for the Wild and Coleman Varty scored a goal and added two assists. Gage Thompson had a goal and an assist while Parker Delong had two assists. Shane Phillips had 33 saves in the loss.
Bozeman 5 @ Missoula 2 - Hazen McKay stole the show in Missoula as he registered a hat trick and added two assists in the Icedogs 5-2 win. Devin Hoffman netted a goal and two assists. Connor Fuchs also scored for the winners. AJ Ruskowski stopped 25 of 27 shots to pick up the win in between the pipes. John Bannon and Bill Lucas each scored for the Bruins while Evan Williams made 42 saves.