Saturday Scores: Generals stay perfect with sweep
September 23, 2018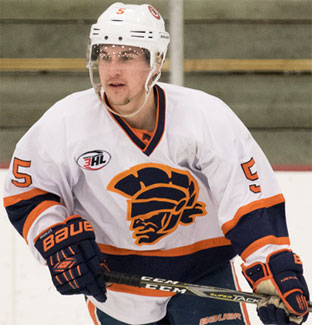 Northeast 5 @ Long Beach 1 - The Generals were on their game once again this weekend, as they dropped the Long Beach Sharks for the second consecutive evening by a 5-1 margin. Goaltender John Driscoll stood tall in the crease, backstopping Northeast's win with 46 saves, while Colin Day, Marc Faia, Jeffrey Sidoit, Robby Beck and Carson Asper lit the lamp. Dixon Root netted the lone tally for the Sharks, while Darren Nathan turned aside 22 of 27 pucks.
College Station 1 @ Louisiana 12 - Viacheslav Nilov and Blake Siewertsen each posted 3g-2a-5pts to help pace the Drillers' 12-1 rout of the College Station Spirit. Mitch Dolese (2), Timmy Zittel, Alejandro Apud, Zach Smith and Josh Jorajuria rounded out the scoring. Blake Elliott found twine late in the middle frame for the Spirit, but the game was well in-hand for the Drillers by then. Griffin Varricchio took the win with saves on eight of the nine College Station shots, while Spirit goaltenders Alan Brouillette and Luigi Giustra combined to stop 60 of 72 pucks.
L/A Nordiques 9 @ Skylands 1 - Eight different players recorded multiple points and Daniel Miller posted 31 saves as the L/A Nordiques blasted the Skylands Kings 8-1 to keep their perfect record intact. The Nordiques received a pair of goals from Joe Bisson, and coasted through the game with tallies by Zack Mullen, Colby Audette, Cole Ouellette, Joshua Sanchez, JP Chauvin, Sergei Anisimov and Sam Frechette, who now boasts 3g-2a-5pts in his last two outings. Skylands got on the board thanks to Dylan Saccone, and netminder Tom Fornabia was stout in goal with 62 saves.
Niagara Falls 3 @ Binghamton 13 - The deja vu continued for the Jr. Senators and Powerhawks, as Binghamton once again won big over Niagara Falls 13-3. Marcus Cook, Zach Bell and Nico Corsaro posted a combined seven goals, while Dinmukhamed Dzhangarashev, Riley Botting, Wyatte Roberts, Aleksander Conrad, Greg Simmons and Mike Padgeon each found twine as well. Devin Mock, Jared Hayden and Tristan Mock scored for Niagara Falls. Jonathan Rapp and Thomas Sullivan split time in goal and stopped 24 pucks for the Jr. Sens, while Josh Mitchell faced down 47 shots in the Powerhawks' net.
Cape Cod 7 @ Maine 5 - The Islanders used a huge four-goal second period to boost themselves to a 7-5 win over the Maine Wild Saturday night. Cole Therrien spearheaded their efforts with a hat-trick, with Caleb Williams, Nick Boudreau, Jimmy Dravage and Brendan Heaydan netting as well. Maine featured goals from Jeff Murphy, Jason Cote, Chandler Bilodeau, Luke Church and Hunter Smith, alongside 32 combined saves from Ben Feldman and Nick Vardon. Parker Orchard was a rock for Cape Cod, stonewalling 40 of 45 pucks in the win.
New England 4 @ Oswego 0 - The goals came late and often in this one, as the Stars notched each of their four goals in the final 22 minutes of play during their 4-0 win over the Stampede on Saturday. Colin Hughes, John Rynne, James Wilson and Connor Barter lit the lamp, and Cedric Joubert earned the shutout with 16 saves between the pipes. Ben White took the loss despite 36 saves for Oswego.
Evansville 0 @ Rochester 10 - Seventy shots on goal helped the Rochester Grizzlies mount an impressive attack, ultimately leading to a 10-0 defeat of the Evansville Jr. Thunderbolts. Despite 60 saves from Noah Brandau in the Bolts' cage, the Grizzlies featured three multi-goal scorers in Lucas Newman, Richard Szabo and Caden Duggan, and received goals from Porter Haney, Vladislav Sorokin, Vincent Palade and Payton Hart. Liam Kelly earned the win with four saves.
North Iowa 5 @ New Ulm 1 - The Bulls continue to pick up steam atop the West Division, recording their third-straight win with a 5-1 victory over the New Ulm Steel. North Iowa's Cam Fagerlee and Peter Verstegen posted a pair of goals apiece to fuel the onslaught, and Matt Rozman tallied another to round out the scoreline. Cooper Hoheisel nabbed the lone goal for the Steel. Both net minders battled well, with North Iowa's Dysen Skinner stopping 41 shots and Henry Baribeau of New Ulm turning aside 29.
St. Louis 5 @ Granite City 6 (OT) - It was quite the thriller in Granite City Saturday night, as the Lumberjacks bounced back from a previous loss to the Jr. Blues with a 6-5 comeback win in overtime. With Granite City ahead 4-2 heading into the third period on goals from Michael Crosbie, Noah Bissett, Grant Troumbly and Zack DeBoom, St. Louis looked to build on two prior tallies by Dante Jones. Matthew Monreal, Zach Wilson and Joe Papa struck in the opening 5:24 of the third period to give the Jr. Blues a one-goal lead through much of the final frame, before DeBoom found twine once more with seven seconds remaining to force overtime. Hunter Schwehr netted the winner in extra time.
Willmar 3 @ Breezy Point 7 - The North Stars netted a combined six goals in the opening 40 minutes to help lift them to a 7-3 win on home ice over the Willmar Warhawks. The hosts received two goals from Braeden Zaste, alongside tallies by Evan O'Connor, Dustin Sadler, Garrett Westlund, Carson Simon and Nick Eddens. Willmar got on the board thanks to Kevin Swope, Elijah Slagter and Jacob Berkowitz. Moritz Ertl stopped 36 in the loss, while Dan Fielding faced down 14 pucks in the Breezy Point cage.
Alexandria 1 @ Milwaukee 3 - Milwaukee has entered its first season in the NA3HL with plenty of talent, moving to a perfect 6-0-0 with Saturday's 3-1 win over the Alexandria Blizzard. Down 1-0 after 40 minutes thanks to a Jack Westlund strike for the Blizzard, Chuck Bay, Jake Berry and Caleb Beversdorf each found twine in the final frame to keep the Power's unbeaten streak alive. Goaltender Aaron Dickstein turned away 29 shots to earn his sixth win, while Alexandria's Bejamin Vutci also stopped 29 in the loss.
Missoula 1 @ Gillette 3 - The Wild won their first game of the season on Friday night, and built on that success with another victory over the Missoula Jr. Bruins on Saturday, this time by a 3-1 margin. Tyler and Jacob Kaminski scored alongside Gage Thompson to lead the Wild attack, while Missoula got a goal from Vadim Zubkov. Each teams goaltender starred in the contest, with Gillette's Aaron LaChance saving 34 pucks and Missoula's Billy Yoder turning away 41 pucks in the opposite crease.
Yellowstone 1 @ Great Falls 4 - The Americans snapped a 1-1 deadlock heading into the final frame with a three-goal third to take a comfortable 4-1 win over the Yellowstone Quake. Luke Hartge put the Quake ahead early before Jens Juliussen responded for Great Falls in the second period. Juliussen then netted his second early in the third period, and Braxton Lorenz and Luke Richesin added later goals to push the Americans to victory. Yellowstone goaltender Michael Allman posted an absurd 73 saves and stifled the Americans' attack for much of the contest, but Viktor Wennberg helped Great Falls to victory with 18 saves for his team.
Helena 10 @ Butte 1 - Luc Cross posted a hat-trick, Elliott Plourde and Nicholas Noel posted two goals apiece and the Helena Bighorns skated comfortably past the Butte Cobras 10-1 on Saturday night. Justin Sullivan, Abraham Laggis and Jordan Douglas tallied the remaining goals for the Bighorns, while Butte's Bryce Gould put his team on the board in the first period. Casey Mattfeldt took the loss despite a 45-save performance, and Dryden Garrett earned the win with six saves for Helena.