Drillers complete sweep on Sunday
September 24, 2018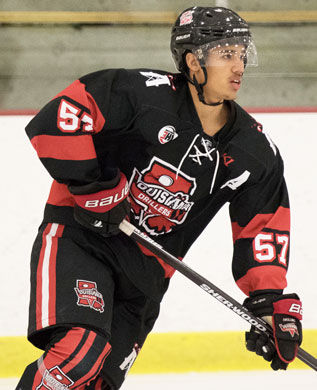 College Station 1 @ Louisiana 9 - Viacheslav Nilov stretched his weekend point total to 6g-4a-10pts in two games as he led the Louisiana Drillers to another comfortable win over the College Station Spirit. Nilov posted a hat-trick for the second consecutive game to complement goals by Mitch Dolese (2), Stanislav Struthers, Grant Griffin, Hayden Watzka and Blake Siewertsen. Daniel Mandelbaum notched the single Spirit strike, while goaltender Chase Allen faced down 40 pucks. Grady Reis took the win with 17 saves on 18 shots, and recorded an assist as well.
New England 5 @ Oswego 0 - After falling in each of their first two outings this season, the New England Stars have bounced back to keep pace in the tight Coastal Division with a weekend sweep of the Oswego Stampede, capped off by Sunday's 5-0 win. Michael Lempiainen (2), Connor Barter, Benjamin Cunningham and Henry Beguelin found twine in the contest, and Timothy Pesek stopped all 34 shots faced to earn the shutout victory.
Texas 5 @ Mid Cities 2 - Despite the late start to their 2018-19 campaign, the Texas Brahmas wasted no time finding their way to the win column, dropping the Mid Cities Jr. Stars 5-2 on Sunday. Michael Redmon netted twice to lead the way, with Zach Perez, Tyler Blanchard and Kellen Ireland providing the remaining markers. Mid Cities got on the board thanks to Remy Kesling and Hunter Leonhard. Thomas Held earned his first win of the season with 26 stops in the Brahams' crease.
Maine 7 @ Cape Cod 1 - One day removed from a 7-5 loss the the Islanders, the Maine Wild stepped up and earned a weekend split with a 7-1 over Cape Cod Sunday. Matthew Nadeau potted a hat-trick, while Emerson Southern (2), Elijah Older and Cam Bisson provided the remaining tallies. Derek D'Arcy scored for the Islanders, and Ben Trambath stopped 43 shots in the loss. Nick Vardon earned the win in the Wild cage with 31 saves.
Coulee Region 6 @ Peoria 1 - The Chill entered Sunday's contest in search of their first victory, and earned just that with a 6-1 win over the Peoria Mustangs. Devin Naidow led the Chill with 33 saves on 34 shots, as Laudon Poellinger (2), Brock Zukowski, Chase McLaughlin, Donny Schultz and Gadel Khismatullin scored the goals. Tristan Trudel found twine for the Mustangs for the second straight contest.