Friday Finals: Grizzlies get signature win
September 29, 2018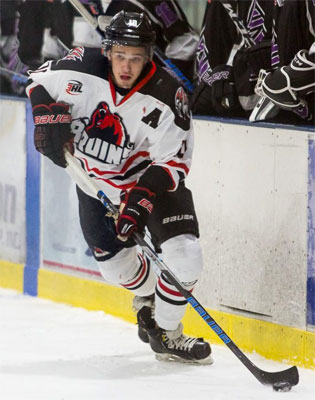 North Iowa 1 @ Rochester 3 - Richard Szabo came up huge for the Rochester Grizzlies Friday night, notching each of their three goals to knock off the North Iowa Bulls 3-1. After Peter Verstegen cancelled out Szabo's first-period strike in the middle frame, Szabo responded with two more goals in the final 40 minutes to see out the victory. Evan Babekuhl starred for the Bulls with 47 saves between the pipes, but Nick Bucklin took the win with 27 stops of his own.
Northeast 2 @ L/A 5 - The Nordiques broke open a tense 2-1 game with a three-goal third period to outpace the Northeast Generals 5-2 and win their sixth straight to open the season. Joshua Sanchez, Kyle Secor, Joe Bisson, Connor Kennedy and Nick Bisson nabbed the goals for the victors, while Dylan Figueroa and Thaddeus Marcola scored for the Generals. Daniel Miller took the win with 25 saves, and Devun Schneider stopped 20 pucks for Northeast.
Gillette 5 @ Missoula 6 - A see-saw affair in Missoula ended with the Jr. Bruins notching two unanswered goals in the third period to tie and eventually defeat the Gillette Wild 6-5 on Friday. Misha Akatnov's hat-trick paved the way for Cade Insko and Vadim Zubkov to net the deciding Bruins goals in the final frame. John Bannon also found twine for Missoula. The Wild fought back with goals from Tyler Kaminski (2), Jack Morey, Ethan Becker and reigning Frontier Division Star of the Week, Coleman Varty. Both goalies performed admirably, with Gillette's Cody Grogan stopping 31 pucks and Missoula's Billy Yoder turning aside 37.
Mid Cities 12 @ College Station 1 - Seth McArdle and Hunter Leonhard caught fire in Friday's contest, netting a hat-trick apiece to lead the Mid Cities Jr. Stars to a 12-1 win over the College Station Spirit. Matthew Taylor (2), Nick Solema, James Dunham, Ryan Muckensturm and Logan High scored the remaining goals for the Stars, while Will Wagner netted the lone tally for the Spirit. Noah Kinsinger earned his first win of the year with 21 saves in the Mid Cities net.
Binghamton 7 @ Skylands 4 - It was a bit of a departure from their usual double-digit goal totals, but the Binghamton Jr. Senators still managed seven goals to top the Skylands Kings' four on Friday night. Thomas Liebold's double paired with a goal and two assists apiece from Marcus Cook and Mike Padgeon boosted the Sens to victory, as Roman Boffa, Zach Bell and Dinmukhamed Dzhangarashev rounded out the scoring. Skylands received goals from Dylan Saccone (2), Khole Hibbert and Trevor Christopher, but goalie Josh Shields stole the show with a whopping 65 saves to keep his side in the contest.
Peoria 6 @ Evansville 1 - The Mustangs posted two goals in each period to comfortably skate past the Evansville Jr. Thunderbolts 6-1. Connor Bennett and Jaycob Bland set the pace with two goals apiece, as Ian McHenrey and Jared Wisely also scored and Jaden Gardner stopped 16 pucks. Kody Kifer tied the game in the first period for Evansville, but that was as close as they would come to a lead in the contest, despite 61 saves from Tyler Dorion.
Texas 3 @ Atlanta 5 - Down 3-1 early in the second period, the Atlanta Capitals rattled off four unanswered tallies in the final 40 to drop the Texas Brahmas 5-3, handing them their first loss of the young season. The Capitals featured goals from Brody Nielsen, Joey Lajcaj, Cole Warner, Gunner Moore and Vito Carlo. Michael Redmon netted a pair and Jack Cooper also lit the lamp for the Brahmas, but those goals coupled with Thomas Held's 31 saves fell short of Atlanta's high-flying offense and Leo LaPata's 35 saves in the opposite cage.
Willmar 0 @ Granite City 7 - Matt Fitzgerald earned his first career NA3HL shutout and first win of the season as his 12 saves backstopped the Granite City Lumberjacks to a 7-0 win over the Willmar Warhawks on Friday. Jack Moore and Noah Bissett notched two goals apiece, and Cooper Smith, Ryan Pogue and Jake Hessinger found twine as well to help Granite City keep pace with Rochester atop the West Division.
Wisconsin 8 @ Breezy Point 3 - The Whalers posted their first win of the new campaign in style on Friday, exploding for four goals in the final frame to notch an 8-3 win over the Breezy Point North Stars. The high-scoring affair actually saw strong play from both netminders, as Wisconsin's Kai Tomita turned aside 36 shots and Breezy Point's Lucas Ehrlich stonewalled 38 across the rink. Justin Schwartzmiller (2), Trevor Timm, Tanner Mros, Sam Hanson, Jeff Bishop, Max Helgeson and Alex Kesler scored for Wisconsin, overrunning Breezy Point goals from Carson Simon, Evan O'Connor and Gunner Bourassa.
Alexandria 15 @ Wausau 2 - A hat-trick of hat-tricks and 38 saves from Kyle Hayden helped push the Alexandria Blizzard to a spacious 15-2 win over the Wausau Riverwolves on Friday. Joe Dokken, Elias Thompson and Tanner Frerichs nabbed three goals apiece, Brandon Connett added a pair, and Val Popowski, Tucker Kruse, Brett Meister and Dallas Duckson each netted once. For Wausau, Tate Stansbury and Mitchel Idalski lit the lamp.
Butte 1 @ Great Falls 12 - The Americans stayed perfect with another dominant performance, this time dropping the Butte Cobras by a 12-1 margin. Four goals from Jack Olson and a hat-trick by Garrett Peterson made up for most of the offense, with Nate Simpson, Matt Janke, Ben Rinckey, Nick Ramstad and Payton McSharry also scoring. Lewallen Newman scored for Butte, but Nate Merriman stood out for the Cobras with 77 saves in the loss. Great Falls' Cam Macintosh turned aside 12 shots in the win.
Helena 4 @ Bozeman 0 - Helena also remained perfect on the year, riding a 33-save shutout by Carver Thompson to a 4-0 win over the Bozeman Icedogs, as the Bighorns look to keep pace with Great Falls in the Frontier Division race. Darren Donovan struck twice, while Elliott Plourde and Justin Sullivan each found twine as well. AJ Ruskowski turned aside 39 pucks in the loss for Bozeman.