Friday Finals: North Stars hand Power first loss
October 6, 2018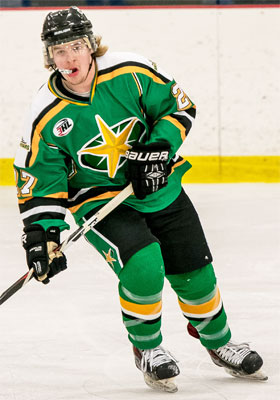 Milwaukee 2 @ Breezy Point 3 (OT) - Chuck Bay struck twice for the Power, but it wasn't enough to keep the Breezy Point North Stars from spoiling Milwaukee's perfect start to the season on the back of a 3-2 win in overtime. Kaymen Kitchen was the hero, tallying the game-winner at 4:14 of extra time to push the North Stars to just their second win of the young campaign and topple the high-flying Power. Carson Simon and Larson Tubbs also posted goals for Breezy Point, and Max Eilefson turned aside 37 pucks to earn his first win of the year.
Wisconsin 16 @ Evansville 0 - The Whalers' offensive prowess was on full display as they picked up a massive 16-0 win over the Evansville Jr. Thunderbolts on the road Friday night. In total, seven different Whalers lit the lamp, including Tanner Mros (3), Anthony Fortin (3), Alex Kesler (3), Sam Hanson (2), James Lowry (2), Garth Wickham (2) and Trevor Timm. Kai Tomita earned the win with 21 stops, while Evansville's Tyler Dorion and Noah Brandau posted 48 and 46 saves, respectively.
North Iowa 3 @ St. Louis 2 - Ivan Bogach found twine midway through the third period as the North Iowa Bulls capped off a 3-2 comeback victory over the St. Louis Jr. Blues to keep pace atop the West Division. After a pair of Will Baginski goals put St. Louis ahead of the Bulls' lone first-period tally, which came courtesy of Jack Giddings, Jimmy McDermott leveled the score for North Iowa in the sandwich stanza, setting up Bogach's game-winner in the third. Dysen Skinner notched the win with 30 saves, while Mikael Foucher's 34 stops came up just short.
Louisiana 5 @ Texas 4 (OT) - Zach Perez's late strike helped the Brahmas force overtime, but Tucker Alspaugh netted the game-winner just under three minutes into extra time to lift the Drillers to a 5-4 victory in a South Division thriller. Blake Siewertsen starred for Louisiana with a pair of markers in regulation time, while Jonathan Broadribb and Viacheslav Nilov also added goals of their own. Texas received goals from Matej Palfy, Tyler Blanchard and Andrue Telstad ahead of Perez's late equalizer. Griffin Varricchio stood tall in the Louisiana crease with 39 saves, outpacing Texas' Thomas Held's 12 stops at the other end of the ice.
Willmar 0 @ Rochester 5 - The West Division-leading Grizzlies were firing on all cylinders as they picked up their fifth consecutive win, dropping the Willmar Warhawks 5-0 to round out a five-game homestand. Vladislav Sorokin potted a hat-trick, Lucas Newman and Seth Bacon each scored as well and Nick Bucklin faced down all 24 pucks that came his way to lift the Grizzlies to victory. Moritz Ertl handled a heavy workload in the Willmar crease, turning aside 47 of 52 pucks in the loss.
Mid Cities 3 @ Atlanta 0 - Josh Linn's pair of strikes and Fransisco Clark-Silva's 26-save shutout helped the Mid Cities Jr. Stars thump the Atlanta Capitals 3-0 to move into a three-way tie atop the South Division with the Caps and the Louisiana Drillers. Seth McArdle nabbed an insurance tally late in the contest for the Stars. Despite the loss, Atlanta backstopper Noah Ping put forth a strong showing with 44 saves on 46 shots in the Caps' crease.
Alexandria 1 @ Granite City 5 - The Lumberjacks used a quick start and an early 3-0 lead to guide them to a 5-1 win over the Alexandria Blizzard in a testy, penalty-laden affair. Noah Bissett, Zack DeBoom and Trevor Dummer lifted Granite City to a quick lead in the first period, with Daymin Dodge and Brad Amundson adding to the total with second and third-period markers. Dylan Giorgio salvaged a strike for Alexandria in the middle frame, but Michael Janke shut the door for Granite City with 28 saves on the night. Kyle Hayden took the loss with 32 saves for the Blizzard.
L/A 4 @ Long Beach 2 - While Milwaukee stumbled in their quest for perfection, the Nordiques kept their hot start alive with their eighth-straight victory, this time a 4-2 decision over the Long Beach Sharks on the road. Joe Bisson's hat-trick paced L/A's attack, with Crewz Berry also netting once, and Daniel Miller earned another with with 15 saves on the night. Cade Lambdin and Jackson Wellmeyer posted the goals for Long Beach in front of a 43-save effort by Ryan Cortez.
Cape Cod 2 @ Northeast 10 - As the Generals continue to try to catch up to the blazing Nordiques, a 10-2 win over Cape Cod on Friday helped narrow the gap a bit. Tyler Rudek (3g, 1a) and Dylan Figueroa (2g, 3a) led the way, as goals from Raymond Conroy, Robbie Flansburg, Thaddeus Marcola, Kolye Bankauskas and Tami Merilainen alongside 15 saves from Devun Schneider rounded out the win. Matthew Hinckley and Nevin Davialut scored for Cape Cod ahead of a combined 43 saves by Parker Orchard and Josh Chausse.
Bozeman 7 @ Missoula 8 - Reigning Frontier Division Star of the Week Misha Akatnov was a man on fire during Missoula's thrilling 8-7 win over the Bozeman Icedogs Friday night. Akatnov posted a whopping four goals and an assist to account for more than half of the Bruins' goals, matched only by Vadim Zubkov's mirror effort -- a goal and four assists. Devon Ament, Bill Lucas and Ty Dittman each scored as well for Missoula. Bozeman featured goals from Hazen McKay (2), Devin Hofmann, Wyatt Burrell, Daniel Liner, Gage Blatter and Nash Pine. Both netminders were steady between the pipes, with Missoula's Evan Williams facing down 31 pucks and Mikael Levokari turning aside 37 in the Bozeman cage.
Gillette 2 @ Great Falls 9 - The Americans jumped out to a 7-0 lead after two periods and held off a two-goal burst by the Wild in the third period to ultimately run out as 9-2 winners over Gillette on Friday night. Lindros Beard twice lit the lamp for Great Falls, and the Americans also received goals from Garrett Peterson, Luke Richesin, Jack Olson, Ben Rinckey, Nick Ramstad, Levi Mese and Payton McSharry. Austin Newton and Gage Thompson gave Gillette life late in the contest, but Great Falls' Drew Scites held strong with 34 total saves on 36 shots.