Saturday Scores: Nordiques off to 10-0 start
October 7, 2018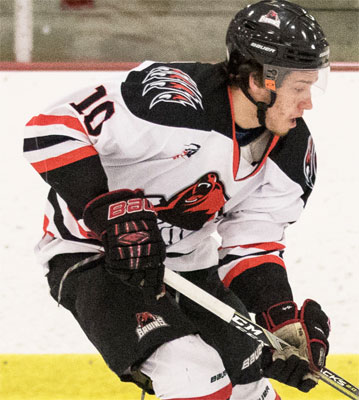 L/A 8 @ Long Beach 1 - Ten games in, 10 games unbeaten for the L/A Nordiques after Saturday's 8-1 win over the Long Beach Sharks. L/A featured a hat-trick from Colby Audette, two goals from reigning Coastal Division Player of the Week and Defenseman of the Month, JP Chauvin, and lone strikes by Nicolas Lusignan, Cole Ouellette and Crewz Berry. Jason St. Pierre stopped nine of 10 in the Nordiques' cage, allowing just one goal to Long Beach's Richard Frosch. Ryan Cortez stopped 24 pucks in the Sharks' loss.
North Iowa 1 @ St. Louis 3 - Just a day removed from their last meeting, a North Iowa win, the Jr. Blues stepped up to get their revenge, dropping the Bulls 3-1 on Saturday. Zach Lodes' two goals set the pace, and Joe Papa netted an insurance tally late in the middle frame. Ian Doner notched North Iowa's goal. Evan Babekuhl and Connor Poczos combined for 41 saves on the night in the North Iowa crease, while Mikael Foucher stopped 21 of 22 for the Blues.
Niagara Falls 3 @ Skylands 8 - The Kings' attack was out in full force last night, notching at least two goals in each period to romp past the Niagara Falls Powerhawks 8-3. Josh Baker and Jake Cicalese netted a pair apiece, and Zakary Sparks, Trevor Christopher, Zach Burkhart and Steven Ford added goals of their own ahead of a 20-save showing from Josh Sears in the Skylands cage. Jack Kinsman, Cam Orzechowski and Evan Shanley tallied for the Powerhawks, and Josh Mitchell was busy between the pipes, stopping 48 of 56 shots.
New England 6 @ Cape Cod 3 - While L/A continues to widen its gap in the Coastal Division, New England picked up a crucial win in the race for second place, a 6-3 decision over the Cape Cod Islanders. Connor Barter found twine twice for New England, helped by goals from Zachary Cormier, Ryan Caisse, James Wilson and Jake Marini. Timothy Pesek starrd with 31 saves for the Stars, conceding only to Caleb Williams, Cole Therrien and Nick Ferrucci of Cape Cod. Parker Orchard turned aside 37 in the Islanders' cage.
Maine 3 @ Oswego 4 - Elijah Morris potted the deciding tally just 57 seconds after a tying effort by Elijah Older to lift the Oswego Stampede to a 4-3 win over the Maine Wild on Saturday. Chandler Bilodeau got the Wild on the right foot early, but was cancelled out by a pair of Oswego strikes from Dylan Gulick and Morris. Maine's Dylan Demers tied the game heading into the third period, but Nick Snyder restored the Stampede advantage ahead of the goal exchange between Older and Morris midway through the third. Colin Burgess took the win with 25 saves, countering Andrew Ghimpeteanu's 31-save showing in the Maine cage.
Northeast 4 @ Binghamton 8 - The Jr. Senators sit comfortably atop the Northeast Division following Saturday's 8-4 win over the Generals, thanks largely to a whopping four goals by Zach Bell. September's Forward of the Month, Eric Melso, added another two goals, and Marcus Cook and Greg Simmons each notched once. Tyler Rudek (2), Kolye Bankauskas and Marc Faia tallied for Northeast. Both netminders were stout in the contest, with Binghamton's Jeff Zero stopping 39 of 43 and Northeast's John Driscoll facing down 54 of 62.
Louisiana 2 @ Texas 4 - After falling behind by two goals in the second period, the Brahmas roared back with four unanswered goals to record a 4-2 win over division rival Louisiana. Mitch Dolese and Riley Sloane put the Drillers ahead in the second period, before Joseph Trazzera, Tyler Blanchard and two markers by Matej Palfy lifted Texas to the win. Bryce Runyan posted 36 saves in the Brahmas' crease; Samuli Aarinen faced down 32 for the Drillers.
Alexandria 2 @ New Ulm 6 - Hunter Johnson netted twice, Henry Baribeau stopped 36 pucks and the New Ulm Steel skated to a 6-2 win over the Alexandria Blizzard to gain two crucial points in the West Division race. Corey Stormer, Jordan Cooper, James Spaargaren and Jacob Halvorson also lit the lamp for the Steel, while Riley Scanlon and Tanner Frerichs scored for the Blizzard. Bailey Rosch turned aside 29 of 35 in the Alexandria crease.
Mid Cities 5 @ Atlanta 4 - A furious three-goal comeback in the span of two minutes in the third period helped the Jr. Stars to a key 5-4 win over the Atlanta Capitals on Saturday. Atlanta goals from Brody Nielsen, Cole Thomas Johnson, Brett Dougherty and Keith Gustin cancelled out a brace by Mid Cities' Josh Linn, but a goal from Nick Snyder and two by Logan High from 10:31 to 12:28 of the third earned the Stars their win. Francisco Clark Silva took the win with 32 saves.
Rochester 7 @ Willmar 1 - Owen Bourdow netted twice and Nick Bucklin stopped 11 pucks to guide the Grizzlies to a comfortable 7-1 win over Willmar, denying the Warhawks their first win of the year. Seth Bacon, Matthew DeRosa, Caden Duggan, Nathan Bennett and Peyton Hart notched goals as well, while Jacob Berkowitz posted the lone strike for the Warhawks. Moritz Ertl and Jake Sumner combined for 30 saves in the Willmar net.
Milwaukee 3 @ Breezy Point 0 - After Breezy Point tarnished Milwaukee's perfect record on Friday, the Power came back in a big way with a 3-0 shutout win over the North Stars to move to 8-0-1 thus far in their first NA3HL season. September's Goalie of the Month, Aaron Dickstein, was once again at his best, stopping 31 pucks for the Power, as Benjamin Beversdorf, Logan Geisness and Ivan Bilyy lit the lamp. Lucas Ehrlich stonewalled 48 pucks in the Breezy Point net.
Wisconsin 17 @ Evansville 1 - Each Wisconsin skater notched at least one point, Justin Schwartzmiller and Sam Hanson each posted hat-tricks, and the Whalers blitzed the Evansville Jr. Thunderbolts for a 17-1 win on Saturday. Garth Wickham, Luke Hefty and Tanner Mros also posted two goals apiece, and Adam Varga, Jeff Bishop, Anthony Fortin, James Lowry and Justin Vinton netted as well. Logan Cooksy stopped 31 of 32 pucks, allowing a single goal to Deric Richison of Evansville. Noah Brandau faced quite a barrage of shots in the Thunderbolts goal, stopping a whopping 88 of 105 shots through 60 minutes.
Bozeman 2 @ Helena 8 - Joining L/A in keeping its undefeated moniker was Helena, notching an 8-2 win over rival Bozeman on Saturday. The Bighorns featured goals by Kaden Lindberg, Hayden Seitz, Elliot Plourde, Ty Niskanen, Ricards Groskops, Luc Cross, Nicholas Noel and Abraham Laggis in front of 30 saves by Garrett Dryden. Hazen McKay and Dominic Canic lit the lamp for Bozeman, while AJ Ruskowski and Mikael Levokari combined for 62 saves on the night.
Missoula 7 @ Butte 3 - Vadim Zubkov netted a hat-trick, Seth Daniel stopped 27 pucks and the Missoula Jr. Bruins recorded a crucial 7-3 victory over the Butte Cobras. Misha Akatnov tallied twice in the win, bringing his goal total to 11 in just four games since debuting. Connor Frye and Bill Lucas also scored for Missoula, while Tyson Stovin (2) and Carsten Quam found twine for Butte. Nate Merriman faced down 33 pucks in the Cobras' crease.
Gillette 2 @ Great Falls 6 - Gillette struck first, but Great Falls would not be denied as the Americans earned a 6-2 win over the Wild on Saturday. Jens Juliussen (2), Payton McSharry, Jack Olson, Matt Janke and Trent Cowden notched the goals, and Viktor Wennberg starred with 25 saves to notch his third win in as many starts. Coleman Varty and Gage Thompson scored for Gillette, in front of 41 saves by Cody Grogan.