Sunday Wrap-Up: Stars highlight weekend sweeps
October 8, 2018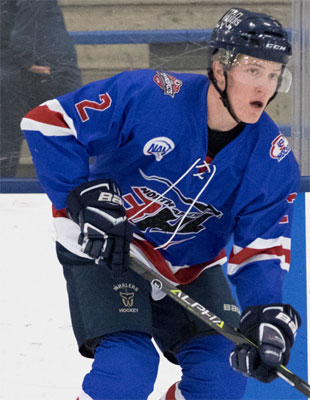 Cape Cod 0 @ New England 16 - James Wilson and Connor Barter each posted hat-tricks to help the Stars' offense light up the Cape Cod Islanders to the tune of a 16-0 win on Sunday. John Rynne, Hunter Norris and Jake Marini each lit the lamp twice, with Zachary Burnham, Ryan Caisse, Michael Lempiainen and Eric Chalifoux finding twine as well. Cedric Joubert earned the win with 19 saves, while Cape Cod's Parker Orchard faced down 43 pucks of his own.
Northeast 3 @ Binghamton 8 - The Jr. Senators strengthened their hold atop the Northeast Division with a comfortable 8-3 romp past the Generals on Sunday. Marcus Cook netted a hat-trick for Binghamton, Mike Padgeon added a pair and Wyatte Roberts, Zach Bell and Eric Melso each scored as well. The Generals received goals from Marc Faia, Preston Phelps and Robbie Flansburg, while Devun Schneider and John Driscoll posted a combined 47 saves in the loss. Jeff Zero took the win with 36 saves in the Binghamton crease.
Niagara Falls 1 @ Skylands 7 - Looking to gain a leg up on their closest opponent in the Northeast Division rankings, the Kings struck thrice early to ultimately skate to a 7-1 win over the Powerhawks. Dylan Saccone's hat-trick led the way, followed by two goals from Dylan Dinzik and individual tallies by Jake Lissy and Trevor Christopher. Tom Fornabia stopped 28 pucks for Skylands, allowing just a single goal to Miguel Mercado of Niagara Falls. Noah Spiesz took the loss with 44 saves.
Maine 4 @ Oswego 5 - Joey Gallo nabbed the deciding goal to cap off his hat-trick on the night and the Stampede held off a late rally by the Wild to record a 5-4 win on Sunday. Mark Mannarn and Rich Hart posted the remaining tallies for Oswego, while William Godbout, Mitchell Bliss, Jeff Murphy and Chandler Bilodeau scored for Maine. Ben White earned the win with 33 saves in the Stampede cage, countering 23 stops by Chris Rodrigues at the other end of the ice.
Wisconsin 8 @ Evansville 4 - After a pair of wide-margin victories for the Wisconsin Whalers over the Evansville Jr. Thunderbolts, Sunday's contest featured a tighter affair as the Whalers won by a margin of 8-4. Kody Kifer put the Thunderbolts on the boards first, but two goals each from Wisconsin's Sam Hanson and Jeff Bishop, combined with individual goals by Anthony Fortin, James Lowry, Garth Wickham and Noah Montague, helped the Whalers to victory. Deric Richison, Cole Ford and Benjamin Cope made it close in the middle frame, but Wisconsin's Kai Tomita stepped in with 17 saves in the third period, building off of Ryan Hooks' 18 from the first 40 minutes. Gabriel Lessard took the loss with 50 saves in Evansville's crease.
Louisiana 6 @ Texas 5 (SO) - Viacheslav Nilov and Blake Siewertsen scored in the shootout, Griffin Varricchio stopped both Texas shooters and the Drillers slipped past the Brahmas with a 6-5 shootout win on Sunday. Siewertsen also scored in regulation time, alongside Timmy Zittel (2), Alejandro Apud and Mitch Dolese for Louisiana. Jack Cooper tallied a hat-trick for the Brahmas, who also received goals from Tyler Blanchard and Ian Erdman. Varricchio finished with 29 saves in the win, while Bryce Runyan turne aside 26 saves for Texas.