Nordiques' Chauvin and Ouellette a Dynamic Blue Line Duo
October 15, 2018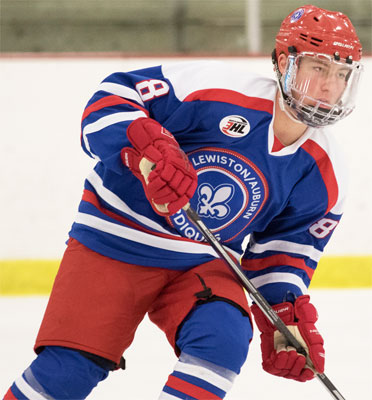 By Tom Robinson, usahockey.com
Cameron Robichaud knows other coaches may choose a different approach.
Blessed with two high-scoring defensemen — the two highest scoring in the entire North American 3 Hockey League (NA3HL) — the Lewiston/Auburn Nordiques coach chooses to play them together on a regular basis, not just in power-play situations.
J.P. Chauvin and Cole Ouellette have made that strategy pay off for the Maine-based team, which has won its first dozen games to rank on top of the standings for the Coastal Division and the 36-team NA3HL while also leading the entire league in goal differential and ranking second in goals scored.
"Typically you'll see a lot of teams will split up their offensive defensemen and stick them with a defensive D," Robichaud said. "I've gone with them together. At times, they may get caught because they are so offensive, but they have such good skating that even when they get caught, they're able to get back, no problem.
"At times, I get a little upset and say to them, 'You can't have two defensemen jumping,' but then they don't get scored on because they get back."
Any risks the approach takes have been offset many times over by the rewards in the offensive zone during the 12-0 start.
Chauvin and Ouellette not only rank first and second among NA3HL defensemen in scoring, but they are also 1-2 in the league in plus-minus. Chauvin is at plus-34 with seven goals and 17 assists. Ouellette is plus-33 with three goals and 19 assists, seven of which have come on the power play.
They get help from the more conventional defensemen on the team in keeping the Nordiques' goals against per game at 1.75, the third-best figure in the league.
"We have some veteran leadership in our defensive corps, besides Ouellette and Chauvin," Robichaud said. "We have two '98 [birth year] defensemen, Donovan Tehan and Andrew McCormick, who are kind of more defensive and really kind of shut down the back end and allow some space and opportunity for us to be offensive."
Chauvin, a 20-year-old from Massena, New York, dates back to the Nordiques' predecessor when he played for the Lewiston/Auburn Fighting Spirit in 2016-17, prior to changes in ownership and management.
"His strength is the offensive side," Robichaud said. "I'm not going to try to change it."
There were other changes in the team, however.
The Fighting Spirit missed the playoffs in 2017. The Nordiques went 32-11-3-1 last season and finished second in the division in both the regular season and playoffs where they won a first-round series.
"Last year was our inaugural season," Robichaud said. "We had a pretty strong season and we lost in the Coastal Divisional finals.
"When I had built the team last year, it was kind of a two-year plan. We have a lot of returning guys and I was able to bring in guys at the end of the season last year that I wanted for this year. So, we have 15 or 16 guys who, whether it was for a full season or just five games, wore a Nordiques jersey last year."