October 19, 2018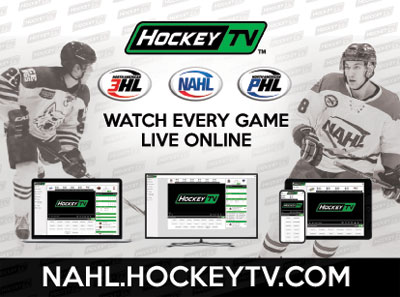 This weekend in the NA3HL features 34 games from Friday through Sunday.
There is just one undefeated team remaining in the league and that is the Helena Bighorns. The Bighorns will be put to a big test on Friday night as they face the Great Falls Americans, who have just one loss. Winning streaks collide in the Central Division as rivals St. Louis and Peoria meet for the first time in 2018-19. Extended winning streaks are also on the line this weekend for the Rochester Grizzlies, Mid Cities Jr. Stars, Binghamton Junior Senatoris and Northeast Generals. The Generals are riding high after earlier in the week handing the L/A Nordiques their first loss of the season.
Follow the games on the NA3HL App:
The 2018-19 season marks the ninth for the NA3HL, which is one of two USA Hockey-certified Tier III junior leagues. This past season, no other league has had more movement and advanced more players onto play in the NAHL than the NA3HL.
The NA3HL is also the only league that has an exclusive NAHL tendering system available only to NA3HL players. This sets the stage for a proven and quantifiable NA3HL-NAHL pipeline as the NA3HL continues to make their mark in advancement of players. A total of 51 former NA3HL players played in the NAHL during the 2017-18 regular season. In addition, 24 more current NA3HL players were tendered by NAHL teams to play in the NAHL for the 2018-19 season.
The NA3HL also saw over 150+ college commitments in 2017-18. Almost 70% of those college commitments were NCAA commitments.
FRI, OCTOBER 19
Northeast at Cape Cod - 5:00 PM EDT
Texas at College Station - 6:15 PM CDT
Binghamton at Oswego - 7:30 PM EDT
New Ulm at Rochester - 7:05 PM CDT
Willmar at Alexandria - 7:10 PM CDT
St. Louis at Peoria - 7:15 PM CDT
Wisconsin at Granite City - 7:30 PM CDT
Maine at Long Beach - 8:30 PM EDT
Skylands at Niagara Falls - 8:30 PM EDT
Breezy Point at North Iowa - 7:30 PM CDT
Evansville at Wausau - 7:30 PM CDT
Butte at Bozeman - 7:30 PM MDT
Helena at Great Falls - 7:30 PM MDT
Gillette at Yellowstone - 7:30 PM MDT
SAT, OCTOBER 20
Maine at Long Beach - 2:30 PM EDT
Atlanta at Louisiana - 4:05 PM CDT
Binghamton at Niagara Falls - 6:00 PM EDT
New England at Cape Cod - 7:00 PM EDT
Texas at College Station - 6:15 PM CDT
Skylands at Oswego - 7:30 PM EDT
St. Louis at Peoria - 6:45 PM CDT
Rochester at New Ulm - 7:10 PM CDT
Wisconsin at Granite City - 7:30 PM CDT
Breezy Point at North Iowa - 7:30 PM CDT
Evansville at Wausau - 7:30 PM CDT
Alexandria at Willmar - 7:30 PM CDT
Butte at Helena - 7:05 PM MDT
Missoula at Great Falls - 7:30 PM MDT
Bozeman at Yellowstone - 7:30 PM MDT
SUN, OCTOBER 21
Binghamton at Niagara Falls - 12:00 PM EDT
Skylands at Oswego - 1:00 PM EDT
Cape Cod at New England - 1:30 PM EDT
College Station at Mid Cities - 2:15 PM CDT
Atlanta at Louisiana - 4:05 PM CDT