Sunday Wrap-Up: Binghamton cruises to 7th straight win
October 21, 2018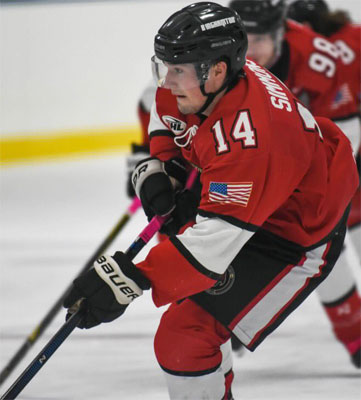 Binghamton Junior Senators 8 @Niagara Falls PowerHawks 0 - The Senators made easy work out of the PowerHawks on Sunday afternoon winning 8-0. Jonathan Rapp saved all 11 shots he faced and recorded his first shutout of the season. Greg Simmons led the way for the Senators earning his 2nd consecutive hat-trick in the win. Thomas Liedbold was also key scoring two goals for the Senators. PowerHawks goaltender Noah Spiesz was stellar all game making 51 saves in the loss.
Skylands Kings 2 @ Oswego Stampede 1 (SO) - Kavan Johnson was the star of the game Sunday afternoon making 50 saves for the Kings in their shootout win over the Oswego Stampede. Johnson was excellent all game recording his 1st win of the season. Trevor Christopher was the goal scorer for the Kings in the win. Stampede goaltender Colin Burgess was solid in net as well making 28 saves in the loss. Wade Moak was the lone goal scorer for the Stampede.
Cape Cod Islanders 4 @ New England Stars 6 - The New England Stars made a furious comeback on Sunday afternoon overcoming an early 3-0 deficit to eventually take care of the Cape Cod Islanders 6-4. Trailing 3-0 to start the game, the Stars proceeded to score the games next five goals. Henry Beguelin and Jake Marini led the way for the Stars scoring two goals each. Michael Lempianinen recorded a goal and dished out three assists in the win as well. Goaltender Cedric Joubert made 36 saves for the Stars in the win. Cole Therrien and Leevi Kervinen were the point leaders for the Islanders in the loss each scoring a goal and two assists.
College Station Spirit 0 @ Mid Cities Jr. Stars 10 - The Mid Cities Jr. Stars routed the College Station Spirit on Sunday clinching double digits in their 10-0 win. Brandon Speights, Cameron Tobey, and Blake Campbell all scored two goals for the Stars in the win. Stephen Guadalajara was in full playmaker mode dishing out four assists for the Stars as well. Goaltender Noah Kinsinger earned his first shutout of the season making 17 saves in the win. Chase Allen made 45 saves for the Spirit in the loss.
Atlanta Capitals 1 @ Louisiana Drillers 4 - The Louisiana Drillers never trailed in their 4-1 win over the Atlanta Capitals on Sunday afternoon. The Drillers jumped out to a quick start in the first period and never looked back. The Drillers had four different goal scorers in the win led by Hayden Watzka who also had an assist. Tucker Alspaugh helped out with two assists as well. Goaltender Samuli Aarinen made 28 saves in the win. Keith Gustin scored the lone goal for the Capitals in the loss.