Friday Finals: Americans hand Bighorns first loss
October 27, 2018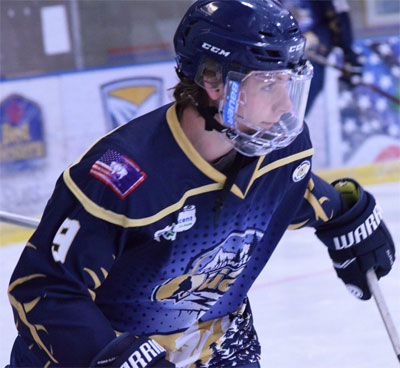 Helena 3 @ Great Falls 8 - Drew Scites stood tall in the Americans' cage on Friday, lifting his squad to an 8-3 victory over the Bighorns at home with 40 saves on 43 shots as Great Falls jumped out to a 5-0 lead and never looked back. Lindros Beard (2), Payton McSharry, Jens Juliussen, Cody Dearing, Jack Olson, Matt Janke and Garrett Peters lit the lamp for Great Falls, while Hayden Seitz, Elliot Plourde and Valary Dietz provided the offense for Helena, who received a combined 37 saves from Eric Berglund and Carver Thompson.
Bozeman 5 @ Gillette 4 (OT) - Brock Finn provided the overtime heroics, Dominic Canic netted twice, AJ Ruskowski stopped 32 pucks and the Icedogs knocked off the Wild 5-4 in extra time to notch two crucial points in the Frontier Division. Connor Fuchs and Gage Blatter also scored for Bozeman, countering Gillette strikes by Coleman Varty (2), Caleb Day and Parker Delong. Aaron Lachance ended the night with 35 saves in the Wild cage.
Butte 8 @ Yellowstone 7 - Yellowstone's Luke Hartge put forth an absolutely astounding seven-goal effort on Friday night, but his heroics fell just short as the Butte Cobras skated to an 8-7 win over his Quake. Bryce Gould notched a hat-trick, Carsten Quam, Ethan Doney, Alec Sorby, Daniel Liner and Robin Bagley scored the other Cobras' goals and Sean Leonard finished with 36 saves in the Butte crease. Michael Allman took the loss for Yellowstone despite a solid 41 saves.
Northeast 5 @ Cape Cod 2 - Stephen Gerbis' hat-trick set the tone as the Generals skated to a 5-2 win over the Islanders on the road Friday night. Robbie Flansburg and Dylan Figueroa also found twine for Northeast, countering Cape Cod tallies by Tanner Little and Leevi Kervinen. John Driscoll notched the win with 25 saves, while Josh Chausse stopped 32 in the loss.
Louisiana 7 @ College Station 1 - The Drillers picked up another clutch win in the tight South Division with a 7-1 decision over the Spirit, thanks to six different goalscorers and 26 saves from Kevin Lake. Hayden Watzka netted twice, while Brandon Morgan, Viacheslav Nilov, Eli Powell, Riley Sloane and Zach Smith each lit the lamp as well for Louisiana. Eli Gould scored the lone goal for the Spirit, and netminder Chase Allen was solid with 45 saves.
Evansville 0 @ St. Louis 16 - Dante Jones stole the show with five goals, Ty Barnhill stopped 14 of 14 pucks and the Jr. Blues romped past the Jr. Thunderbolts 16-0 Friday night. Joe Papa (2), Matthew Monreal, Brendan Biffignani, Will Baginski, Luke Felts, Zach Lodes, Jake Faulkner, Stepan Ruta, Tom Yurisich and Jacob Wiethaupt each scored. Gabriel Lessard made 50 saves for Evansville.
Rochester 4 @ Alexandria 5 - Brett Meister starred with a hat-trick, Brandon Connett potted the game-winner and Kyle Hayden turned aside 31 pucks as the Blizzard held off a late comeback attempt by the Grizzlies to win 5-4 on Friday. Riley Scanlon also netted for Alexandria, while Matthew DeRosa posted a hat-trick and Oskar Stahl provided Rochester's offense. Liam Kelly stopped 28 pucks for the Grizzlies.
Coulee Region 7 @ New Ulm 1 - The Chill rode a five-goal third period to a comfortable 7-1 win over the Steel on Friday, featuring two goals by Blake Holmes and 24 saves by Luke Weberg. Brandon Ratzloff, Keaton Caplis, Flavien Fondadouze, Brady Lindauer and Thomas Magnavite also starred for the high-flying Chill, countering Jordan Cooper's strike for New Ulm, who received 22 saves from James Royce.
Milwaukee 4 @ Wausau 1 - After being dealt their first regulation loss of the season in their last time out two weeks ago, the Power returned to winning ways with a 27-save effort by Aaron Dickstein and four different scorers to win 4-1 over the Riverwolves Friday night. Benjamin Beversdorf, Mason Evans, Alexander Kelsall and Chuck Bay scored for the victors, and Cale Bowman notched the goal for Wausau. Wausau's Alexander Gilev was a stalwart between the pipes with a whopping 60 saves.
Texas 3 @ Mid Cities 2 - A huge South Division showdown went the way of the Brahmas thanks to Matej Palfy's game-winning strike in a front-loaded 3-2 win over the Jr. Stars. The game's five goals were all scored in the opening frame, as Mid Cities got things started with Nick Snyder's early strike before Tyler Blanchard and Stuart Pearson put Texas ahead. Brandon Speights leveled scores once more for Mid Cities, but Palfy's winner came shortly after. Bryce Runyan turned aside 18 pucks in the win, while Francisco Clark-Silva stopped 31 for Mid Cities.
Granite City 5 @ Willmar 2 - The Lumberjacks struck thrice in the opening stanza to ultimately coast to a 5-2 win over the Warhawks on Friday, featuring a pair of goals by Bailey Sommers and 18 stops by David Mulligan. Sam Ohmes, Zack DeBoom and Hunter Schwehr also scored for Granite City, while Elijah Slagter and Connor Rollo found twine for Willmar. Lucas Ehrlich stopped 49 pucks for the Warhawks.
Binghamton 5 @ Skylands 0 - Jeff Zero allowed zero goals on 29 shots and five different Senators scored to lift Binghamton to a 5-0 win over division rival Skylands on Friday. Liam Murphy, Mike Padgeon, Dinmukhamed Dzhangarashev, Mason Fay and Will Darling put the pucks past Kings netminder Josh Sears, who finished with 39 saves on the night in the loss.