Saturday Scores: Brahmas take over top spot in South
October 28, 2018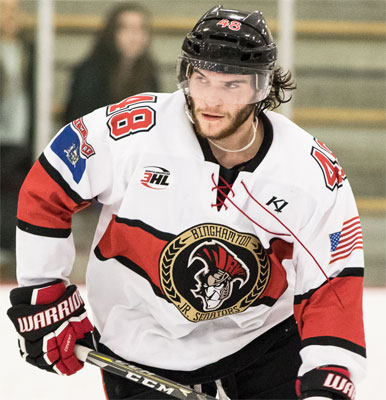 Texas 4 @ Mid Cities 2 - Tyler Blanchard broke a 2-2 deadlock in the second period and Parker Mara added an insurance tally in the final stanza to lift the Brahmas to a crucial 4-2 victory over the Jr. Stars on Saturday. Michael Redmon and Zach Perez also scored for Texas, while Hunter Leonhard and Josh Linn struck for Mid Cities. Bryce Runyan took the win with 39 saves, countering 29 from Mid Cities' Francisco Clark-Silva.
Oswego 1 @ New England 3 - The Stampede struck first, but the Stars responded with three unanswered tallies to snatch a 3-1 win on Saturday night. Mark Mannarn kicked off the scoring for Oswego before Jake Marini, Corey Tumenas and Christopher Barone sealed New England's win in front of 24 saves in goal by Matthew Marini. Colin Burgess took the loss with 32 saves for Oswego.
Binghamton 6 @ Skylands 2 - The Jr. Senators rode a Zach Bell hat-trick and two goals by Greg Simmons to a comfortable 6-2 win over the Kings on Saturday. Thomas Liebold also lit the lamp for Binghamton, and Thomas Sullivan stopped 32 pucks to earn the win. Skylands received goals from Zakary Sparks and Dylan Dinzik, along with 42 saves from Tom Fornabia.
Maine 2 @ Northeast 3 (SO) - Tyler Rudek scored the only shootout goal to cap off a 3-2 win for the Generals over the Wild in what was a back-and-forth affair during regulation time. Kolye Bankauskas and Thaddeus Marcola netted for Northeast, and were bookended by markers from Maine's Jason Gratz and Luke Church. Jeb Barrett turned aside 16 pucks to notch the win, while Andrew Ghimpeteanu stood tall between Maine's pipes with 51 saves in the loss.
Long Beach 6 @ L/A 11 - Colby Audette's hat-trick and three assists led the way alongside a pair of goals from Joshua Malone to lift the Nordiques to an 11-6 win over the division rival Sharks. Zack Mullen, Nicolas Lusignan, Donovan Tehan, Cole Ouellette, Joe Bisson and Sam Frechette also scored for L/A, while Cade Lambdin netted a hat-trick of his own for Long Beach and Dino Mukovoz, Dixson Root and Samuel Willis found twine as well. Jason St. Pierre earned the win with 18 saves, while Ryan Cortez stopped 48 for the Sharks.
Louisiana 4 @ College Station 2 - A tense first period gave way to three consecutive Louisiana goals and an eventual 4-2 Drillers win as they held off a late comeback by the Spirit. Alex Holt, Grant Griffin, Riley Sloane and Jonathan Broadribb netted for Louisiana, while Ryan Martell and Jacob Norwood put College Station on the board. Griffin Varricchio nabbed the win with 33 saves, and Luigia Giustra turned away 39 for the Spirit.
New Ulm 2 @ Coulee Region 9 - Two goals each by Thomas Magnavite and Brandon Ratzloff helped lift the Chill to a 9-2 rout of the Steel on Saturday. Brody Boyce, Blake Holms, Chase McLaughlin, Aslan Akervik and Connor Losen also tallied for Coulee Region, matching up with New Ulm goals by Hunter Johnson and Jarrett Cammarata. Devin Naidow starred with 29 saves in the Chill crease, while Henry Baribeau and James Royce combined for 21 saves for the Steel.
Wisconsin 0 @ St. Louis 8 - Mikael Foucher was a rock in the Jr. Blues crease, stopping 26 of 26 pucks to lead them to an 8-2 romp past the Whalers on Saturday. Ivan Galaguzov provided much of the offense with a hat-trick, as Zach Wilson, Joe Papa, Zach Lodes, Jake Faulkner and Jacob Wiethaupt also scored for St. Louis. Kai Tomita took the loss in the Whalers' cage despite 42 saves on the night.
Alexandria 5 @ Rochester 1 - Caleb Strong highlighted an impressive outing for the Blizzard attack, netting a hat-trick to help lead his team to a 5-1 win over the Grizzlies on the road. Zach Curry and Dylan Mattson also scored for Alexandria, as did Joey Fodstad for Rochester. Benjamin Vutci shone brightest, however, with 45 saves on 46 shots for the Blizzard, while Nick Bucklin stopped 35 for Rochester.
Breezy Point 2 @ North Iowa 12 - The Bulls scored early and often, featuring four different multi goal-scorers, as they ran out to a 12-2 win over the North Stars on home ice. Marco Escobar (3), Peter Verstegen, Matt Dahlseide and Jimmy McDermott each posted two tallies (three in Escobar's case), Brendan Studioso, Harrison Stewart and Jack Giddings each scored once and Dysen Skinner earned the win with 28 saves in the North Iowa net, conceding only to Gunner Bourassa and Cooper Hoheisel of Breezy Point. North Stars netminders Max Eilefson and Dan Fielding combined for 34 saves.
Willmar 2 @ Granite City 7 - The Warhawks walked into a buzz saw in Granite City on Saturday, as the Lumberjacks featured six different scorers and at least two goals in each period en route to a 7-2 drubbing of their opponent. Jordan Olson scored twice, Kearby Larson, Hunter Schwehr, Cooper Smith, Grant Troumbly and Ryan Pogue each lit the lamp once and Michael Janke turned aside 13 shots between the Granite City pipes. Adrian Martinelli and Chase VanDeVere scored for Willmar, in front of a combined 35 saves by Jake Sumner and Moritz Ertl.
Wausau 1 @ Milwaukee 7 - The Power kept their winning habits rolling with another standout victory, this time dropping the Riverwolves 7-1 thanks to a balanced attack and 19 saves from Aaron Dickstein. Chuck Bay netted two goals, and Milwaukee also received markers from Nick Roberts, Maris Graudins, Logan Geisness, Dylan Davenport and Ben Beversdorf in the contest. Meanwhile, Tate Stansbury score the lone goal for Wausau and Alexander Gilev put up 24 saves in net.
Great Falls 5 @ Missoula 1 - Viktor Wennberg stonewalled a 45 of 46 pucks to outduel Missoula's Billy Yoder, who stopped 51 of 56, and help the Americans stifle the Bruins in a shot-filled showdown on Saturday. Payton McSharry, Jens Juliussen, Ben Rinckey, Matt Janke and Garrett Peters scored five unanswered goals for Great Falls after Misha Akatnov put Missoula up by one early.
Bozeman 1 @ Gillette 2 (OT) - Ethan Becker found twine at 3:54 of overtime to lift the Wild to a 2-1 win over the Icedogs in what was a tense affair on Saturday. Dominic Canic put Bozeman ahead early, but Trenton Walker scored for Gillette in the second period to set up a stalemate in the final 20 before Becker's OT winner. Cody Grogan earned the win, stopping 34 of 35, while reigning Star of the Week Mikael Levokari put aside 40 of 42 for Missoula.
Butte 4 @ Yellowstone 7 - After notching each of his team's seven goals in an 8-7 loss to Butte on Friday, Luke Hartge again stuffed the scoresheet, but this time his hat-trick helped to lift the Quake to a 7-4 win over the Cobras. Will Yates (2), Nick Castro and Aaron Finneman each found twine as well, cancelling out two goals by Butte's Daniel Liner and tallies by Lewallen Newman and Tyson Stovin. Jake Kindestin stopped 41 pucks in the win, while Casey Mattfeldt and Sean Leonard combined for 40 saves for Butte.