Extending winning streaks continue for Junior Sens, Generals
October 29, 2018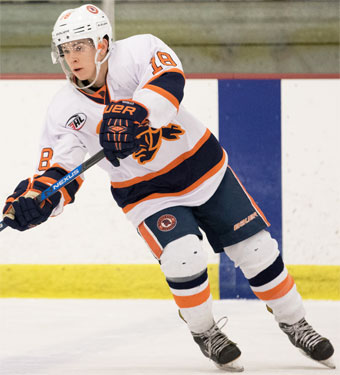 Binghamton 4 @ Skylands 2 - Dylan Saccone scored twice for the Kings to make it a one-goal contest in the third period, but the Senators' offensive firepower allowed them to take home a 4-2 win and strengthen their hold atop the Northeast Division. Mason Fay, Zach Bell, Mike Padgeon and Greg Simmons each found twine once to lead Binghamton to victory, with Jeff Zero stopping 17 shots and notching another victory. Kavan Johnson turned away 38 for Skylands.
Maine 3 @ Northeast 9 - Tami Meriläinen notched his first hat-trick of the season and Marc Faia tallied twice to headline a stout offensive showing for the Generals in a 9-2 win over the Wild. Jeffrey Sidoit, Deacon More, Kolye Bankauskas and Stephen Gerbis also lit the lamp in the rout. Maine received goals from Isiah Maine and Mitchell Bliss, along with a combined 55 saves from Daniel Sprague and Chris Rodrigues. Northeast's Devun Schneider took the win with 21 stops.
Oswego 1 @ New England 3 - Derek Lovejoy netted the game-winner and Cedric Joubert stopped 22 pucks to push the Stars to a 3-1 win over the Stampede, their fourth in a row and second straight over Oswego. Zachary Burnham and Michael Lempiainen also netted for New England, while Mark Mannarn struck for Oswego in front of Ben White's 27-save effort in the Stampede cage.
Long Beach 2 @ L/A 9 - The Nordiques' talent was on full display Sunday, as they outshot the Sharks 64-11 and nabbed a 9-2 win. Joe Bisson scored twice, Colby Audette, Nicolas Lusignan, Cole Ouellette, Joshua Malone, Andrew McCormick, Kyle Secor and Armand O'Keefe added goals of their own and Hunter Raye stopped nine shots in L/A's win, while Dixson Root and Dino Mukovoz kept their goal-scoring ways going with strikes for Long Beach. Darren Nathan suffered the loss despite 55 saves in the Sharks' cage.
Wisconsin 2 @ Peoria 5 - Austin Kiel's two goals and Jaden Gardner's 25 saves made for a pleasant afternoon in Peoria, as the Mustangs skated to a 5-2 win over the Whalers. Tristan Trudel, Jack Radley and Ian Acuna provided the remaining offense for the victors, while Anthony Fortin and Sam Hanson scored late for Wisconsin, who received 32 saves from Kai Tomita.