NA3HL announces Divisional Stars of the Week presented by Bauer Hockey
November 1, 2018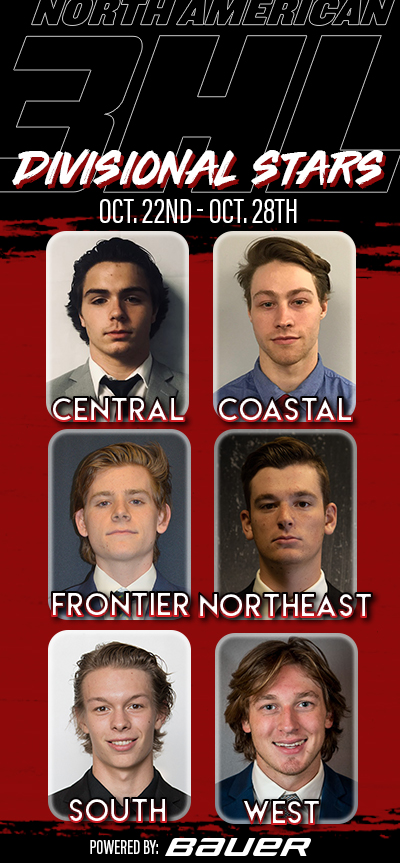 The North American 3 Hockey League (NA3HL) today announced the Divisional Stars of the Week presented by Bauer Hockey for the week ending October 28, 2018. The divisional stars of the week are awards given each week of the regular season to the top-performing players in each of the six divisions of the NA3HL as nominated by their head coaches.
Central Division Star of the Week: Aaron Dickstein, G, Milwaukee Power
The Power returned to their winning ways with a pair of victories on the weekend, each backstopped by Dickstein. The Dayton, OH native earned his second Star of the Week title on the back of 46 saves on 48 shots across two games, notching .964 and .950 save percentages in the respective starts. Dickstein now boasts wins in 11 of his 13 starts this season and has suffered just one regulation loss, allowing three or fewer goals in all but one of his outings.
2nd Star: Blake Holmes, D, Coulee Region Chill
Honorable Mention (alphabetical): Ty Barnhill, G, St. Louis Jr. Blues – Bret Bauer, F, Peoria Mustangs – Chuck Bay, F, Milwaukee Power – Mikael Foucher, G, St. Louis Jr. Blues – Austin Keil, F, Peoria Mustangs – Gabriel Lessard, G, Evansville Jr. Thunderbolts – Trevor Minard, D, Evansville Jr. Thunderbolts – Brandon Ratzloff, F, Coulee Region Chill
Coastal Division Star of the Week: Colby Audette, F, L/A Nordiques
With points in seven straight contests leading into last week's action, Audette had already broken out this season. But 10 points in two outings marked another milestone achievement for the Colchester, VT native, who is producing at a 2.07 pt/game pace through the young season. On Saturday, Audette notched his second hat-trick of the season – including the game-winner – and three helpers, then followed with another goal and three assists on Sunday. He currently ranks second on the Nordiques in scoring with 24g-17a-31pts in 15 games.
2nd Star: Tami Merilainen, D, Northeast Generals
Honorable Mention (alphabetical): Steven Gerbis, F, Northeast Generals
Frontier Division Star of the Week: Luke Hartge, F, Yellowstone Quake
After being held pointless through the first three games of the season, Hartge has erupted for points in seven of eight contests since then, posting 19g-1a-20pts in that span. On Friday, his offensive efforts hit a new high, as Hartge rattled off each of his team's SEVEN goals in an 8-7 loss. He then responded on Saturday, tallying a hat-trick to lead his team to a 7-4 win. The Naperville Sabres alum now ranks tied for second among all NA3HLers in goals with 19, four behind Binghamton's Zach Bell.
2nd Star: Jens Juliussen, F, Great Falls Americans
Honorable Mention (alphabetical): Jacob Kindestin, G, Yellowstone Quake – Viktor Wennberg, G, Great Falls Americans
Northeast Division Star of the Week: Jeff Zero, G, Binghamton Jr. Senators
The Jr. Senators have ripped through the majority of their competition this season, and boasting Zero between the pipes has been a crucial part of their success. The netminder was in fine form on the weekend, winning each of his two starts to stay perfect on the year. The Gouldsboro, PA native stopped a total of 62 of 64 shots in that span, shutting out the Kings in Friday's contest and limiting them to just two goals on 35 shots on Sunday. Zero has posted a .907 save percentage or higher in all but one of his starts during the campaign, and ranks second among goaltenders with five or more starts with a 1.89 GAA.
2nd Star:
Honorable Mention (alphabetical):
South Division Star of the Week: Bryce Runyan, G, Texas Brahmas
The Brahmas and Mid Cities Jr. Stars faced off twice this week in a clash of titans atop the South Division, with Texas snatching wins in both matchups thanks to some stout goaltending by Runyan. In five starts this season prior to this week's action, Runyan boasted four wins and a .919 save percentage or better in each victory. He kept the strong performances rolling with 57 saves on 61 shots across the two rivalry contests, limiting the the Jr. Stars to two goals in each game. Only the Brahmas and Louisiana Drillers have managed to hold the Jr. Stars' offense to two goals or fewer this season, making Runyan's back-to-back showings even more impressive.
2nd Star: Riley Sloane, F, Louisiana Drillers
Honorable Mention (alphabetical): Brandon Morgan, F, Louisiana Drillers
West Division Star of the Week: Hunter Schwehr, F, Granite City Lumberjacks
After seeing his season-opening six-game point streak snapped on Oct. 20 against Wisconsin, Schwehr responded with a pair of multi-point outings on the weekend. Friday saw the Greenville, WI native put up the game-winning goal and two helpers in a 5-2 win over Willmar. Schwehr then netted the game-winner once again on Saturday, and added three assists in a 7-2 victory over the Warhawks. The Lumberjacks' second-leading scorer has now notched 4g-13a-17pts as the team continues to battle Rochester for the top spot in the West Division.
2nd Star: Matt Dahlseide, F, North Iowa Bulls
Honorable Mention (alphabetical): Zack DeBoom, F, Granite City Lumberjacks – Cameron Fagerlee, F, North Iowa Bulls – Ville Hyttinen, G, Alexandria Blizzard – Caleb Strong, F, Alexandria Blizzard