Sunday Wrap-Up: Stars roll to three-game sweep
November 5, 2018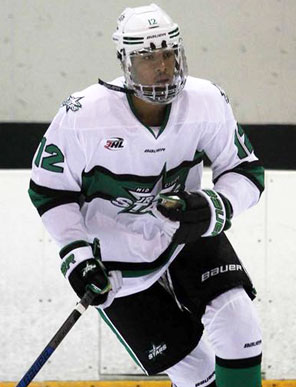 Mid Cities Jr. Stars 14 @ College Station Spirit 1 - The Mid Cities Jr. Stars demonstrated their incredible firepower on Sunday afternoon in their 14-1 win over the College Station Spirt. The Stars really took it to another level in the 2nd period scoring nine goals in the frame. Ryan Muckensturm, Connor Simpson, and Josh Linn all recorded hat-tricks for the Stars in the win. Daniel Bazarin and Nick Solema were also fantastic dishing out four assists each. Noah Kinsinger made 27 saves in the win. Trevor Borlace scored the lone goal for the Spirit in the loss.
Louisiana Drillers 3 @ Atlanta Capitals 2 - Blake Siewertsen scored the game winning goal with 44 seconds left to give the Drillers a 3-2 win over the Capitals on Sunday afternoon. After going up 2-0 early in the game, the Capitals score two unanswered goals before surrendering the late one in the 3rd. Jonathan Broabribb and Blake Sierwertsen scored the first two goals for the Drillers. Kevin Lake was fantastic in net making 40 saves and earning his 3rd win of the season. Patrick Egdorf made 25 saves for the Capitals in the losing effort.
Skylands Kings 4 @ Niagara Falls PowerHawks 0 - Kavan Johnson was the star of the game for the Kings on Sunday afternoon earning his 1st shutout of the season stopping all 39 shots he faced. The Kings were totally dominant in their 4-0 win over the PowerHawks. Steven Ford, Zach Burkhart, and Dylan Dinzik all led the way for the Kings recording a goal and an assist in the win. Aslan Shetov also scored a goal of his own. PowerHawks goaltender, Noah Spiesz made 28 saves in the loss.
Peoria Mustangs 0 @ Coulee Region Chill 4 - The Coulee Region Chill shut down the Peoria Mustangs on Sunday afternoon winning 4-0. The Chill heavily outshot the Mustangs 42-24 and got much help from their goaltender Devin Naidow who recorded his 1st shutout of the season making 24 saves. Thomas Magnavite and Donny Schultz led the way for the Chill scoring a goal and an assist each. Toon De Schepper and Blake Holmes were the playmakers each recording two assists in the win. Trevor Smith made 38 saves for the Mustangs in the loss.
Binghamton Junior Senators 1 @ Oswego Stampede 3 - The Stampede were able to hold off the Senators on the Sunday afternoon despite a very tilted 3rd period which included one Senators goal and 22 shots. Much of the credit goes Stampede goaltender Colin Burgess who was absolutely fantastic making 44 saves in the win. Rich Hart led the way in the scoring department recording two goals. Marcos Zarragoitia was also key dishing out two assists in the win as well. Mason Fay scored the lone goal for the Senators. Thomas Sullivan made 37 saves in the loss.