Former Bulls forward Florian signs professional contract in EIHL
November 6, 2018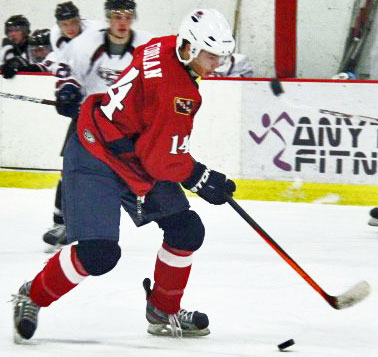 The North Iowa Bulls of the NA3HL are proud to announce that alumnus and forward Dominik Florian has signed with the Elite Ice Hockey League's Coventry Blaze, reaching the highest level of professional hockey in Great Britain. Florian made his debut on Sunday, in Coventry's 6-5 overtime loss to the Fife Flyers.
The native of Vlasim in the Czech Republic was a second-half star for the Bulls during the 2013-14 season, playing a key role in a 57-win campaign that included a Silver Cup championship and a runner-up finish in the USA Hockey national tournament.
Florian made his junior debut during that 2013-14 campaign as a member of the Austin Bruins in the NAHL, before joining the Bulls in mid-January for the stretch run. After tallying 27 points in just 16 games and leading North Iowa through its incredible postseason run, he returned to the NAHL, joining the Coulee Region Chill for two seasons before heading to Division I himself, at American International College in Massachusetts.
The former Bull made a major impact with the Chill, playing 106 games and tallying 84 points. A 51-point season in 2015-16 landed him a spot in that year's NAHL's Top Prospects event.
Upon joining the AIC program in 2016, he again made an immediate impact, scoring 10 goals and 10 assists during a full freshman campaign. He added seven more points in 23 games with the Yellowjackets last season.
The Coventry Blaze are one of the most storied ice hockey clubs in the UK, first icing a team in 1965. Another former Bull has family ties to this year's Blaze roster - former defenseman Jake Joyaux's cousin, Chris, joined Coventry after two ECHL seasons with the Tulsa Oilers.
According to Blaze officials, Florian has been training with the team over the last two months and has been enrolled at Coventry University. He takes the roster spot of Dillon Lawrence, who was injured in a recent win over the Cardiff Devils.
Two other NA3HL alumni are also active in the EIHL - Milton Keynes Lightning forward Joonas Huovinen played for the Twin City Steel during the 2013-14 season, and Craig Garrigan played the last two seasons with the Skylands Kings before joining the Dundee Stars this year.
Florian is one of seven former Bulls who is currently playing professional hockey, with others earning roster spots in Sweden, Finland, Denmark, the KHL and the ECHL.
The North Iowa Bulls wish Dominik the very best in his first venture into professional hockey.