NA3HL announces Divisional Stars of the Week presented by Bauer Hockey
November 7, 2018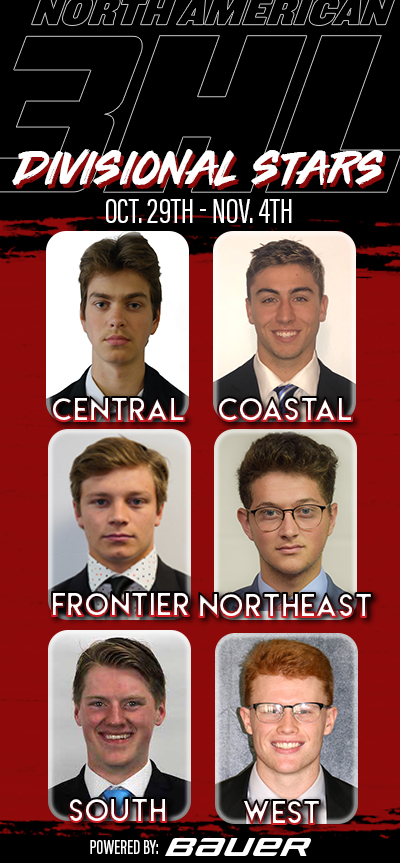 The North American 3 Hockey League (NA3HL) today announced the Divisional Stars of the Week presented by Bauer Hockey for the week ending November 4, 2018. The divisional stars of the week are awards given each week of the regular season to the top-performing players in each of the six divisions of the NA3HL as nominated by their head coaches.
Central Division Star of the Week: Maris Graudins, F, Milwaukee Power
Milwaukee continued its standout inaugural campaign with a weekend split against rival St. Louis last week, and leading goal-scorer Graudins was in fine form. Friday night saw the Jurmala, Latvia native take control of the game with a pair of goals in the third period, sealing Milwaukee's 2-1 comeback win over the Jr. Blues. Saturday's rematch featured more from Graudins, who nabbed a goal and a helper in the 6-5 loss. Graudins' 12 tallies on the season lead the Power, and he boasts 10 points in his current six-game streak.
2nd Star: Trevor Smith, G, Peoria Mustangs
Honorable Mention (alphabetical): Will Baginski, F, St. Louis Jr. Blues – Jake Berry, D, Milwaukee Power – Noah Brandau, G, Evansville Jr. Thunderbolts – Sam Hanson, F, Wisconsin Whalers – Brandon Hay, F, Peoria Mustangs – Dante Jones, F, St. Louis Jr. Blues – Connor Losen, D, Coulee Region Chill – Thomas Magnavite, F, Coulee Region Chill – Trevor Minard, D, Evansville Jr. Thunderbolts – Justin Schwartzmiller, F, Wisconsin Whalers
Coastal Division Star of the Week: Cade Lambdin, F, Long Beach Sharks
After being held pointless for just the fourth time this season on Oct. 28, Lambdin bounced back in a big way with a four-point effort in Friday's OT loss to Maine. The forward posted his fifth outing with three or more points this season thanks to a goal and three assists, which led all skaters in the 6-5 contest. Lambdin continues to pace the Sharks in both goals and points, and has posted 7g-8a-15pts in his last seven outings.
2nd Star: Regan Wintle, F, Maine Wild
Honorable Mention (alphabetical): Deacon Moore, D, Northeast Generals - Dino Mukovoz, F, Long Beach Sharks – Jeffrey Sidoit, F, Northeast Generals
Frontier Division Star of the Week: Hazen McKay, F, Bozeman Icedogs
Few players have been as consistent as McKay in 2018-19 – the forward's stunning 2.92 pt/G pace ranks second in the league – and the Bozeman native was firing on all cylinders last week. Four goals and a pair of helpers in Friday's win, followed up by another two tallies on Saturday, lofted McKay to Star of the Week status in short order. With his eight-point effort across last week's two games, McKay now boasts at least one goal in 12 of his 13 games this season, having registered 16g-10a-26pts on his current nine-game streak.
2nd Star: Dominic Canic, F, Bozeman Icedogs
Honorable Mention (alphabetical):
Northeast Division Star of the Week: Colin Burgess, G, Oswego Stampede
Shutting down the Binghamton Jr. Senators this season has been a tall task for any netminder – and doing so twice would take an otherworldly effort. But Oswego's Burgess proved more than up to the task, stifling the high-octane Sens to just three goals in his two starts as the Stampede offense took care of the rest to knock off Binghamton twice last week. Burgess posted .958 and .978 save percentages in the respective starts, and stopped a stunning total of 90/93 pucks in that span. Burgess has also recorded a .910 save percentage or higher in each of his last seven starts, bringing his season-long total to a .932 in 12 appearances.
2nd Star: Dylan Dinzik, D, Skylands Kings
Honorable Mention (alphabetical): Rich Hart, D, Oswego Stampede – Kavan Johnson, G, Skylands Kings
South Division Star of the Week: Josh Linn, F, Mid Cities Jr. Stars
Linn starred for Mid Cities early and often in its tripleheader against College Station, totaling eight goals and five assists in three games last week. Friday saw the Eagle River, AK native pot his first hat-trick of the year while helping on three other tallies. Linn posted another pair of goals on Saturday in a 6-2 win, then capped off his weekend with yet another hat-trick and two more assists. Linn currently ranks tied for third in the NA3HL in goals with 21 on the year, having scored in 12 of 15 outings this season.
2nd Star: Kevin Lake, G, Louisiana Drillers
Honorable Mention (alphabetical): Jason Ladzinski, F, Atlanta Capitals – Blake Siewertsen, F, Louisiana Drillers – Connor Simpson, F, Mid Cities Jr. Stars
West Division Star of the Week: Peter Verstegen, F, North Iowa Bulls
Verstegen suffered a four-game pointless skid in October, but has since exploded for a five-game point-streak that saw him put up back-to-back two-goal showings last week. The Oshkosh, WI native netted a pair in Friday's 5-3 win over Alexandria, including the game-winner, before notching another two goals in Saturday's rematch. Three of his four strikes last week came on the man-advantage, with his PPG streak now hitting three games. The Bulls' leading goal-scorer has now potted 13 on the year, and ranks tied for second on the team with 20 total points.
2nd Star: Nathan Andrade, F, New Ulm Steel
Honorable Mention (alphabetical): Dan Fielding, G, Breezy Point North Stars – Evan O'Connor, F, Breezy Point North Stars – Connor Poczos, G, North Iowa Bulls – Hunter Schwehr, F, Granite City Lumberjacks – Cory Stormer, F, New Ulm Steel – Grant Troumbly, F, Granite City Lumberjacks