NA3HL announces Divisional Stars of the Week presented by Bauer Hockey
November 14, 2018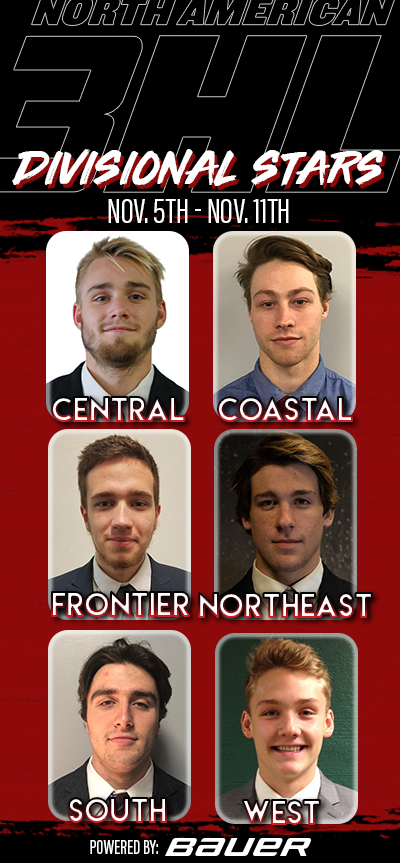 The North American 3 Hockey League (NA3HL) today announced the Divisional Stars of the Week presented by Bauer Hockey for the week ending November 11, 2018. The divisional stars of the week are awards given each week of the regular season to the top-performing players in each of the six divisions of the NA3HL as nominated by their head coaches.
Central Division Star of the Week: Jake Berry, D, Milwaukee Power
With win in three straight, Milwaukee has cruised to a 15-2-1 record thus far in their first NA3HL campaign. Defenseman Jake Berry has been a key aspect of their high-powered offense, providing 8g-32a-40pts from the blue line this season. Last week, Berry was at his best, posting a goal and a stunning 12 assists on Friday, four goals and a helper on Saturday, and another two assists on Sunday for a three-game total of 5g-15a-20pts last week alone, effectively doubling his season-long point production to date. The Brookfield, WI native is currently riding a five-game point streak, and has found the scoresheet in 13 of 16 outings this season.
2nd Star: Sam Hanson, F, Wisconsin Whalers
Honorable Mention (alphabetical): Chuck Bay, F, Milwaukee Power – Jake Faulkner, D, St. Louis Jr. Blues – Mikael Foucher, G, St. Louis Jr. Blues – Kody Kifer, F, Evansville Jr. Thunderbolts – Brady Lindauer, F, Coulee Region Chill – Roman Muminawatum, F, Evansville Jr. Thunderbolts – Brandon Ratzloff, F, Coulee Region Chill – Caleb Sauer, Wisconsin Whalers
Coastal Division Star of the Week: Colby Audette, F, L/A Nordiques
As L/A continues its five-game win streak, so too does Audette on his current 12-game point streak, during which he has posted 33 points, including eight in last week's three games. Friday saw him light the lamp once and help out on four other tallies for his sixth game with three or more points. Audette then followed that effort up with a goal on Saturday and two more assists on Sunday. The Nordiques' leading point-getter now boasts 16g-23a-39pts in just 18 games this season, good for a 2.17 pt/g pace and a share of 11th in NA3HL scoring.
2nd Star: Dixson Root, F, Long Beach Sharks
Honorable Mention (alphabetical): Nathanael Carr, D, Long Beach Sharks
Frontier Division Star of the Week: Misha Akatnov, F, Missoula Jr. Bruins
Posting an eight-goal weekend and becoming the NA3HL's all-time leading goalscorer is a surefire way to earn Star of the Week honors. Akatnov has scored in nine of his 10 outings this season – including 12 tallies on his current five-game lamplighting streak – and was as potent as ever last week. A hat-trick and four assists on Friday marked his highest single-game scoring output of the season, before following it up with five goals, three assists on Saturday to raise that bar one point higher. In just 10 games, Akatnov has posted 23g-18a-41pts, and has set a blazing pace with 4.10 pt/g – nearly twice the points-per-game of the second-ranked skater.
2nd Star: Gage Thompson, F, Gillette Wild
Honorable Mention (alphabetical): Ethan Becker, D, Gillette Wild – Ricards Groskops, D, Helena Bighorns – Mikael Levokari, G, Bozeman Icedogs – Justin Ohnstad, F, Great Falls Americans – Elliot Plourde, F, Helena Bighorns – Evan Snyder, D, Yellowstone Quake – Viktor Wennberg, G, Great Falls Americans – Will Yates, F, Yellowstone Quake – Vadim Zubkov, F, Missoula Jr. Bruins
Northeast Division Star of the Week: Mike Padgeon, F, Binghamton Jr. Senators
The NA3HL's leading scorer was held off the scoresheet for just the third time in 19 games prior to last week's action, but bounced back in a big way with 13 points in two games on Saturday and Sunday. Padgeon twice found twine and added two assists in the first game, then erupted for four goals – including the game-winner – and five helpers on Sunday, marking his ninth and tenth outings with three or more points in 23 outings this season. With his winning effort on Sunday, the Philadelphia native's now four GWG's on the year rank tied for second in the league.
2nd Star: Zakary Sparks, F, Skylands Kings
Honorable Mention (alphabetical): Josh Sears, G, Skylands Kings
South Division Star of the Week: Jason Ladzinski, F, Atlanta Capitals
With Ladzinski leading the way, Atlanta picked up three crucial wins last week as they look to catch up to the big dogs in the South Division. The Norcross, GA native paced the Caps' attack with a pair of goals and four helpers on Friday for his fifth three-plus point effort, then notched another goal and an assist in Saturday's win. Sunday saw him go cap off a strong weekend with two more goals and three assists to bring his six-game point streak total to 19 points. Ladzinski also found twine on special teams in each contest, notching a shorthanded tally on Friday and a power-play strike on both Saturday and Sunday.
2nd Star: Thomas Held, G, Texas Brahmas
Honorable Mention (alphabetical): Tyler Blanchard, F, Texas Brahmas – Nick Sleeper, D, Atlanta Capitals
West Division Star of the Week: Jarod Blackowiak, F, North Iowa Bulls
Blackowiak failed to record a point through his first four contests this season, but has been as consistent as they come ever since. With points in seven of eight outings since then, the Eden Prairie, MN native has seemingly broken out this season, and his eight-point weekend stands as testament. Friday saw him record a whopping four goals – just one game after he nabbed his first multi-goal effort of the season – while Saturday featured more of the same, as Blackowiak recorded another hat-trick and added an assist. Blackowiak recorded a shorthanded tally in each contest, and his third goal on Friday stood as the game-winner.
2nd Star: Grant Troumbly, F, Granite City Lumberjacks
Honorable Mention (alphabetical): Daymin Dodge, F, Granite City Lumberjacks – Harrison Stewart, D, North Iowa Bulls