Friday Finals: Capitals take down South leaders
November 17, 2018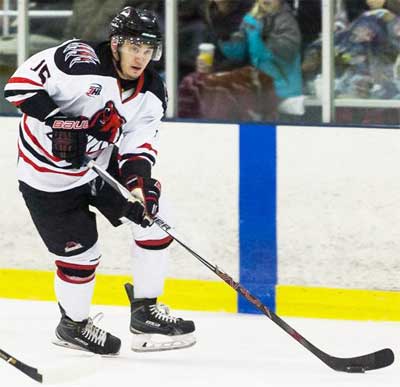 Atlanta 5 @ Texas 2 - The Capitals used a pair of Brody Nielsen goals and three unanswered third-period tallies to top the division-rival Brahmas 5-2 on Friday. Cole Thomas Johnson, Vito Carlo and Jason Ladzinski each scored for the victors as well, in front of Patrick Egdorf's 20-save effort. Zach Perez and Andrew MacCallum scored for Texas, while netminder Bryce Runyan turned aside 32 of 37 between the pipes.
Helena 10 @ Gillette 5 - Elliot Plourde's third hat-trick of the season led the way as the Bighorns took home a comfortable 10-5 win over the Wild. Mikhail Gevrilenko (2), Hayden Seitz (2), Darren Donovan, Nicholas Noel and Porter Tirrill chipped in to Helena's high-flying offense, while Coleman Varty netted a hat-trick for Gillette, alongside goals by Jacob Kaminski and Parker Delong. Alexander Rogers took the win with 33 saves between the Helena pipes.
Missoula 9 @ Butte 2 - Vadim Zubkov (5) and NA3HL All-Time Leading Scorer Misha Akatnov (3) paced a strong outing for the Bruins, as they skated to a 9-2 win over the Cobras on Friday. Ty Dittman also scored for Missoula, while Charles Blandin and Trevor Stokes found twine past Bruins netminder Josh Sample, who stopped 32 pucks in the win. Karl Zodda suffered the loss despite 59 saves for Butte.
Yellowstone 1 @ Bozeman 3 - Hazen McKay struck twice to snap a 1-1 deadlock and lift the Icedogs to a 3-1 win and snap a three-game skid. Hayden Groth and Yellowstone's Will Yates traded second-period strikes before McKay's brace helped Bozeman to the win. AJ Ruskowski earned the win with 22 saves for the Icedogs, countering Michael Allman's 57-save effort for the Quake.
Northeast 7 @ Cape Cod 4 - Kolye Bankauskas posted four goals and Devun Schneider stopped 13 pucks as the Generals romped to a 7-4 win over the Islanders on Friday. Tami Merilainen, Dylan Figueroa and Preston Phelps also lit the lamp for Northeast, while Caleb Williams (2), Cole Therrien and Derek D'Arcy struck for Cape Cod in front of Josh Chausse's 23 stops.
Coulee Region 2 @ Wisconsin 3 - Jason Schwartzmiller netted a pair of goals, including the game-winner, to lift the Wisconsin Whalers to a 3-2 victory over the Chill at home Friday night. Joseph Wiczek and Thomas Magnavite put Coulee Region ahead 2-0 early, but Schwartzmiller's first and another strike by Tanner Mros leveled scores heading into the final 20, where Schwartzmiller notched the winner. Caleb Sauer earned the win with 36 saves.
New England 3 @ Long Beach 0 - Timothy Pesek turned away all 14 shots he faced as his Stars topped the Sharks 3-0 on the road on Friday. Michael Lempiainen, James Wilson and Corey Tumenas lit the lamp for New England as they peppered Long Beach netminder Ryan Cortez with 42 shots.
Wausau 4 @ Willmar 2 - Alexandr Gilev shut the door on 31 of 33 shots to backstop a crucial 4-2 win for the Riverwolves over the Warhawks on Friday. Ben Brown, Deniss Berdniks, Devin Hultberg and Cale Bowman found twine to lead the Wausau attack, countering Willmar goals by Elijah Slagter and Jacob May. Lucas Ehrlich stopped 35 pucks in the Willmar cage.
New Ulm 4 @ Granite City 6 - The Steel held a 4-1 win heading into the final stanza, but a five-goal third-period outburst by the Lumberjacks -- including the final two segments of Bailey Sommers' hat-trick -- gave Granite City a key 6-4 win on Friday. In addition to Sommers' three tallies, Zack DeBoom, Sam Ohmes and Grant Troumbly found the scoresheet for the Lumberjacks. Jarrett Cammarata scored twice and Jake Ford added a tally of his own for New Ulm, who received 34 saves from Henry Baribeau. Granite City's Matt Fitzgerald took the win with 17 saves.
North Iowa 8 @ Breezy Point 1 - Eight different Bulls found twine as North Iowa snagged an 8-1 decision over the North Stars to move to within two points of Granite City atop the West Division. Harrison Stewart, Evan Junker, Brendan Studioso, Peter Verstegen, Jarod Blackowiak, Matt Rozman, Nick Bowlin and Jimmy McDermott each nabbed North Iowa goals, while Jordan Linder notched the lone tally for Breezy Point. Each team's netminder stood tall, with North Iowa's Connor Poczos taking the win with 31 saves and Dan Fielding batting away 45 pucks in the Breezy Point crease.