Saturday Scores: Jr. Bruins making statement in Frontier
November 18, 2018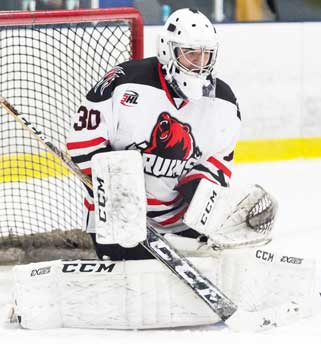 Missoula 2 @ Great Falls 1 - Misha Akatnov once again stole the show for the Bruins, notching both tallies as they skated to a 2-1 win over division rival Great Falls on Saturday. The Americans received 29 saves from Drew Scites and a goal from Cody Dearing, but Akatnov's brace and a stunning 46 saves by Evan Williams ensured the win for Missoula.
Helena 6 @ Gillette 0 - Porter Tirrill and Hayden Seitz each scored twice and Eric Berglund recorded and 18-save shutout as the Bighorns pasted the Wild 6-0 in Gillette. Elliot Plourde scored for the third straight game, and Darren Donovan also chipped in a tally for Helena. Shane Phillips and Aaron LaChance combined for 28 saves in the Gillette crease.
Bozeman 8 @ Butte 3 - Three different players scored twice for Bozeman and Sean O'Connor stopped 32 pucks as the Icedogs coasted to a comfortable 8-3 win over the Cobras on the road Saturday night. Nash Pine, Connor Fuchs and Isaac Smoldon each bagged a pair of goals, while Hayden Groth and Brock Finn also scored for the Icedogs. Butte received two goals from Tyson Stovin alongside another tally by Bryce Gould and a remarkable 60 saves from Sean Leonard, but the Icedogs potent attack sealed the win with three or more goals in two of three periods of play.
Skylands 5 @ Long Beach 1 - Dylan Saccone's hat-trick set the pace for the Kings to take a 5-1 win over the Sharks on Saturday. Jake Lissy and Jake Cicalese also lit the lamp in Skylands' win, while Kavan Johnson stopped 26 pucks. Long Beach received a goal from Eric Immel and 22 saves from Jeremy Haffner.
Evansville 0 @ St. Louis 15 - Jacob Wiethaupt and Ivan Galaguzov recroded hat-tricks as two of 10 different St. Louis players to tickle the twine during the Blues' 15-0 shutout win over the Thunderbolts. Dante Jones (2), Sean Hofstetter, Sawyer Lownsdale, Zach Wilson, Joe Papa, Luke Felts, Jack Moore and Colton Markiewicz rounded out the scoring ahead of 15 saves by Ty Barnhill. Noah Brandau stopped 37 pucks in the Evansville cage.
Atlanta 4 @ Texas 5 (OT) - Matej Palfy scored twice in the final two minutes of regulation to force overtime, setting up Parker Mara to be the hero for Texas as the Brahmas snatched a 5-4 OT win over the Capitals on Saturday. Tyler Blanchard and Stuart Pearson also scored for Texas as the Brahmas erased a 4-2 deficit built up by Atlanta's Brody Nielsen, Riley Stern, Keith Gustin and Nicholas Sleeper. Thomas Held earned the win with 25 saves, facing down Patrick Egdorf of Atlanta, who stopped 29.
Maine 1 @ Cape Cod 7 - Jacob Lopes and Mike Goroshko each scored twice, Parker Orchard stood tall with 57 saves and the Islanders romped to a 7-1 win over the Wild in a Coastal Division showdown that featured 123 total shots between the two teams. Leevi Kervinen, Logan Rachow and Nick Ferrucci tallied as well, while Chandler Bilodeau struck for Maine. Chris Rodrigues suffered the loss despite a whopping 58 saves of his own.
Louisiana 14 @ College Station 2 - The Drillers featured Benjamin Cope, Drew Wotta, Viacheslav Nilov, Grant Griffin and Zach Smith as two-goal scorers as they rattled off 14 goals to the Spirit's 2 to notch another key win on Saturday. Louisiana also received markers from Mitch Dolese, Josh Jorajuria, Ivan Matveev and Tucker Alspauh. Brandon Fehlig scored each of College Station's two tallies, while netminders Luigi Giustra and Blake Forystek combined for 60 saves on the night. Samuli Aarinen earned the win with 29 saves in the Drillers' net.
Northeast 7 @ Oswego 2 - Seven different Generals recorded goals as the Northeast attack fired on all cylinders to top the Stampede 7-2 on the road. Preston Phelps, Jeffrey Sidoit, Robby Beck, Tyler Rudek, Raymond Conroy, Thaddeus Marcola and Mitchell Shulman lit the lamp for Northeast, countered by a pair of strikes from Dylan Gulick of Oswego. Stampede goalies Colin Burgess and Trent Wendt stopped a shared 40 pucks in the loss, while Jeb Barrett took the win for Northeast with 2 saves.
New England 1 @ Binghamton 6 - Thomas Sullivan's 40 saves limited the Stars' offense as Mike Padgeon and Thomas Liebold each scored twice to lift the Senators to a 6-1 win on Saturday. Greg Simmons and Eric Melso scored as well for the victors, while James Wilson netted the lone goal for New England, who received 34 saves from Cedric Joubert in the loss.
New Ulm 3 @ Alexandria 1 - James Spaargaren and Jacob Halvorson snapped a 1-1 deadlock with back-to-back goals in a span of 17 seconds late in the final frame to lift the Steel to a 3-1 win over the Blizzard. After a scoreless first 40, Hunter Johnson of New Ulm and Dylan Giorgio of Alexandria traded goals midway through the third period before Spaargaren and Halvorson took over. Henry Baribeau's 26 saves earned him the win, while Ville Hyttinen stopped 27 pucks for the Blizzard.
Rochester 4 @ Granite City 3 - Matthew DeRosa, Richard Szabo and Logan Olson each scored in the third period to help the Grizzlies erase a 3-1 deficit and snatch a 4-3 victory on the road over the high-flying Lumberjacks. Hunter Schwehr, Jake Hessinger and Jordan Olson each scored for Granite City in the opening 40 minutes to outweigh Vladislav Sorokin's Rochester tally before the Grizzlies unloaded in the third period. Nick Bucklin turned aside 26 pucks between the Rochester pipes for the win, while Michael Janke stopped 21 shots for the Lumberjacks.
Wausau 2 @ Willmar 3 (OT) - Jacob May was the overtime hero as the Warhawks managed to hold off the Riverwolves and take a 3-2 OT win on Saturday. Elijah Slagter and Sam Voss lifted Willmar to a 2-0 lead midway through the contest, but Ben Brown and Sean Johnston leveled the affair before the final stanza. Lucas Ehrlich earned a key win with 34 saves, while Alexandr Gilev stonewalled 20 pucks for Wausau.
North Iowa 7 @ Breezy Point 1 - The Bulls were at their best on Saturday as Jarod Blackowiak scored twice and Evan Babekuhl stopped 13 pucks to help North Iowa to a 7-1 win over the North Stars on the road. Cam Fagerlee, Nick Bowlin, Peter Verstegen and Brendan Studioso provided the rest of the North Iowa offense, while Carson Simon scored the lone goal for Breezy Point. Lane Fox suffered the loss between the North Stars' pipes despite a 43-save showing.
Wisconsin 4 @ Milwaukee 10 - Chuck Bay notched a hat-trick, Benjamin Beversdorf and Ethan Dabbs each scored twice and the Power easily topped the Whalers 10-4 on Saturday. Aaron Dickstein took the win with 16 saves for Milwaukee, who also received goals from Caleb Beversdorf, Logan Geisness and Maris Graudins. Luke Hefty scored twice for Wisconsin, alongside goals by Jeff Bishop and Justin Schwartzmiller, but a combined 20 saves by Kai Tomita and Caleb Sauer were not enough to earn the win.