Sunday Wrap-Up: Drillers move into 2nd place with sweep
November 19, 2018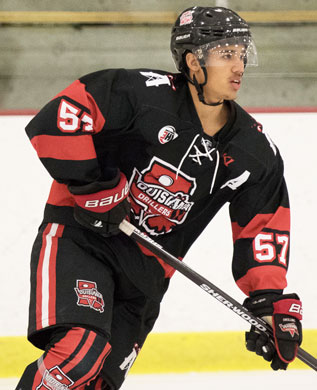 Louisiana 9 @ College Station 2 - The goals came early and often for the Drillers as they lit the lamp 37 seconds into the game and came out as 9-2 winners over the Spirit on Sunday. Mitch Dolese starred with a four-goal outing, as did Timmy Zittel with a pair of his own, and Zach Smith, Ivan Matveev and Tucker Alspaugh each posted goals for the Drillers as well. Trevor Borlace and Jared Slay found twine for College Station, who received 30 combined saves from netminders Luigi Giustra and Blake Forystek. Griffin Varricchio notched the win for Louisiana with 27 stops.
L/A 11 @ Maine 0 - Joshua Sanchez bagged a hat-trick, Joe Bisson scored twice and Hunter Raye stopped eight of eight pucks as the Nordiques coasted to an 11-0 win over the Wild on Sunday. Nicolas Lusignan, Andrew McCormick and Armand O'Keefe scored as well in L/A's romp, handing Maine's Ben Feldman a loss between the pipes despite his solid 52-save outing.
New England 2 @ Binghamton 4 - The Jr. Senators rode a pair of goals apiece from Eric Melso and Gregg Simmons alongside 37 saves by Thomas Sullivan as they topped the Stars 4-2 on Sunday. Hunter Norris netted both New England tallies and Matthew Marini stopped 36 pucks, but the Sens' onslaught proved too much to handle as they picked up their league-leading 21st win of the season.
Northeast 5 @ Oswego 2 - Down 2-1 late in the second period, the Generals rattled off four unanswered goals to nab a 5-2 win over the Stampede on Sunday and stretch their winning streak to a stunning 12 consecutive contests. Dylan Gulick and Mark Mannarn had Oswego ahead of Marc Faia's lone strike for Northeast as time wound down, but Kolye Bankauskas leveled the affair heading into the final 20 where Thaddeus Marcola, John Holbik and Preston Phelps iced the Generals' victory. Northeast's John Driscoll and Oswego's Ben White each stopped 29 pucks in the matchup.
Evansville 2 @ St. Louis 13 - Zach Lodes posted a five-goal effort alongside Sean Hofstetter's hat-trick and Matt Griffin turned aside 18 pucks to help the Jr. Blues to a comfortable 13-2 decision over the Jr. Thunderbolts. Jacob Wiethaupt, Jack Moore, Hunter Muzzillo, Dante Jones and Zach Wilson also found twine behind Evansville netminders Noah Brandau and Koby Lukehart, who combined for 55 saves on the night. Cole Ford and Roman Muminawatum netted the Bolts' strikes.
Peoria 2 @ Milwaukee 5 - The Power kept their standout inaugural campaign rolling along with their 17th win in just 20 games, scoring three goals in under nine minutes to top the Mustangs 5-2 at home. Chuck Bay, Jake Berry, Dylan Davenport, Mason Evans and Ethan Dabbs provided the Milwaukee offense, countered by goals from Jack Radley and Tristan Trudel for Peoria. Aaron Dickstein picked up the win with 21 saves, while Trevor Smith stopped 25 shots in the loss.