NA3HL announces Divisional Stars of the Week presented by Bauer Hockey
November 22, 2018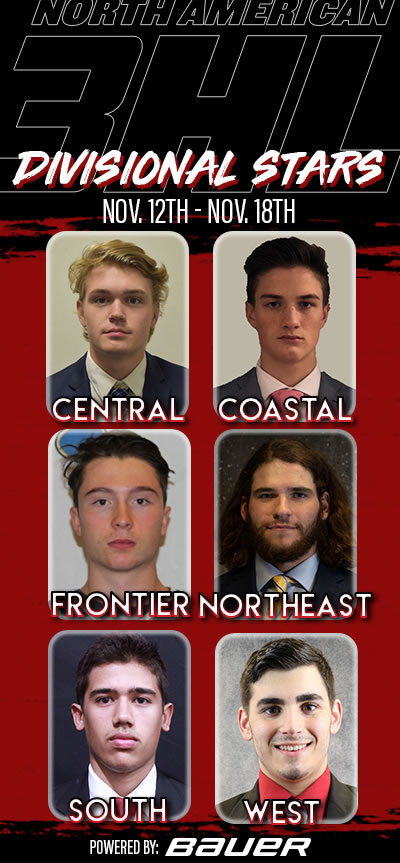 The North American 3 Hockey League (NA3HL) today announced the Divisional Stars of the Week presented by Bauer Hockey for the week ending November 18, 2018. The divisional stars of the week are awards given each week of the regular season to the top-performing players in each of the six divisions of the NA3HL as nominated by their head coaches.
Central Division Star of the Week: Zach Lodes, F, St. Louis Jr. Blues
Lodes led all NA3HL players with nine points in two games from 11/12-11/18, helping St. Louis to a pair of wins in the Central Division. The Ballwin, MO native posted three assists in Saturday's win, then capped off his weekend with a whopping five goals and a helper in Sunday's rematch with Evansville for his third and fourth multi-point efforts of the season. Lodes also went +10 across the two contests, marking the first two matchups in which he has posted a +3 rating or better in 20 games this season. Lodes currently ranks tied for fifth in Blues scoring with 11g-11a-22pts on the year.
2nd Star: Chuck Bay, F, Milwaukee Power
Honorable Mention (alphabetical): Jake Berry, D, Milwaukee Power — Noah Brandau, G, Evansville Jr. Thunderbolts — Ben Giessinger, D, Peoria Mustangs — Luke Hefty, D, Wisconsin Whalers — Sean Hofstetter, F, St. Louis Jr. Blues — Tanner Mros, F, Wisconsin Whalers — Roman Muminawatum, F, Evansville Jr. Thunderbolts — Nick Ulrich, D, Peoria Mustangs
Coastal Division Star of the Week: Preston Phelps, F, Northeast Generals
Phelps and the Generals had a full three-game weekend on Friday, Saturday and Sunday, but never let it slow them down. Northeast went 3-0-0 on the weekend, including a pair of back-to-back wins in Oswego. Phelps was consistently impressive, notching multiple points in each contest — the only General to do so — and racking up 3g-4a-7pts through his team's tripleheader. He recorded the game-winning goal and two assists in Friday's win over Cape Cod, added another GWG and a helper on Saturday and bagged 1g, 1a on Sunday to effectively double his point production for the season in just one weekend. Phelps now boasts 6g-8a-14pts in 18 games this season.
2nd Star: Cole Ouellette, D, L/A Nordiques
Honorable Mention (alphabetical): Kolye Bankauskas, D, Northeast Generals
Frontier Division Star of the Week: Elliot Plourde, F, Helena Bighorns
After being held off the scoresheet for just the first time all season on Nov. 2, Plourde responded with five points in the following two games, and continued to roll last week with four goals and an assist in a pair of Helena wins over Gillette. Friday saw the Seattle native notch his third hat-trick of the season, along with an assist and a +5 rating. On Saturday, Plourde tacked on a shorthanded tally to make it 16 of 18 outings in which he has lit the lamp in 2018-19. Plourde's 24 goals this season are tied for sixth amongst NA3HL skaters, and only two other players boast more goals in fewer games.
2nd Star: Evan Williams, G, Missoula Jr. Bruins
Honorable Mention (alphabetical): Michael Allman, G, Yellowstone Quake — Nick Castro, F, Yellowstone Quake — Trent Cowden, D, Great Falls Americans — Michail Gavrilenko, F, Helena Bighorns — Hayden Groth, F, Bozeman Icedogs — Isaac Smoldon, F, Bozeman Icedogs — Coleman Varty, F, Gillette Wild — Vadim Zubkov, F, Missoula Jr. Bruins
Northeast Division Star of the Week: Eric Melso, F, Binghamton Jr. Senators
Trailing only teammate Mike Padgeon in the NA3HL scoring race, Melso has been on a tear with 62 points 22 games this year as the Jr. Senators continue their dominance in the Northeast Division. Last week featured some balanced attacking play from the native of Philadelphia, as he potted 3g-4a-7pts in two contests for Binghamton. On Friday, he scored once and helped out on two other tallies for his ninth game with three or more points. Saturday saw him have a hand in each of Binghamton's four tallies, as Melso nabbed two goals and two assists in a 4-2 win over New England. Melso went +5 on the weekend, and ranks third in the league with a season-long +54 to date.
2nd Star: Dylan Gulick, F, Oswego Stampede
Honorable Mention (alphabetical): Jared Berry, D, Oswego Stampde — Kavan Johnson, G, Skylands Kings — Dylan Saccone, F, Skylands Kings
South Division Star of the Week: Mitch Dolese, D, Louisiana Drillers
Dolese started the season with multiple points in three out of four games, but was limited to one point or fewer in all but one of the succeeding contests leading into last week's action. In three games from 11/12-11/18, Dolese erupted once more, potting five goals and three assists — finding the scoresheet in each game — to rank tied for second in scoring in that span. Monday night saw him nab an assist in a 3-2 OT loss to Texas, before adding two more helpers and scoring for the first time in nine games on Saturday. Dolese finished the week strong with a remarkable four-goal effort from the blue line in Lousiana's second win of the back-to-back.
2nd Star: Jason Ladzinski, F, Atlanta Capitals
Honorable Mention (alphabetical): Tucker Alspaugh, D, Louisiana Drillers — Gunner Moore, D, Atlanta Capitals
West Division Star of the Week: Brendan Studioso, F, North Iowa Bulls
Riding a streak of three games with at least two points — a streak that would have been six games had he not been held to a single point on Nov. 11 — Studioso kept the good times rolling with 2g-3a-5ps in North Iowa's back-to-back wins over Breezy Point. Studioso posted a goal and an assist on Saturday and 1g, 2a on Sunday, moving to within a point of team scoring leader Matt Dahlseide. In total, Studioso has found the scoresheet in 15 of 19 games this season, including each one of his last 11 outings. He has also kept a plus-rating in each of his last six games, going +13 in that span.
2nd Star: Bailey Sommers, F, Granite City Lumberjacks
Honorable Mention (alphabetical): Jordan Olson, D, Granite City Lumberjacks — Joey Petronack, D, North Iowa Bulls — James Spaargaren, F, New Ulm Steel