Friday Finals: Willmar gets big road win
November 24, 2018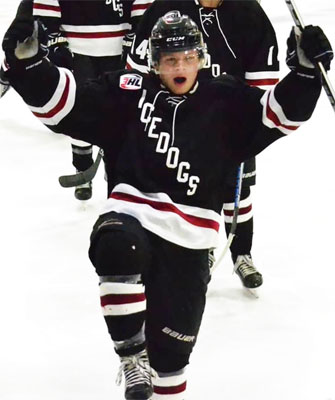 Willmar 4 @ New Ulm 2 - The Warhawks rode a three-goal outburst in a span of 7:07 to notch their third victory of the season, a 4-2 decision over the Steel. Jacob May, Marquez Ginger, Cameron Knowlton and Elijah Slagter fueled the victory with a goal apiece. New Ulm got on the board thanks to Jordan Cooper and Jacob Halvorson, while netminder James Royce suffered the defeat despite 24 saves in goal. Willmar's Lucas Ehrlich picked up the win, facing down 34 pucks.
Butte 0 @ Bozeman 4 - Mikael Levokari stole the show with 33 saves in the Bozeman cage as his team ran out as 4-0 winners over the Cobras on Friday. Hazen McKay struck twice as Luke McKay and Duncan McGarrah rounded out the offense, as the Icedogs continue to make noise in the Frontier Division, having won three straight and six of their last 10. Karl Zodda turned away 49 shots for the Cobras.
Mid Cities 1 @ Texas 2 (OT) - Andrew MacCallum played hero, netting the OT winner to lift the Brahmas to a 2-1 win over the Jr. Stars in extra time. Texas is now 9-1-0-0 in its last 10 games. Jack Cooper netted a first-period goal to put the Brahmas up early, but Josh Linn leveled the affair in the middle stanza, setting up a scoreless third. Thomas Held earned the win, looking at 31 pucks and turning aside 30, while Francisco Clark-Silva was dealt the loss in his 24-save performance.
Alexandria 0 @ North Iowa 5 - North Iowa netminder Dysen Skinner was in his element on Friday, stopping 37 of 37 shots to backstop the Bulls to a key 5-0 shutout win over the division-rival Blizzard. Five different Bulls lit the lamp in this one, including Cam Fagerlee, Peter Verstegen, Jarod Blackowiak -- who boasts 13 goals on his current six-game scoring streak -- Matt Dahlseide and Jordan Roo. Ville Hyttinen stood tall in net for the Blizzard, but his 33 save-effort was not enough to stop the North Iowa onslaught.
Wausau 2 @ Milwaukee 3 - Ethan Dabbs, Maris Graudins and Chuck Bay each lit the lamp for Milwaukee, lifting the power to a 3-2 win over the Riverwolves for its seventh straight win. The Power now sit seven points clear atop the Central Division, though they have played two more games than second-place St. Louis. Aaron Dickstein stopped 18 shots in the win, while Alexandr Gilev took the loss in a 30-save showing.
Gillette 2 @ Great Falls 8 - The Americans posted a four-goal third period as they romped to an 8-2 win over the Wild at home on Friday. Payton McSharry (2), Dylan Olson, Jens Juliussen, Justin Ohstad, Garrett Peters, Trent Cowden each found twine for Great Falls, while Austin Newson and Gage Thompson scored for Gillette. Shane Phillips suffered the loss with 40 saves between the Wild pipes, while Viktor Wennberg came out victorious thanks to 26 saves of his own.
Helena 10 @ Yellowstone 2 - The Frontier Division-leaders showed no mercy on Friday night as they earned their 18th win in 19 contests with a stunning 10 goals in a 10-2 win over the Quake. Darren Donovan (4) and Elliot Plourde (2) were the high-scorers for the Bighorns, with Luc Cross, Justin Sullivan, JJ Blondin and Jeremy Solko also burying goals. Alexander Rogers took the win with 11 saves. Cole Crawford and Cody Crumb scored for Yellowstone, who received a combined 56 saves from Michael Allman and Logan Cooksy.