Saturday Scores: Grizzlies edge Lumberjacks to tighten West race
November 25, 2018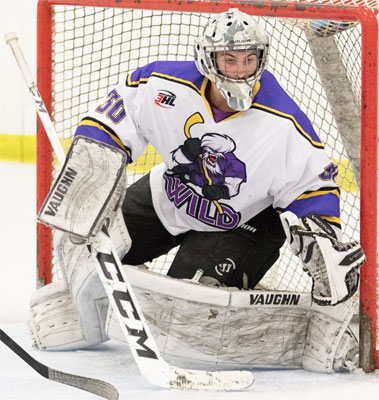 Granite City 3 @ Rochester 4 - Vladislav Sorokin netted twice, including the game-deciding tally in the third period, as the Grizzlies dropped the Lumberjacks 4-3, handing Granite City just its second loss in its last 10 outings. After Ryan Pogue scored twice to sandwich Grant Troumbly's marker and put the Lumberjacks ahead 3-0 in the opening stanza, Rochester responded with four unanswered goals from Seth Bacon, Nic Leisen and Sorokin's pair to take the win. Nick Bucklin stood tall in the Rochester cage with 37 saves, while David Mulligan suffered the loss with 29 stops in the opposite crease.
Bozeman 4 @ Missoula 5 (OT) - Misha Akatnov capped off Missoula's attack following Keith Zobel's late tying effort as the Bruins posted a 5-4 OT win over the Icedogs. Connor Frye and Vladimir Chinikaylo also scored for the victors, while Gage Blatter (2), Dominic Canic and Duncan McGarrah lit the lamp for Bozeman. Josh Sample nabbed the win in the Missoula cage, facing down AJ Ruskowski's 42 waves for Bozeman.
Gillette 4 @ Great Falls 1 - Two goals in the final 3:36 of play helped the Wild stretch their 2-1 advantage and run out as eventual 4-1 winners over the Americans on Saturday. Zach VanCompernolle, Tyler Kaminski, Ethan Becker and Parker Delong scored for Gillette to usurp Payton McSharry's lone strike for Great Falls. Cody Grogan stopped 34 pucks for the Wild, while Cam McIntosh turned aside 35 shots for Great Falls.
Helena 5 @ Yellowstone 3 - Five different Bighorns scored to cancel out Luke Hartge's fourth hat-trick of the season as Helena notched a 5-3 decision over the Quake on Saturday. Elliot Plourde, Luc Cross, Nicholas Noel, Porter Tirrill and Valary Dietz provided Helena's offensive efforts, while Garrett Dryden made 21 saves to backstop the Bighorns' win. Michael Allman stood tall for Yellowstone with 68 saves in the loss.
Mid Cities 2 @ Texas 3 - Tyler Blanchard scored with under a minute remaining to snap a 2-2 deadlock and give the Brahmas their second win over the Stars in as many days. Ian Erdman put Texas ahead in the first period before Josh Linn of Mid Cities and the Brahmas' Jack Cooper traded goals in the second frame. Blake Campbell leveled scores early in the third before Blanchard's late tally broke the Stars' hearts. Thomas Held once again took the win with 19 saves, while Francisco Clark-Silva was dealt the loss despite 28 stops.
Atlanta 4 @ Louisiana 6 - Drew Wotta bagged a brace, Samuli Aarinen warded off 20 pucks and the Drillers came out of a tense South Division showdown with a 6-4 win over the Capitals on Saturday. Ivan Matveev, Grant Griffin, Viacheslav Nilov and Brandon Morgan each lit the lamp for Louisiana as well, including three goals in the third period to help seal the win. Atlanta received goals from Cole Thomas Johnson (2), Gunner Moore and Jason Ladzinski, as well as 33 saves from goaltender Patrick Egdorf.
Milwaukee 4 @ Wausau 3 - A pair of Maris Graudins goals helped the Power hold off a late comeback bid by the Riverwolves to earn the 4-3 win on Saturday. Mason Evans and Ryan Payne also scored for Milwaukee as the Power jumped out to a 4-2 lead after 40 minutes, before Tanner Eskro scored for Wausau to make things interesting with under six minutes to play. Daniel Hrebik and Deniss Berdniks found twine as well for Wausau, who featured a stunning 58-save performance by Alexandr Gilev between the pipes. Milwaukee's Aaron Dickstein earned the win, however, with 24 saves of his own.
Niagara Falls 2 @ L/A 9 - Eight different skaters found the scoresheet on Saturday as the Nordiques skated to a comfortable 9-2 decision over the Powerhawks. Colby Audette struck twice, Nicolas Lusignan, Hans Watson, Andrew McCormick, Joshua Sanchez, Armand O'Keefe, Crewz Berry and Joe Bisson scored as well, and Daniel Miller stopped 16 shots in the win. Niagara Falls' Brian O'Neill netted both Powerhawks tallies, and netminder Josh Mitchell was a stalwart with 70 saves.
Breezy Point 3 @ New Ulm 4 - Down 3-2 heading into the final 20, Jarrett Cammarata of the Steel racked up two goals in the final 1:41 of play to level scores and take the lead as his team snatched a 4-3 victory over the North Stars on Saturday. Cooper Hoheisel, Evan O'Connor and Carson Simon each scored to put Breezy Point ahead through two, countering goals by Sam Ayd and Jake Ford of New Ulm before Cammarata's deciding markers. Henry Baribeau notched the win between the pipes for New Ulm with 29 saves, facing down Lane Fox of Breezy Point at the opposite end, who saved 39.
Alexandria 8 @ Willmar 2 - Carter Rieland's first hat-trick and first multi-goal game of the season highlighted a stellar offensive display by the Blizzard as they romped to an 8-2 win over the Warhawks. Dylan Giorgio, Dallas Duckson, Tanner Frerichs, Joe Dokken and Brett Meister provided the remaining offense for Alexandria, while Chase VanDeVere and Elijah Slagter found twine for Willmar, Benjamin Vutci earned the win with 30 saves for the Blizzard, while Moritz Ertl took the loss despite stopping 39 pucks.