Brahmas in control of South after three-game sweep
November 26, 2018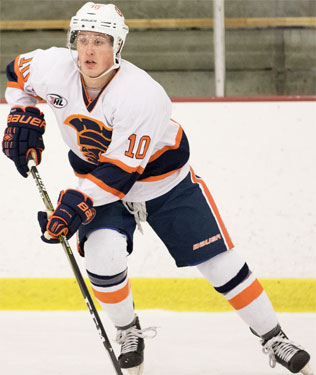 Mid Cities 3 @ Texas 7 - The Brahmas rode a two-goal outing from Tyler Blanchard and 31 saves by Bryce Runyan to cap off a weekend sweep of the Jr. Stars with a 7-3 win at home on Sunday. Texas has now won four straight, stretching its advantage atop the South Division to four points. Parker Mara, Matej Palfy, Michael Thomas Jr., Mason Mara and Stuart Pearson scored as well for the Brahmas, while Nick Solema (2) and Ryan Muckensturm got Mid Cities on the board in front of 35 saves from Noah Kinsinger in the Stars' net.
Cape Cod 2 @ Northeast 6 - A balanced attack and 50 saves by Devun Schneider guided the Generals to their stunning 13th consecutive win on Sunday, a 6-2 decision over the Islanders. Colin Day, Marc Faia, Preston Phelps, Tyler Rudek, Joshua Diamond and Mitchell Shulman each lit the lamp to pace the victory in front of Schneider's big night between the pipes. Cape Cod received 27 saves from Parker Orchard and two goals from Jacob Lopes.
Niagara Falls 1 @ L/A 16 - Five different multi-goal efforts paced the Nordiques 16-1 romp past the Powerhawks on Sunday as L/A picked up its 10th win in a row. JP Chauvin notched a hat-trick, Colby Audette, Zack Mullen, Joshua Malone and Joe Bisson each scored twice and Cole Ouellette, Hans Watson, Joshua Sanchez, Armand O'Keefe and Connor Kennedy rounded out the attack. Spencer Hrynczak posted the lone Niagara Falls strike. Daniel Miller stopped 25 shots in L/A's cage, while Noah Spiesz and Jonathan Sebastiano combined for 64 saves between the Powerhawks' pipes.
Atlanta 3 @ Louisiana 4 - Alejandro Apud played hero with 2:52 remaining in the game, notching the game-winner to help the Drillers edge the Capitals 4-3 as both teams look to catch up in the South Division. Hayden Watzka and Blake Siewertsen put Louisiana ahead in the middle frame, before Andrei Rusakov and Gunner Moore leveled scores before the third period was three minutes old. Ivan Matveev then restored the Drillers' advantage, but Cole Thomas Johnson responded once more for Atlanta before Apud's heroics late in the affair. Griffin Varricchio featured heavily for Louisiana with 45 saves in goal, countering 27 stops by Atlanta's Leo LaPata.