Friday Finals: Bighorns remain Frontier's best with win
December 1, 2018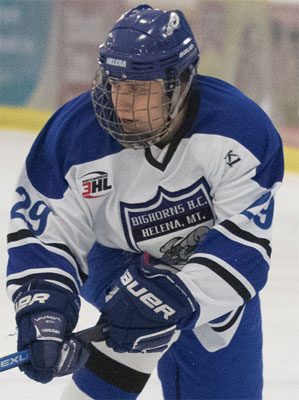 Helena 5 @ Great Falls 4 (SO) - Mikhail Gavrilenko scored the deciding goal in the sixth round of the shootout as the Helena Bighorns outlasted the Great Falls Americans 5-4. Valary Dietz had a goal and an assist while Kaden Lindberg, Darren Donovan and Luc Cross all tickled the twine for the Bighorns. Alexander Rogers improved to 8-0 on the season as he made 26 saves in regulation and stopped all six shooters he faced in the shootout. Payton McSharry had a goal and an assist for Great Falls. Ben Rinckey, Lindros Beard and George Nuutinen also scored for the Americans. Drew Scites was dealt the tough luck loss as he made 38 saves between the pipes.
Cape Cod 2 @ L/A 13 - Colby Audette and Trent Sheldon each netted twice as 11 different skaters scored to lift the Nordiques to their 11th straight victory, this time a 13-2 win over the Islanders on Friday. Zack Mullen, Cole Ouellette, Hans Watson, Joshua Sanchez, Kyle Secor, Armand O'Keefe, Crewz Berry, Sergei Anisimov and Joe Bisson found twine alongside Audette and Sheldon for L/A, while Mike Goroshko and Leevi Kervinen scored for Cape Cod, who received a 45-save effort from Josh Chausse. Jason St. Pierre picked up the win with 14 saves for L/A.
Niagara Falls 3 @ Oswego 9 - Seven skaters put up multi-point efforts and Cherokee Fox stopped 26 pucks for Oswego as the Stampede dropped the Powerhawks 9-3. Ryan Gunther (2), Elijah Morris (2), Dimitri Christou, Mark Mannarn, Tanner Coleman, Dylan Candleana and Danny Mikol provided the offense, countering Miguel Mercado, Adam Morgan and Cam Orzechowski, who each found twine for Niagara Falls. Josh Mitchell stopped 50 shots in the Powerhawks' crease.
Skylands 0 @ Binghamton 10 - Five two-goal performances lifted the Jr. Senators to a 10-0 victory over the Kings at home. Zach Bell, Mike Padgeon, Greg Simmons, Thomas Liebold and Dzhangarashev Dinmukhamed each bagged a pair of goals in Binghamton's dominant showing. Josh Sears was dealt the loss despite 47 saves, while Jeff Zero and Jonathan Rapp combined for 29 saves and a shared shutout in the Binghamton cage.
College Station 1 @ Texas 8 - The Brahmas rattled off eight consecutive goals before seeing their shutout broken as they coasted to an 8-1 win over the Spirit. Michael Thomas Jr., Tyler Blanchard and Stuart Pearson led the way with two goals apiece for Texas, aided by markers from Seth Cushing and Jack Cooper. Jacob Norwood scored the shutout-busting goal for College Station late in the third, and the Spirit received 38 saves from Gio Podalinski. Thomas Held picked up the win with 17 wins.
Granite City 9 @ New Ulm 2 - Grant Troumbly's hat-trick starred in an impressive offensive showing for the Lumberjacks, who dropped the Steel 9-2. Ethan Sievek, Jordan Drobinski, Tom Nagle, Bailey Sommers, Hunter Schwehr and Matt Moran also scored for Granite City, who featured 18 saves in net from Bryce Crowley. Hunter Johnson and Jordan Cooper scored for New Ulm, with Henry Baribeau and James Royce each stopping 17 pucks as they shared time in the contest.
Coulee Region 8 @ Wisconsin 3 - The Chill potted five unanswered tallies in the final 22 minutes of play to break open a 4-3 contest and earn an 8-3 victory over the Whalers. Connor Losen and Thomas Magnavite each netted twice, while Chase McLaughlin, Toon De Schepper, Matt Janke and Brandon Ratzloff found twine as well for the Chill. Anthony Fortin, Luke Hefty and Stepan Ruta lit the lamp for Wisconsin, and Caleb Sauer suffered the loss despite 59 saves. Devin Naidow took the win with 22 saves.
Wausau 0 @ Peoria 7 - Jaden Gardner stopped all 13 pucks he faced, Cody Layne and Jared Wisely each scored twice and the Mustangs romped to a 7-0 win over the Riverwolves. Zachary Eddington, Blake Finley and Ian McHenrey also scored for Peoria, who peppered Alexandr Gilev of Wausau with 49 shots on the night. Gilev finished with an impressive 42 saves despite the loss.
Breezy Point 8 @ Willmar 7 (OT) - Carson Simon's third goal of the night was the one that lifted the Breezy Point North Stars to an 8-7 win over the WIllmar WarHawks. Nick Eddens, Jordan Linder, Kayman Kitchen, and Cooper Hoheisel all had a goal and an assist for the North Stars. Jacob Berkowitz scored a goal and Dan Weber contributed three assists. Lane Fox made 30 stops to earn the win. Jacob May registered his own hat trick for Willmar. Chase VanDeVere and Connor Rollo each had a goal and an assist. Brendan Hill and Elijah Slagter also lit the lamp for the WarHawks. Lucas Ehrlich took the loss despite making 40 saves.
Rochester 6 @ North Iowa 3 - Four points from Lucas Newman led the Rochester Grizzlies over the North Iowa Bulls. Brock Hildebrand picked up a pair of goals while Vladislav Sorokin had a goal and two helpers. Seth Bacon and Nic Leisen each picked up a tally and an assist in the win. Nick Bucklin stopped 27 of 30 shots to earn the victory. Brendan Studioso, Matt Dahlseide and Matt Rozman lit the lamp for the Bulls while Evan Babekuhl and Connor Poczos combined for 28 saves.
Louisiana 4 @ Atlanta 2 - The Louisiana Drillers picked up goals from Hayden Watzka, Blake Siwertsen, Drew Wotta and Alejandro Apud as they knocked off the Atlanta Capitals 4-2. Samuli Aarinen got his fifth win of the season as he turned aside 26 shots. Brody Nielsen tallied a goal and an assist while Jason Ladzinski also netted a goal for the Capitals. Patrick Egdorf took the loss in net, making 28 saves.
Butte 0 @ Gillette 5 - Three first period goals paced the Gillette Wild as they took down the Butte Cobras 5-0. Austin Newson scored twice while Coleman Varty and Dillon Hale grabbed a goal and an assist. George Stilson also found the back of the net for the Wild. Cody Grogan earned his first shutout of the season as he stopped all 28 shots thrown his way. Sean Leonard made 51 saves for the Butte Cobras.
Bozeman 7 @ Yellowstone 1 - Connor Fuchs led the Bozeman Icedogs in their 7-1 win over the Yellowstone Quake as he had a goal and four assists. Isaac Smoldon tallied a goal and three assists while Brady Kellerman and Duncan McGarrah each had a goal and an assist. Hayden Groth and Nash Pine also lit the lamp for Bozeman. AJ Ruskowski made 15 saves to earn the win. Jack Harris scored the lone goal for the Quake and Michael Allman made 62 saves.