Saturday Scores: Nordiques snap Generals winning streak
December 2, 2018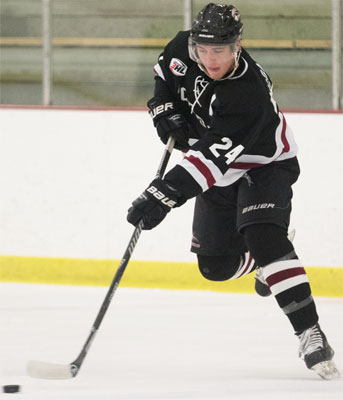 Northeast 2 @ L/A 3 - A clash of Coastal Division titans went the way of the Nordiques thanks to a pair of late goals as L/A won 3-2 over the Generals, stretching their win streak to 12 games and snapping that of Northeast, who had bagged 13 straight W's before Saturday's matchup. JP Chauvin notched the winning tally with three minutes to play, finishing off a comeback bid started by Colby Audette and Jared Katz. Deacon More and Tami Merilainen tallied for Northeast, who received 28 saves from Jeb Barrett. Owen Liskiewicz picked up the win with 32 saves for L/A.
Maine 3 @ Cape Cod 0 - Andrew Ghimpeteanu faced down all 28 shots he faced and Luke Church netted twice to help the Wild knock off the Islanders 3-0 on Saturday night. Chandler Bilodeau posted a goal as well in Maine's win, as the Wild put three goals past Cape Cod's Parker Orchard on 21 shots.
Long Beach 0 @ New England 5 - The Stars scored early and never looked back, receiving 11 saves from Timothy Pesek in the crease and two goals from Michael Lempiainen in their 5-0 win over Long Beach at home on Saturday. James Wilson, Connor Barter and Corey Tumenas scored as well. Darren Nathan stopped 20 pucks in the Sharks' loss.
Milwaukee 2 @ St. Louis 3 (SO) - Will Baginski netted the lone shootout goal as the Jr. Blues picked up a key win over division rival Milwaukee on Saturday. Mikael Foucher was key in St. Louis' win, stopping 36 pucks and both Power shooters in the shootout. Dante Jones and Colton Markiewicz scored in regulation for the Blues, while Jacob Peterson and Chuck Bay did the same for Milwaukee, who received an outstanding goaltending performance of their own from Aaron Dickstein, who stopped 47 shots in the loss.
Niagara Falls 4 @ Oswego 9 - Dylan Candleana potted a hat-trick and Ben White stopped 27 shots as the Stampede knocked off the Powerhawks 9-4 at home. Mark Mannarn (2), Ryan Gunther, Danny Mikol, Wade Moak and Elijah Morris found twine as well for Oswego, countering Raymond Conroy's two and Devin Johnson's one goal(s) for Niagara Falls. Noah Spiesz and Josh Mitchell combined for 44 saves in the Powerhawks' cage.
Evansville 0 @ Peoria 17 - The Mustangs offense was flying high in Saturday's 17-0 win over the Thunderbolts. Tristan Trudel (4), Jaycob Bland (3), Austin Keil (2), Jack Radley (2), Brandon Hay (2), Ian Acuna, Brad Larson, Connor Bennett and Nick Ulrich lit the lamp in front of Trevor Smith's 17 saves. Noah Brandau faced 66 shots for Evansville, stopping 49 shots.
Skylands 1 @ Binghamton 3 - Mike Padgeon, Greg Simmons and Dinmukhamed Dzhangarashev potted first-period goals and the Jr. Senators held on for a 3-1 win over the Kings thanks to 24 saves from Thomas Sullivan. Trevor Christopher scored Skylands' lone tally in the second period, and goaltender Kavan Johnson was a star with 66 saves, despite the loss.
College Station 0 @ Texas 4 - The Texas Brahmas picked up a 4-0 victory over the College Station Spirit as Andrue Trelstad, Benjamin Lindberg and Tyler Blanchard all had a goal and an assist in the victory. Parker Mara also found the back of the net during the win. Thomas Held wasn't test much but stopped all 13 shots thrown his way. Blake Forystek made 33 saves for the Spirit.
Willmar 1 @ Alexandria 5 - Three points from Carter Rieland propelled the Alexandria Blizzard to a 5-1 win over the Willmar WarHawks. Brandon Connett contributed a goal and an assist as well for the Blizzard. Joe Dokken and Dylan Giorgio also found twine for Alexandria. Kyle Hayden earned his sixth win of the season as he made 16 saves. Brendan Hill's fifth of the year was the only offense from Willmar. Nelson Schiiler made 51 saves in the loss.
Louisiana 2 @ Atlanta 8 - The offense came early and often as the Atlanta Captials cruised to an 8-2 victory against Louisiana. Brody Nielsen led all skaters with four points, one goal and three assists. Joey Lajcaj potted a pair of goals while Jason Ladzinski, Keith Austin, and Cole Thomas Johnson each finished with a goal and an assist. Ayrton Comic and Nicholas Sleeper lit the lamp as well. Leo LaPata got the win in between the pipes, he made 21 saves. Matthew Butler and Tucker Alspaugh netted Louisiana's two tallies.
Rochester 2 @ North Iowa 5 - The North Iowa Bulls avenged their loss to the Rochester Grizzlies by responding with a 5-2 win on home ice. Jarod Blackowiak led the team with three points, one goal and two assists. Jimmy McDermott picked up a goal and an assist. Jack Giddings, Brendan Studioso and Scott Moyer all sounded the horn in the victory. Dysen Skinner stopped 34 of 36 shots to grab his sixth win of the season. Joey Fodstad and Nic Leisen provided the offense for Rochester.
Granite City 5 @ Breezy Point 4 - The Granite City Lumberjacks kept themselves in sole possession of first place in the West Division as they survived the Breezy Point North Stars comeback bid to win 5-4. Jordan Olson had a goal and an assist. Matt Moran, Cooper Smith, Zack DeBoom and Trevor Dummer all scored as well. The North Stars did not go down without a fight as they scored two goals in the final minute to bring themselves within one. James Curran logged a goal and an assist while Casey Hormann, Dustin Sadler and Ben Bergman all scored for Breezy Point. David Mulligan made 17 save to earn the win. Jacob MacLennan was stuck with the loss despite stopping 34 shots.
Butte 2 @ Gillette 5 - The Gillette Wild finished off a two game sweep of the Butte Cobras, winning Saturday night's contest 5-2. Gage Thompson picked up a pair of tallies. Coleman Varty and Ethan Becker each had a goal and two assists, and George Stilson added a goal as well. Cody Grogan denied 26 shots. Charles Blandin had a goal and an assist while Robin Bagley also lit the lamp for Butte.
Great Falls 7 @ Missoula 3 - Two goals from Justin Ohnstad and Cody Dearing catapulted the Great Falls Americans over the Missoula Junior Bruins by a score of 7-3. Jens Juliussen tacked on a goal and an assist while Brandon Peterson and Trent Cowden also found twine. Viktor Wennberg improved to 8-1 this season as he made 23 saves. Vadim Zubkov grabbed a two goals and an assist while Trevor Price had a goal and two assists. Evan Williams made 52 saves for Missoula.
Helena 2 @ Bozeman 5 - Three points from Hazen McKay, Dominic Canic and Luke McKay provided enough offense for the Bozeman Icedogs to drop the Helena Bighorns 5-2. Isaac Smoldon and Duncan McGarrah provided some secondary scoring for the 'Dogs as Mikael Levokari and AJ Ruskowski combined to make 49 saves. Nicholas Noel and Mikhail Gavrilenko had the only tallies for Helena. Carver Thompson took the loss, he made 18 stops.