Saturday Scores: Bighorns continue winning ways in Frontier
December 9, 2018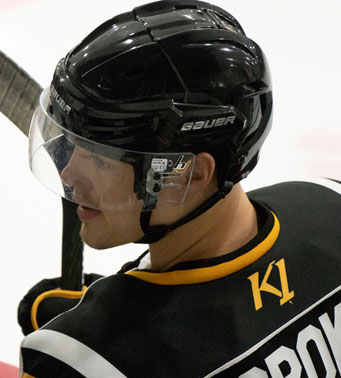 Great Falls 1 @ Helena 4 - Great Falls struck first, but Luc Cross potted a hat-trick to pace the Bighorn's 4-1 comeback win over the Americans on Saturday. Darren Donovan complemented Cross' efforts with a late sealing goal, while Alexander Rogers was a dominant force between the pipes with 48 saves in Helena's win. Viktor Wennberg was outstanding as well in Great Falls' crease, turning aside 51 shots in the loss.
Northeast 3 @ Long Beach 1 - Kolye Bankauskas' pair of markers led the way and Devun Schneider swatted away 23 pucks as the Generals topped the Sharks 3-1 on the road. Tami Merilainen also scored for Northeast, while Cade Lambdin potted the Long Beach tally. Darren Nathan starred as well for the Sharks with 46 saves in goal.
Rochester 4 @ Coulee Region 3 - Vladislav Sorokin's third-period goal made the difference in a back-and-forth affair that saw the Grizzlies receive 20 saves from Nick Bucklin to hold off the charging Chill for a 4-3 victory on the road. Lucas Newman, Joey Fodstad and Matthew DeRosa each found twine as well for the victors. Thomas Magnavite led Coulee Region with two goals on the night, with Brady Lindauer also scoring and Devin Naidow turning aside 27 pucks between the Chill pipes.
Peoria 1 @ St. Louis 5 - Five different skaters got in on the action as the Blues potted four unanswered tallies to turn a 1-1 deadlock into a 5-1 win over the Mustangs on Saturday. Will Baginski, Matthew Monreal, Joe Papa, Jacob Wiethaupt and Zach Wilson each netted once, eclipsing Ian McHenrey's lone goal for Peoria. Mikael Foucher stopped 17 shots for the St. Louis win, outdueling Peoria's Trevor Smith and Jaden Gardner, who combined for 43 saves.
College Station 1 @ Louisiana 10 - Benjamin Cope bagged a hat-trick from the blue line to lead a juggernaut Louisiana offense to a 10-1 win over the Spirit at home last night. Drew Wotta and Viacheslav Nilov scored twice apiece as well, complementing goals from Ivan Matveev, Jonathan Broadribb and Tucker Alspaugh in the win. Jason Owings potted College Station's goal, the only one of 18 shots to beat Grady Reis in the Drillers' cage. Blake Forystek and Gio Podalinski combined for 29 saves in the Spirit crease.
Cape Cod 2 @ L/A 5 - The Nordiques bagged a trio of tallies in the third period to snap a 2-2 tie and blast off to a 5-2 victory over the Islanders on Saturday. Andrew McCormick set the tone for L/A with two goals on the night, joining Trent Sheldon, Colby Audette and Sergei Anisimov in the goal column. Scotty Hogan and Cole Therrien provided Cape Cod's offense, while goaltender Parker Orchard was a force in goal with 57 saves. L/A's Hunter Raye picked up the win with seven stops.
New England 4 @ Maine 1 - Two goals from Zachary Burnham and 27 saves by Cedric Joubert led the Stars to a standout 4-1 victory over Maine on the road. Christopher Barone and Eric Steeves also netted once apiece for New England, outpacing Elijah Older's single strike for Maine, who received 31 stops in goal from Daniel Sprague.
Mid Cities 1 @ Atlanta 3 - Brody Nielsen and Joey Lajcaj struck once apiece within a 2:20 span in the opening stanza to pace a 3-1 Capitals victory over Mid Cities last night. Hunter Leonhard got the Stars back within a goal early in the second period, but Andrei Rusakov put the game on ice later in that frame. Quinn Yeager earned the Caps' win with nine saves in goal, while Noah Kinsinger suffered the loss with 10 stops for the Stars.
Milwaukee 3 @ Alexandria 0 - Aaron Dickstein stole the show with 22 saves in Milwaukee's net to help the Power pick up a 3-0 payback win over the Blizzard on Saturday after Alexandria topped them on Friday. Nick Roberts, Maris Graudins and Benjamin Beversdorf knocked pucks home for the Power in this one. Alexandria netminder Kyle Hayden picked up 26 stops in the loss.
Granite City 2 @ New Ulm 3 - Henry Baribeau stopped 23 pucks and Jake Ford netted the game-winning tally with just 21 seconds to play to fuel New Ulm's 3-2 upset win over the Lumberjacks on Saturday. Keegan Bauman and Jordan Cooper each scored for New Ulm to match Trevor Dummer's pair of markers for Granite City before Ford's stunning winner. Bryce Crowley suffered the loss despite 25 saves.
Wausau 8 @ Evansville 2 - Deniss Berdniks and Rollie Carlson each pitched 2g, 3a nights as Wausau blitzed Evansville 8-2 on the road Saturday. Mitchel Idalski, Cale Bowman, Sean Johnston and Harris Smidt helped fuel the RiverWolves high-flying offense as well in this one, while Deric Richison and Anthony Caserta lit the lamp for the Thunderbolts. Tyler Dorion stopped 39 pucks in Evansville's defeat, while Alexandr Gilev and Terran Mohr combined for 18 saves and the win in Wausau's net.
Willmar 1 @ North Iowa 2 - Hunter Hall put the Warhawks on the board early, but goals by Peter Verstegen and Jarod Blackowiak helped North Iowa to a key 2-1 victory as the Bulls contend in the West Division. Dysen Skinner earned the win with 17 saves, while Nelson Schiiler was dealt the loss despite a whopping 43 saves for Willmar.
Butte 0 @ Missoula 5 - Evan Williams faced down all 20 shots he faced as Misha Akatnov and Vadim Zubkov were up to their usual tricks with 2g, 2a apiece in Missoula's 5-0 shutout of Butte on Saturday. Keith Zobel scored as well as the Bruins peppered Butte's Karl Zodda with 54 shots, forcing 49 saves from the netminder.
Yellowstone 3 @ Bozeman 4 (OT) - Dominic Canic played hero in overtime as Bozeman staved off an impressive comeback bid from the Quake to take a 4-3 win on home ice. Hazen McKay scored twice to sandwich a Hayden Groth lamplighter in the second period, giving the Icedogs a 3-0 lead, before Jack Harris, Luke Hartge, and Jon Green helped Yellowstone roar back to force extra time. Quake netminder Michael Allman did all he could with a stunning 70 saves on the night, while Mikael Levokari and Sean O'Connor posted a shared 29 stops to backstop Bozeman's win.