Oswego forward Mannarn makes NCAA commitment
December 10, 2018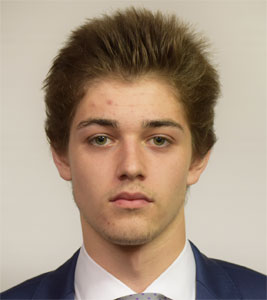 The Oswego Stampede of the NA3HL are pleased to announce that forward Mark Mannarn has committed to play NCAA Division III hockey for Kings College.
Mannarn, 20, who hails from from Toronto, Ontario has been a huge addition to the Stampede this season with 14 goals and 20 assists and a +7 in 21 games for the team so far this season.
"Mark was a guy that came to us looking to play at the NCAA level. He knew what he was looking for in a school and narrowed his list and had Kings as his top choice," said Stampede Head Coach Mike Beavis.
Beavis used his relationship with Kings coach Stephen Mallaro to get things rolling. "I gave Mark the stage and he did the work. We talked about what he needed to do as a player to reach the NCAA level and we got him the opportunity to be seen by some schools. Stephen came up to watch during our home game against Binghamton and he wanted to bring Mark down on a visit right away. The school was a great fit for Mark and for Kings as he was offered and accepted rather quickly."
"We are very excited to have Mark Mannarn join our growing program, not only as a hockey player, but as an educator in our King's College community. Mark has dedicated his life giving back and is a role model to many young hockey players across Canada. We are grateful Mark has chosen King's College. We would like to thank the Oswego Stampede and Coach Mike Beavis, their organization has always been first class and this is a perfect example," stated Kings College Head Coach Stephen Mallaro
The Stampede would like to extend their congratulations to Mark and his mom and dad Judy and Art as well as Stephen Mallaro and Kings College on making a great choice in adding Mark to their family.