Milwaukee defenseman Bilyy makes college commitment
December 21, 2018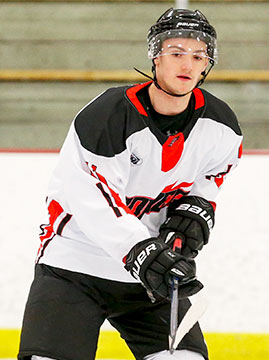 The Milwaukee Power of the NA3HL had their first college commitment this past week at the NA3HL Showcase thanks to defenseman Ivan Bilyy who committed to play ACHA Division I hockey for West Virginia University next season under the guidance of Head Coach Steve Cagle.
"We are excited to have Ivan commit to WVU. We were looking for some fast puck moving defenseman and Bilyy caught our attention. He has tremendous speed, stickhandling and a keen passing ability. He shows discipline on and off the ice and is well respected by his teammates and coaches. We look forward to having him at our prospect skate in March and welcome him into the Mountaineer family," said Cagle.
Bilyy was the third player to be signed in Power history and has made an impact in his rookie season. In 31 games he's scored eight goals and 18 assists for 26 points jumping back and forth between forward and defenseman. Whether he's been at wing or manning the blue-line, Bilyy has showcased his ability to make great passes on time or through tight spaces that have ended up on the NA3HL's Top 5 Plays of the Week several times.
"Ivan caught my eye this summer as a player that could be very versatile. I am so excited and proud that he is our first college commitment in our history and is going to a great program and university. This is a well-deserved opportunity to a great person and great player," said Austin Keiser, Milwaukee's Associate Head Coach.
The big Ukrainian has been in the United States for over five years playing hockey and furthering his education with this being his goal after Junior hockey.
"I'm very excited, this was my goal in coming to the United States to be able to go to school and play hockey and WVU was the school I was looking at before even thinking of playing college hockey because I already had some really good friends that study there and I love the area," said Bilyy.
Ivan may be the first Power player to commit to play college hockey, but he certainly won't be the last. With many scouts talking to the Power's players and coach's during the Showcase there will be more coming over the course of the remaining season.
"We are so proud of Ivan for everything he has accomplished in being a part of our Inaugural Season here in Milwaukee. He's done whatever the team has needed in moving between forward and defenseman without question or hesitation and that show's how he's been All-In for this team. This is what it is all about for us, to advance these young men to their next place in their hockey careers and we can't wait to see who is next," said Chase Ernst, President of Hockey Operations.